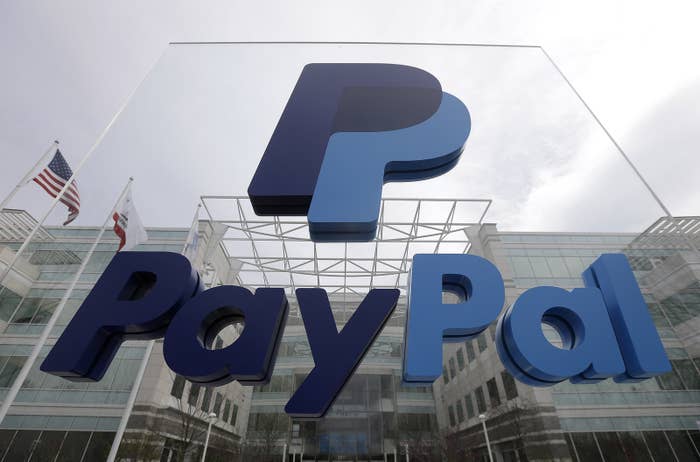 PayPal announced Tuesday that it is canceling an expansion in North Carolina that would have employed 400 people, the latest and one of the starkest examples of the repercussions for the state passing a law overriding local LGBT-rights ordinances and banning transgender people from bathrooms that match their gender identity.
PayPal had announced the expansion project just two weeks ago.
"In the short time since then," said a statement from company president and CEO Dan Schulman, "legislation has been abruptly enacted by the State of North Carolina that invalidates protections of the rights of lesbian, gay, bisexual, and transgender citizens and denies these members of our community equal rights under the law."
He continued, saying the new law "perpetuates discrimination and it violates the values and principles that are at the core of PayPal's mission and culture. As a result, PayPal will not move forward with our planned expansion into Charlotte."

Backlash has mounted since Republican leaders of the North Carolina General Assembly convened a one-day special session to rush through House Bill 2, leading to a federal lawsuit that argues the law is unconstitutional and ferocious corporate backlash.

Major companies — including Facebook, Apple, and Google — have been at the vanguard of the resistance, further cementing the role of Fortune 500 companies advocating for LGBT rights, particularly in states where GOP leaders run on pro-business platforms.

Gov. Pay McCrory has repeatedly argued the law would not have any impact on recruiting jobs to the state. He has contended the law is necessary to keep transgender women, whom he calls "men," out of women's restrooms for safety and privacy reasons.
But Attorney General Roy Cooper pounced on the PayPal news to make an economic case to repeal the law.
"The threat that HB 2 poses to jobs and our economy is no longer a possibility, it's a reality," said Cooper, a Democrat who has refused to defend the state in court and is himself running for governor. "Everyday working families are suffering from this law."
The Charlotte Business Journal has reported that PayPal's expansion would have an annual payroll impact of nearly $20.4 million.

Asked about PayPal's announcement at a press conference on Tuesday, McCrory attempted to reframe the issue around bathroom safety. He made no differentiation between men and transgender women — essentially arguing that transgender women are men, and thus should be banned from women's restrooms.
"For those who disagree with that basic norm, they have that decision to make," he said, adding, "I expect that PayPal will still provide their services and accept our consumer money in the state of North Carolina."
There are no documented examples in 17 states and more than 200 cities with LGBT nondiscrimination protections — jurisdictions that grant transgender people access to facilities that match their gender identity — of the laws being used for predatory purposes.
In addition to the White House's recent condemnation of North Carolina, governors of New York and Washington State — and many cities — have banned nonessential government travel to North Carolina to protest the law.

"Our decision is a clear and unambiguous one," PayPal's Schulman statement said. "As a company that is committed to the principle that everyone deserves to live without fear of discrimination simply for being who they are, becoming an employer in North Carolina, where members of our teams will not have equal rights under the law, is simply untenable."