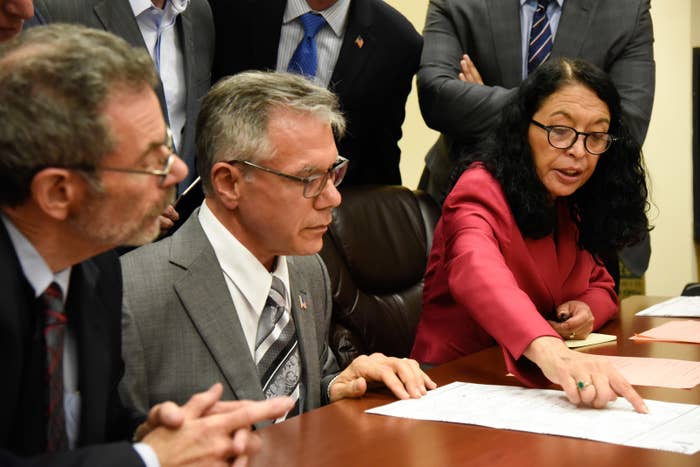 Dozens of election workers are still sequestered in a South Florida warehouse recounting thousands of ballots, even though the state's election was certified last month. The new tallies will never be considered and they can't possibly change the outcome.
Palm Beach County's elections supervisor, Susan Bucher, whose Democratic-leaning jurisdiction has an electorate of nearly 1 million people, spoke to BuzzFeed News on Tuesday from the facility where state law requires the canvassing board to complete a manual recount — which could take another two and a half weeks.
"I get to count ballots that will be ignored," Bucher sighed. "Hopefully it will be done by Christmas."
The county couldn't finish its recount by a Nov. 18 deadline — which was required by law because initial results were so tight — since its old equipment wasn't fast enough.
"If the canvassing board is unable to complete the recount prescribed in this subsection by the deadline," says a state law, then preliminary figures must be used in the final certification statewide — which happened Nov 20.
But local election workers cannot stop, the law continues, stating that "the canvassing board shall complete the recount prescribed in this subsection, along with any manual recount prescribed."
The new figures will never be factored into the state's final election results, and yet, Bucher said, "We have to continue the manual recount even if we missed the deadline."
Florida roiled the country last month with its contested midterm election, attracting a blizzard of lawsuits and allegations of disenfranchisement, fraud, and unconstitutional enforcement of state deadlines that were impossible to meet.
But weeks after candidates made concession phone calls and partisan lawyers flew home, county workers plod into the holidays.
Seventeen staffers now work five days a week operating the tabulating machines, which identify ballots with so-called undervotes and overvotes — in which a voter skipped a race or voted twice in a race. Those ballots must be inspected by human eyes to asses the voter's intent, such as seeing marks that a machine missed.
Since four statewide races were close enough to require recounts, and the county's equipment can only tabulate one race at a time, the paper must be run through machines over and over. That wears down the ballots — and sometimes they become so damaged that they need to be duplicated by hand, Bucher said. So 11 more staffers do that. At least two members of the canvassing board are required to be present throughout, while a sheriff's deputy watches over the process.
"The only way I don't have to do these recounts is if the losing candidate says they don't want a recount," Bucher said.
That leaves two remaining races on Bucher's plate, because the US Senate race and a state House race were done on time.
Even though Democrat Andrew Gillum conceded to Gov.-elect Ron DeSantis after trailing by more than 32,000 votes statewide in the race for governor, Bucher said they still have to continue recounting that race. Gillum's campaign did not reply to a question from BuzzFeed News about calling off the recount.
Republican Matt Caldwell also conceded to Democrat Nikki Fried in the race for agricultural commissioner, but Caldwell told BuzzFeed News he wants the recount to march ahead.
"We expect all 67 Supervisors to complete their duty under the law and provide finality to the voters of Florida," he said in an email. "Taxpayers in Palm Beach County should absolutely be enraged that their county government failed to conduct their most fundamental responsibilities."
Bucher added that state officials also haven't signaled that she should stop.
Sarah Revell, a spokesperson for the Florida Division of Elections, didn't answer questions from BuzzFeed News about whether the recount must continue or how the figures would be recorded. She said Bucher and the canvassing board "have made their own determination on how to proceed."
Palm Beach County has found about 9,000 undervotes and overvotes in the governor's race, according to the preliminary count, raising a hope that Gillum could close some of his gap. But they wouldn't make up the difference, even if they could be considered.
"If Mr. Gillum got 100% of those undervotes, which isn't likely, it wouldn't change the race," Bucher said.
Meeting deadlines to recount so many races was simply impossible with the old equipment used by the county, Bucher said. "We have told the State of Florida for 10 years there is a conflict with the deadlines, but they have not changed it. They certify equipment and made a deadline that doesn't work."
Bucher said she has $11 million for new, faster ballot-tabulating machines in her budget for 2019, when the office will need to purchase equipment that meets new standards for voters with disabilities in the 2020 election.