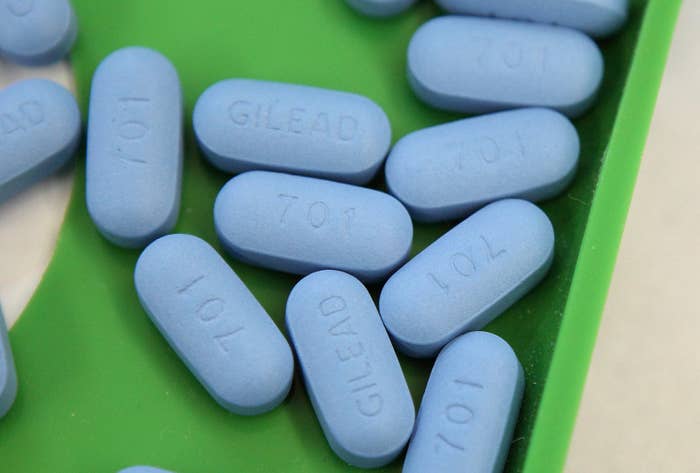 One-third of gay men, and more than half of bisexual men, in the United States have never heard of a medication that can fend off HIV infection, despite massive public health campaigns targeted at LGBTQ people urging them to consider taking it, according to a poll conducted by BuzzFeed News and Whitman Insight Strategies.
Sold under the name Truvada, pre-exposure prophylaxis, known as PrEP, has been found to dramatically reduce the likelihood of contracting HIV. The highly priced medication is often subsidized by the manufacturer, and many health programs strive to provide it. The Food and Drug Administration approved Truvada in 2012 for use by people who were HIV-negative but who were at high risk of contracting the virus, for example, because they had a partner who was HIV-positive. It's meant to be combined with other safe-sex practices, like using a condom.
Yet 32% of gay men, and 57% of bisexual men, have never heard of it, according to a survey fielded by Whitman Insight Strategies and taken by 880 LGBTQ adults from around the United States.
One-fifth of gay men and nearly half — 47% — of bisexual men in the survey said they didn't know how to get PrEP.
Gay and bi men, particularly black men, have some of the highest rates of HIV infection in the United States, but other populations are also at risk of exposure. The Centers for Disease Control and Prevention estimated in March that more than 1.1 million Americans would benefit from PrEP, but in 2015 — the only year examined in the study — only 90,000 people had prescriptions filled in commercial pharmacies.
One-fifth of gay men and nearly half of bi men said they didn't know how to get it.
While 85% of gay men in the survey said it was important overall for preventing HIV, 34% agreed with the statement that it "promotes unhealthy sexual behavior."
Critics have cautioned that people on PrEP may have more sex without condoms, exposing themselves to other STDs or HIV. A few men have reported contracting HIV even while taking PrEP.
Since Truvada's approval in 2012, researchers have noted the challenge in persuading at-risk populations to use it. A 2013 study of young gay men in the journal Current HIV Research found that "PrEP rollout may be hindered due to lack of awareness, as well as perceived barriers regarding its use."
Thirteen percent of gay men and 10% of bisexual men report having taken PrEP at some point, according to the Whitman Insight Strategies–BuzzFeed News survey.
The medication is taken daily and can have side effects, like diarrhea, nausea, and abdominal pain, and in rare instances, kidney, liver, or bone problems.
The poll's questions about PrEP were included in a larger LGBTQ survey on life, politics, and identity by Whitman Insight Strategies. The full group included 880 self-identifying LGBTQ Americans. The subgroup of gay men was 265 people, giving those results a margin of error of plus or minus 6%.
METHODOLOGY: Whitman Insight Strategies fielded an online quantitative survey among 880 self-identifying LGBTQ Americans through Research Now. Field dates were from May 24 to June 1, 2018. Respondents were screened to determine sex assigned at birth, gender identity, transgender identification, and orientation to appropriately define the audience. The makeup of the N=880 Self-Identified LGBTQ Americans includes 265 Gay (30%), 129 Lesbian (15%), 403 Bisexual (46%), 51 Transgender (6%), and 74 Queer, Nonbinary (8%) individuals.

The margin of error at the 95% level of confidence for the total sample is ± 3.3% and is slightly larger for any findings among the individual LGBTQ audiences.