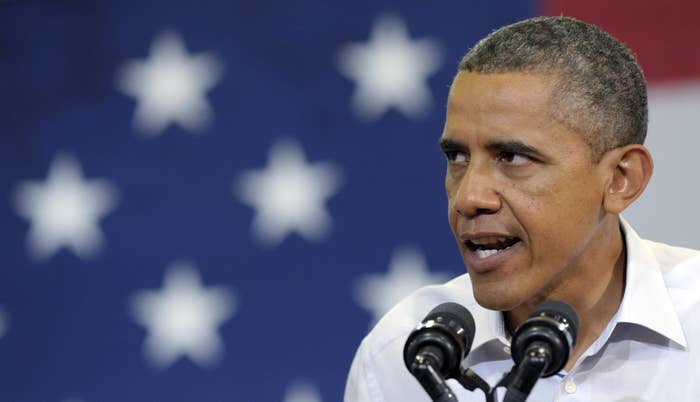 Amid a national debate over transgender people's access to restrooms, the Obama administration sent guidelines to public schools on Friday saying they cannot discriminate against transgender students in a wide range of settings — from restrooms to sports teams.

"When a school provides sex-segregated activities and facilities, transgender students must be allowed to participate in such activities and access such facilities consistent with their gender identity," says a copy of the letter obtained by BuzzFeed News.

The rules apply to restrooms, locker rooms, sports teams, fraternities, sororities, housing, and more.
According to the guidance, school officials cannot require that a transgender student provide identifying documents, such as a birth certificate, or undergo any form of medical validation to qualify. "There is no medical diagnosis or treatment requirement that students must meet as a prerequisite to being treated consistent with their gender identity," says the letter to school administrators.

"A school must not treat a transgender student differently from the way it treats other students of the same gender identity."
It isn't the first time the Obama administration has asserted Title IX of the Education Act of 1972, which bans discrimination on the basis of sex, bans transgender discrimination as a form of sex discrimination.
However, the guidance to be issued Friday by the Department of Education and Department of Justice is the strongest, most direct set of instructions to date that spells out the various settings schools should implement those standards across the country.
Federal education guidelines apply to public districts serving K-12 students, public universities, and other education facilities receiving federal money. The guidance is not legally binding; however, it reinforces the administration's position that it will take legal action against violators.
But several Republican governors resisted the guidance.
Like Kentucky Gov. Matt Bevin, Utah Gov. Gary Herbert issued a statement calling the policy "federal overreach." Herbert added, "If we have to fight this order, we will not hesitate to do so."
Opposition was even more blunt from Mississippi Gov. Phil Bryant and Arkansas Gov. Asa Hutchinson, who instructed state education officials to "disregard" the guidance.

The Education Department did not immediately respond to BuzzFeed News' request to comment on governors digging in their heels.
In a statement issued Thursday, Catherine E. Lhamon, Department of Education Assistant Secretary for Civil Rights, had said, "This guidance answers questions schools have been asking, with a goal to ensure that all students are treated equally consistent with their gender identity."

LGBT advocates hailed the guidance.
Mara Keisling, executive director of the National Center for Transgender Equality, said she was "thrilled" after "some legislators and anti-trans extremists have been encouraging schools to deny transgender students basic educational opportunities by preying on baseless fears and cooking up confusion about what federal law requires."
Meanwhile, the federal government is tangled in three lawsuits in North Carolina, where state officials have claimed transgender students pose a safety threat in restroom and locker rooms. The lawmakers there banned transgender people from using bathrooms and locker rooms that match their gender identity in public schools.
North Carolina governor Pat McCrory responded to the guidance in a statement on Friday saying that the executive branch is "overreaching" its authority. "Now, both the federal courts and the U.S. Congress must intercede to stop this massive executive branch overreach, which clearly oversteps constitutional authority," McCrory wrote.
Here's the full statement:
Two sets of public officials sued the federal government last week, arguing Title IX does not include transgender protections, and that the law's scope must be resolved by federal courts. The Justice Department responded by suing state officials.

For years, the Obama administration has ramped up its efforts to apply Title IX to transgender students. In 2013, education and justice department officials announced a settlement agreement that resolved a complaint filed on behalf of a transgender student who faced discrimination a California school district. The next year, federal officials issued guidance under Title IX that protects students on the basis of gender identity in cases of sexual violence.
Since then, the agencies have advanced their Title IX interpretation by pushing several school districts into compliance. In courts — again citing Title IX — federal attorneys filed an amicus brief before the 4th Circuit Court in October backing a transgender boy trying to overturn a Virginia county school district's policy. The court found in April that the department enjoyed deference to apply Title IX that way.
The guidance states that "a school must not treat a transgender student differently from the way it treats other students of the same gender identity. The Departments' interpretation is consistent with courts' and other agencies' interpretations of Federal laws prohibiting sex discrimination."

Here are schools with exemplary policies toward transgender students, according to the Department of Justice:
Download PDF