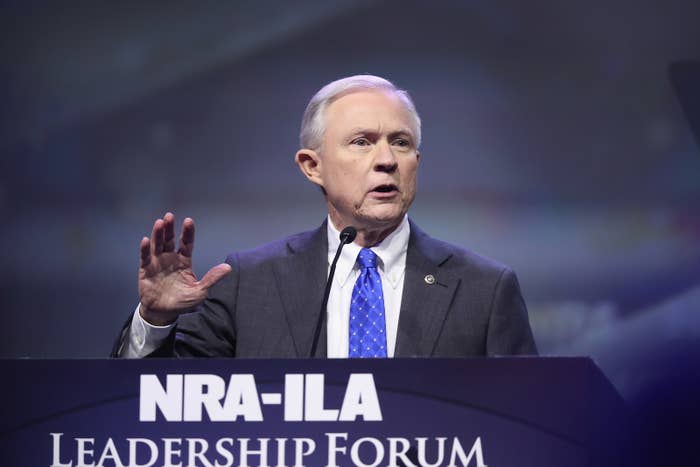 As a backlash grew over Jeff Sessions' nomination for attorney general in early 2017, and only few weeks remaining before he faced a vote in the Senate, the National Rifle Association went all in to help.
Sessions had earned top grades from the advocacy group over his two decades as a senator, and the director of the NRA's lobbying arm, Chris Cox, boasted about Sessions's record in an op-ed last January in USA Today. The firearm advocacy group announced in a press release at the time that it would spend at least $100,000 on commercials to boost him to the top post of the Justice Department. Now confirmed, Sessions oversees a number of federal agencies with considerable influence over America's gun laws.

A day after the gun massacre in Parkland, Florida, Sessions told a group of sheriffs that "watching the images of our children — terrified — streaming from their school with their hands above their heads" demonstrated that "we must confront this problem."
"We are going to take action," he said inside the grand ballroom of the J.W. Marriott in Washington, DC. "We must reverse these trends."
What remains to be seen is how Sessions exactly will confront the problem, and whether what he does will run counter to NRA, a group that once called Sessions an "unwavering ally."
Sessions launched a review after Parkland about how to respond to shooting tips, and the Justice Department is currently considering a rule on bump stocks, a move taken in response to October's mass shooting in Las Vegas.
At the White House, meanwhile, Trump began to insist that that guns should restricted to buyers 21 and older, adding in late February that "it should all be at 21." He accused Republican Sen. Pat Toomey of not backing that sort of policy "because you're afraid of the NRA, right?"
But the NRA resisted an age limit — publicly denouncing the proposal, meeting with Trump, and filing a lawsuit to block a new Florida law with an age limit — and Trump backpedaled, saying on Monday the idea lacked "political support" and he'd be "watching court cases."

David Chipman, who served 25 years as an agent in the Bureau of Alcohol, Tobacco, Firearms, and Explosives and is now a senior policy advisor at the gun control group Giffords, doubts Sessions and the Trump Administration are capable of autonomy at this point.

"I don't think any politician who received tens of hundreds of thousands of dollars from any lobbying group can be truly independent," said Chipman, who noted that, in addition to backing Sessions, the NRA spent $11 million for Trump and $20 million opposing Hillary Clinton. "I think they're paralyzed by the gun lobby."
Chipman told BuzzFeed News that Sessions has created only the appearance of progress toward regulating bump stocks. The NRA has said it supports regulating bump stocks in general, but hasn't endorsed a ban or any specific regulation. And to Chipman, a regulatory process and speeches are delay tactics that help take pressure off Congress that will likely go nowhere.
The ATF, an agency within the Justice Department, considered a restriction on bump stocks in 2010, and as it said last year in the Federal Register, its hands were tied because the devices are "classified...as an unregulated firearm part, not subject to either the [Gun Control Act of 1968] or [National Firearms Act of 1934]."
"They have created a fiction that ATF can do something about this," said Chipman, who contends that a new bump stock regulation would be overturned in court for the same reasons officials found such a ban was untenable before. "ATF officials said they do not have the regulatory authority to regulate bumps stock, so the only direction is for Congress to take a vote."
"They have created a fiction that ATF can do something about this," a former ATF agent said about a proposal to ban bump stocks.
Asked by BuzzFeed News how a rule on bump stocks could be upheld and whether Sessions had a response to his critics, the Justice Department declined to comment. The NRA also did not comment.

The Justice Department announced several measures on Monday night aimed at improving school safety, none of which appeared likely to trigger a backlash from gun rights groups.
The leading proposal would employ more so-called school resource officers as part of the department's COPS Hiring grants. The Justice Department, however, hasn't yet earmarked money for that specific purpose. Officials also have not announced how funds for the local school officers would be prioritized compared to other funding goals — such as grants dedicated to fighting violent crime and illegal immigration, which have been grant priorities in years past — and will compete for the same pool of money.
Sessions also issued memos to state and federal officials, seeking greater compliance with background checks and tracking criminals. One memo instructed the FBI to identify local jurisdictions that have failed to report the final outcomes of criminal cases, while asking them to share mental health data for the National Instant Background Check System, known as NICS. A letter to US attorneys instructed prosecutors to aggressively pursue people who lie on background check forms. The department then shared portions of report on strategies for improving NICS.
While the NRA has held out on endorsing or opposing any particular bump stock regulation, Sessions' long history in the Senate has given the group a clear picture of the attorney general's views. Cox, in his op-ed last January in USA Today, credited Sessions' vote for a national right-to-carry amendment, a vote to protect gun manufacturers from lawsuits, and a vote against a ban on semi-automatic guns as reason to make him attorney general.
As Cox pointed out, Sessions told the Decatur Daily in 2013, "If you start banning semi-automatic weapons, you've really banned the essence of gun ownership today." Sessions added that gun measures from the president should target "criminals and thugs and the mentally ill."
"The firearms industry is particularly vulnerable to lawsuits," Sessions said in a 2005 speech praised by the NRA.
Sessions has also fiercely defended the gun industry's profits. After cities and individuals sued gun manufacturers, then-senator Sessions became a noisy advocate to pass the Protection of Lawful Commerce in Arms Act, which protected manufacturers and dealers from liability when crimes were committed with their guns.
In speeches on the Senate floor in July 2005, Sessions warned, "These suits are intended to drive the gun industry out of business by holding manufacturers and dealers liable for the intentional and criminal acts of third parties, over whom they have absolutely no control."
"The firearms industry is particularly vulnerable to lawsuits," said Sessions, who argued the lawsuits violated legal principles and could, taken to an absurd conclusion, make car manufacturers liable for crashes. "One lawsuit in one state could bankrupt the industry."
Sessions didn't soften after the country's bloodiest school massacres. The month after the shooting at Columbine High School in Colorado, Sessions voted against an amendment to require background checks at gun shows — and the underlying bill, the School Safety Act of 1999, ultimately died due to Republican opposition. In 2013, after 20 children and six adults were killed in Newtown, Connecticut, Sessions voted against legislation to limit the size of high-capacity magazines, again helping to defeat it.
Sessions has, instead, stressed that criminals who commit crimes with a gun should be prosecuted using laws already on the books — while warning the country faces a spike of gun violence.
But gun-control advocates, such as Chipman, contend that Sessions is encouraging a domestic arms race driven by fear. Prosecuting offenders after a crime is committed doesn't save lives, Chipman said, but, by focusing on gun violence, Sessions contributes to a sense Americans who are imperiled by guns must buy more of them to feel safe.
Chipman said the Trump administration and congressional Republicans who collectively control the federal government can make progress on bump stocks immediately — and much more.
"For god's sakes, that's the least you can do," he said. "You could see action happening next week if they wanted to. The question is, why are they doing nothing? For now, I put their conversations on mute. Now I look for action. But nothing, nothing has been done."
UPDATE
This post has been updated with more information on several measures the Justice Department announced Monday aimed at improving school safety.