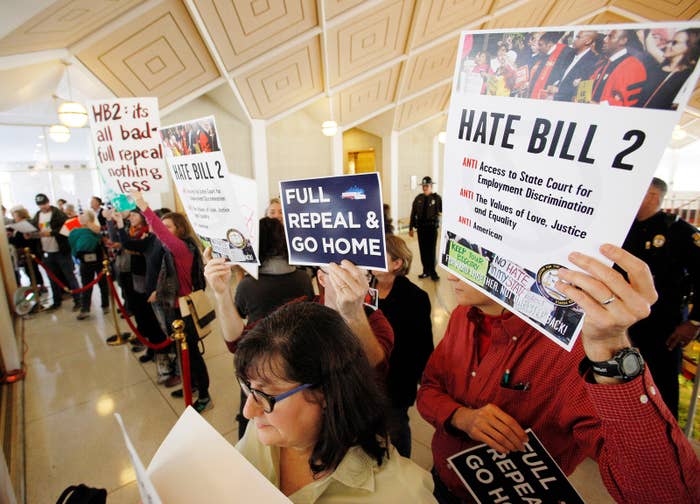 North Carolina's legislature and governor repealed part of a law on Thursday that restricted LGBT rights, but rather than being hailed for moving in the right direction, the Democratic governor is being criticized by progressive activists who say he colluded with Republicans to betray them.
The state senate voted 32 to 16 for the bill late Thursday morning, then sent it to the House of Representatives, where it passed 70 to 48 shortly after 1:30 p.m. local time.

Gov. Roy Cooper announced he had signed the bill a few hours later, telling reporters that the compromise "is not a perfect deal, or my preferred solution."
Fueling the sudden rush of activity, the National Collegiate Athletic Association had threatened to withhold championship games from basketball-loving state until 2022 unless lawmakers changed the existing law by Thursday.
"I believe sports are coming back," Cooper, who has been collaborating with the NCAA, said at a press conference.
But whether the bill actually met the sports association's criteria was unclear. NCAA president Mark Emmert did not divulge what he thought about the new bill, but said the board will make their decision early next week.
"The politics of this in North Carolina are obviously very, very difficult. But they have passed a bill now and it will be a great opportunity for our board to sit and debate and discuss it," Emmert said in a press conference on Thursday.

San Antonio, Texas, is slated to host next year's Final Four. A similar bathroom bill has been proposed and is currently being debated, thought it hasn't garnered much traction.
"The speaker of the house in Texas has opined he doesn't think this is a good bill," Emmert explained. He's obviously a very powerful voice in this debate. So we'll wait and see where it goes."
The underlying law, known as HB2, gained most of its attention for banning many transgender people from restrooms that matched their gender identity in government facilities — making North Carolina the first state with such a policy, while drawing corporate boycotts and lawsuits. And at least one court challenge will continue.
A lesser-known provision of HB2 blocked local jurisdictions from enacting their own LGBT nondiscrimination ordinances.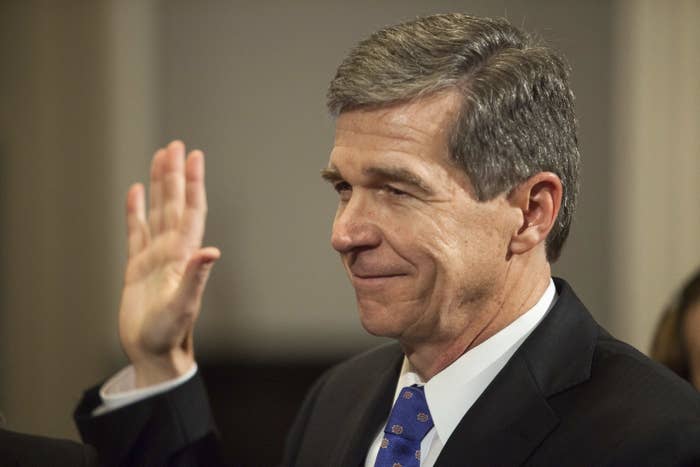 But a deal to repeal the law, which was announced Wednesday night by Cooper and leaders in the Republican-controlled legislature, would only withdraw the rules as applied to bathrooms and other single-sex facilities.
The compromise approved by legislators on Thursday would continue to block local policies that protect LGBT rights until December 2020.
By continuing to ban local nondiscrimination laws, the proposed repeal only reinforces the state's position that discrimination would remain legal, activists said.
Chad Griffin, president of the Human Rights Campaign, which campaigned heavily for Cooper, blasted the governor on Twitter, saying, "This isn't repeal. This doubles down on discrimination. This is a leadership test. And the Governor is failing."
Cooper's office did not respond to BuzzFeed News about how he responded to criticisms from the LGBT groups.
North Carolina is not be the only state to supersede local LGBT protections; Arkansas passed a law to that effect in 2015, and Tennessee passed one in 2011.

Many Republicans who backed the original North Carolina law argued that letting transgender people enter restrooms that match their gender identity would allow sexual predators to attack women and girls, an argument that Democrats have largely denounced as an unsubstantiated red herring used to justify discrimination.

The opposition to Thursday's bill brought together an odd coalition of the left and right, including the North Carolina Values Coalition, which said the measure should be stopped and HB2 should remain on the books. The group argued the law protected young girls and created a business-friendly climate.
The ACLU, meanwhile, sent a letter to Cooper urging him to veto the measure, saying it continues to promote "discriminatory treatment in our state."
The group told BuzzFeed News it will keep fighting the state in court, despite the partial repeal of the law. "The suit is not moot," ACLU staff attoreny Chase Strangio said. "It seeks damages that were inflicted by HB 2, and, many provisions in [the replacement] are functionally the same."
Previous attempts to repeal HB2 have failed. In December, a deal broke down amid partisan gamesmanship while a proposal from Cooper in February was ridiculed by the left and right.