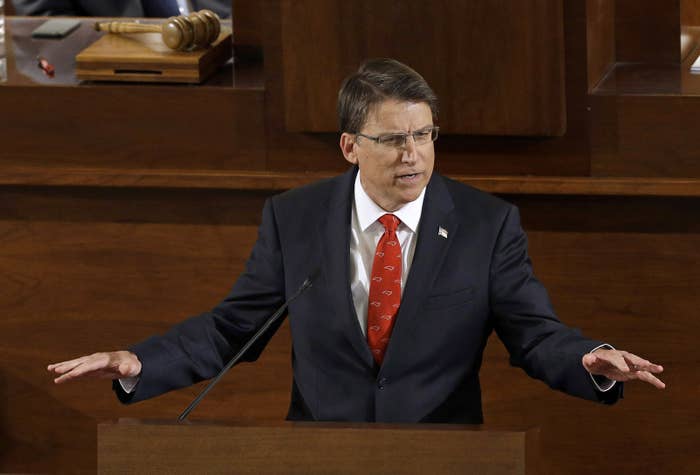 The North Carolina state legislature on Thursday overrode Gov. Pat McCrory's veto of a religious exemption bill, thereby allowing court officials to recuse themselves from issuing marriage licenses to same-sex couples based on their religious beliefs.

The House needed a three-fifths majority to override the veto, and got it on Thursday. The Senate voted to override the veto last week,
"The General Assembly has reaffirmed that SB-2 protects sincerely held religious beliefs while also ensuring that magistrates are available in all jurisdictions to perform lawful marriages," Speaker Tim Moore said in a statement Thursday.

Utah is the only other state to pass a similar exemption, the AP reported.
Democrats, who hold minorities in both chambers, condemned the decision.
"Today, the North Carolina General Assembly was on the wrong side of history," Rep Cecil Brockman said in a statement after voting to kill the measure. "It is deeply disappointing that we have legalized discrimination in this state and sent a message to the rest of the country and the world that North Carolina allows backwards policies like this."

In his veto message, McCrory had said, "I recognize that for many North Carolinians, including myself, opinions on same-sex marriage come from sincerely held religious beliefs that marriage is between a man and a woman."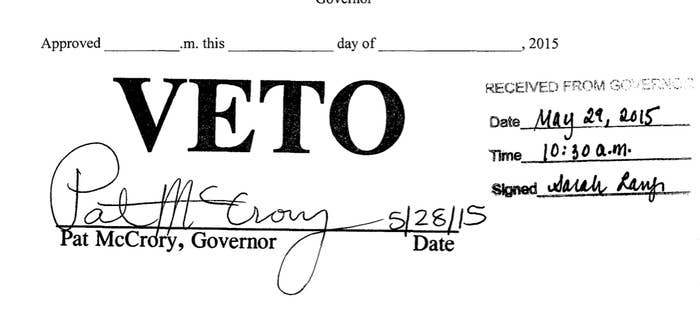 "However," he continued, "we are a nation and a state of laws. Whether it is the president, governor, mayor, a law enforcement officer, or magistrate, no public official who voluntarily swears to support and defend the Constitution and to discharge all duties of their office should be exempt from upholding that oath; therefore, I veto Senate Bill 2."
While they respected the governor's decision, Senate Leader Phil Berger and House Speaker Tim Moore said in a statement, the First Amendment guarantees free exercise of religion. Meanwhile, they continued, the North Carolina Constitution says it protects the "inalienable right to worship Almighty God according to the dictates of their own consciences," and states, "no human authority shall, in any case whatever, control or interfere with the rights of conscience."

"Unfortunately," the lawmakers said, "Senate Bill 2 is necessary because a bureaucracy failed to make reasonable accommodations and instead forced some magistrates to make an impossible choice between their core religious beliefs and their jobs. A majority of the people's elected representatives in both chambers agreed that this bill strikes an appropriate balance between the expansion of rights for some and our constitutionally-protected freedom of religion."
Asked whether lawmakers would attempt to override the governor's veto, the House Speaker's communications director, Mollie Young, told BuzzFeed News, "The speaker will discuss options with Senate Leader Berger and the rest of our leadership before coming to that decision."
The North Carolina Senate passed the bill in February, where it lay dormant for months before being revived Wednesday. But the governor's objections were no secret to lawmakers in the House.
In a March interview with WFAE, McCrory was opposed to the measure. "At this time," the governor said, "I would not sign it the way it's written because ... I don't think you should have an exemption or a carve-out when you swore an oath to the constitution of North Carolina or to the Constitution of the United States of America."
Legislators backing the bill have argued it would stake out a middle ground between honoring religious conscience of public employees and adhering to a federal judge's October ruling that struck down the state's ban on same-sex marriages. Eight magistrates in the state resigned after the federal court decision.
"I really didn't know we were going to take up this bill today," said Rep. John Blust, who voted for the measure in a preliminary vote Wednesday. "On the scramble, I've been trying to get to read the bill."

The bill says that every magistrate, assistant register of deeds, and deputy register of deeds has "the right to recuse from performing all lawful marriages … based upon any sincerely held religious objection." They may also be recused from issuing marriage licenses.
Court officials could seek a recusal for up to six months — during which time they could not perform any other marriages — and the recusal could be based on a religious objection to any type marriage, including between same-sex couples. However, the state would still be required to marry any qualified couple seeking a license.
"The chief district court judge shall ensure that all individuals issued a marriage license seeking to be married before a magistrate may marry," the bill states.
Blust, however, noted that that provision could be problematic.
"I would not be surprised if there are smaller" county offices that have few employees who could issue marriage licenses, he said. "I worry what happens if everyone opts out."

"This is not the way I would address the situation," Blust continued, but he added that "the left has been an aggressor in the culture war."
He said their attitude toward "anybody who has a religious objection" to same-sex couples marrying is to say "you are going to have to participate in these ceremonies."
Still, Blust said, the measure was "an attempt to reach an accommodation."
Democrats on the House floor, many of whom argued their faith does not tolerate discrimination, criticized the bill. Like religious freedom bills passed this year in Indiana and Arkansas, LGBT groups have criticized the bill as a catalyst for allowing discrimination against same-sex couples.
Sarah Preston, acting executive director of the ACLU of North Carolina, said in a statement Thursday, "We applaud Governor McCrory for pledging to veto this discriminatory measure."
Preston urged lawmakers to sustain the veto, arguing the bill is "so broadly written that it would also allow court officers to deny services to interracial couples, interfaith couples, and others. No couple should have to spend their wedding day rushing from one courthouse to another trying to prove they meet the religious criteria of a magistrate just to get a marriage license."
The recusals are paid. An earlier version of this post said the recusals were unpaid. Also, Rep. Blust voted for the bill in a vote of 65-45 on the second reading. The earlier version of this post, which was based the legislature's website listing in Wednesday for the roll call of the second reading, said Blust had voted against the bill in a 65-43 vote.