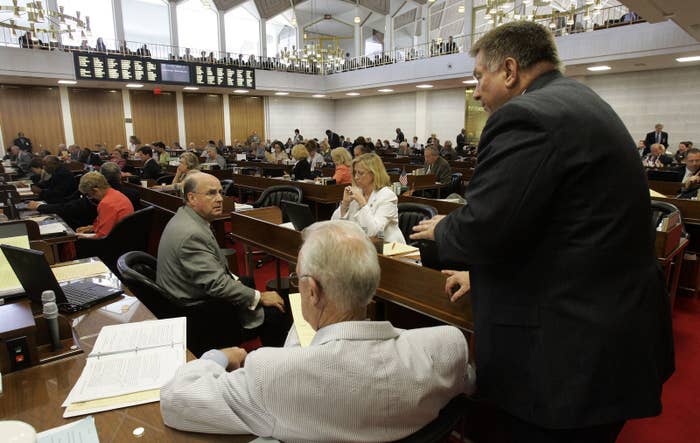 In the final hours of the year's legislative session, LGBT advocates and Democrats in North Carolina fought back a surprise attack that would have stripped cities of ordinances designed to ban discrimination on the basis of sexual orientation and gender identity.
The day before, North Carolina Republicans had inserted the language into another bill that concerned sex trafficking and rules for counselors. The seemingly unrelated, last-minute addition would bar local jurisdictions from passing or maintaining laws on employment and accommodations that differ from state law.
"This came as a surprise to us," Sarah Preston, executive director of ACLU of North Carolina, told BuzzFeed News on Tuesday. "Before the conference committee met last night, we had no idea this was being considered."

However, Rep. Darren Jackson, a Democrat, successfully advocated that the bill be remanded to a rules committee on Tuesday. Lacking the votes to return the bill to the floor, both chambers of the assembly instead passed a previous version of the bill that lacked language about preempting local ordinances.
Lawmakers had been inundated in the previous 24 hours by constituents opposed to the preemption amendment, according to Jonah Hermann, a spokesman for Equality North Carolina. More than 1,000 people in the state contacted their representative after a last-minute push from Hermann's group and its partners at the North Carolina AIDS Action Network, the ACLU, and the Human Rights Campaign.
"We had the network in place and we were able to hit go," Hermann told BuzzFeed News. Progressive groups had fought legislation earlier in the year to let county officials refuse to preform marriages — and while the measure passed anyway, it primed their grassroots network, he said. "With the legislatue attacking LGBT rights this session, it was very rewarding to have a victory here."
The bill had stated: "No city shall have the authority to …[r]egulate or control the employment practices of nongovernmental businesses in the jurisdiction of the city," or "mandate or prohibit the provision of goods, services, or accommodation to any member of the public by nongovernmental businesses in the city."
North Carolina lacks a statewide law protecting LGBT people from discrimination, but more than a dozen local jurisdictions have protections for LGBT people.

Sponsors of the language claim it provides legal uniformity for businesses across the state — a key argument used by backers of similar legislation passed in Arkansas earlier this year.
But Preston said the bill attempts to curtail LGBT protections — with far reaching effects, from housing to employment.
"We have marriage equality in this state, but a person who gets married can still get fired for being gay or lesbian," she said, "and that is just something that needs to change in this state."
The Charlotte Observer reported the language was added by Sen. Chad Barefoot and Rep. Paul Stam. Both are Republicans. "We don't want to have a patchwork of laws in North Carolina with regard to how businesses do what they do," Barefoot told the Observer. "It makes it clear that North Carolina's going to have a uniform system of commerce."