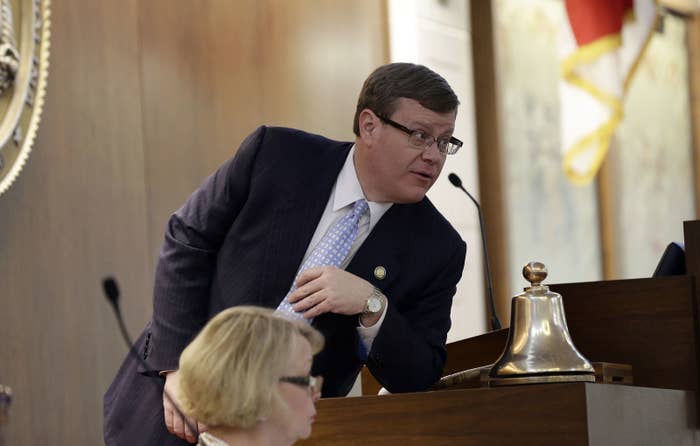 Republican leaders of North Carolina's House of Representatives have drafted legislation that would "walk back" an anti-LGBT law that was passed in spring after conversations with the NBA, according to a report Tuesday by WBTV.

But LGBT advocates roundly blasted the draft bill in interviews with BuzzFeed News, saying it would actually exacerbate problems with the state's existing anti-LGBT law — which bans transgender people from public restrooms that match their gender identity.
The proposed legislation would create a system by which transgender people who want to use restrooms that reflect their gender could obtain a state-issued certificate vouching for a "sex reassignment surgery."
But critics say that would amount to a government registration to use the restroom.
"This bill raises a whole new host of privacy concerns."
"This bill raises a whole new host of privacy concerns by establishing some sort of registry or government repository of private medical information about transgender people," Chase Strangio, a staff attorney for the ACLU, told BuzzFeed News.
Strangio, who is litigating a case in federal court against North Carolina over the existing law, added the law's constitutional and civil rights violations would be "in some ways reinforced" by the draft bill.
"It's almost like they are doubling down on their transgender discrimination and their creepy fixation with the genital characteristics of trans people," he said. "Hopefully people won't be fooled by this non-fix of the law."
A draft of the bill is posted here.
The NBA's position is of particular interest.
WBTV reported the draft bill resulted from conversation between the NBA — which had raised concerns about the existing law in the past — and Republican state leaders. The station also reported the NBA may support the new bill.
"A person with knowledge of the league's plans, who asked not to be identified to discuss details of the ongoing discussion surround the 2017 All Star Game's future in Charlotte, said passage of the proposed legislation would be a big step in helping the league to make the decision to keep the game in Charlotte," WBTV said.
The NBA did not immediately respond to requests from BuzzFeed News for comment.
But LGBT advocates came out against it in force.
Mara Keisling, executive director of the National Center for Transgender Equality, told BuzzFeed News the bill is a step backward.
WBTV reported the bill resulted from conversations between the NBA and Republicans.
"In fact, this bill hurts trans people more," she said, noting that many transgender people do not want surgery to change their sex. "It still assumes that trans people are predators. They are not walking it back, they are pasting a bunch of fat-ass fig leaves on it."
Meanwhile on Tuesday, the Human Rights Campaign condemned the legislation as a "despicable bill" and "ridiculous proposal," while Freedom for All Americans said it "isn't even a step in the right direction."
It is unclear which Republican House leaders are behind the legislation. Speaker Tim Moore, who backed HB2, did not respond to BuzzFeed News' request to comment on the proposal's origins or his goals for it.
For months, Moore and other GOP leaders in Raleigh have argued transgender people pose a safety threat to women in restrooms — a claim without any documented support — as the basis for passing HB2 the law.
Apparently speaking to that issue, the draft bill would raise penalties for illicit behavior in restrooms by classifying them as felonies.
As it stands in North Carolina, HB2 bans transgender people from using single-sex restrooms in government buildings and public schools corresponding with their gender, unless they have changed their birth certificate. Some states do not allow changes to gender markers on birth certificates while others, including North Carolina, require a person to get a gender-affirming surgery.
In lieu of a birth certificate, the draft bill obtained by WBTV states that a transgender person could seek a notarized statement from a physician who has "examined the individual" to find he or she has obtained a "sex reassignment surgery." The transgender person could then submit the doctor's statement and an application to the state registrar, who would issue a "certificate of sex reassignment."
Still, lacking an enforcement mechanism in either the bill or the existing law, it is unclear how such a certificate would be used.
The bill adds that state policies banning discrimination in employment would reflect federal civil rights law that bans discrimination, Title VII of the Civil Rights Act of 1964.
However, Moore and other top state officials have argued in federal court that civil rights law does not ban transgender discrimination. Further, the draft bill reiterates that requiring transgender people to use restrooms that match their birth sex does not constitute discrimination.
Democrat Chris Sgro, the head of Equality North Carolina and a lawmaker in the state House, told BuzzFeed News that he believes Democrats — who hold a minority in both chambers — will be "pretty resolutely opposed to this."
"I think that a transgender person should not have to register with the state of North Carolina to use the restroom" he said, adding, "This is not a fix."