NFL Will Keep Super Bowl In Houston Despite City Repealing LGBT-Rights Law
"We will work closely with the Houston Super Bowl Host Committee to make sure all fans feel welcomed at our events," an NFL spokesman said.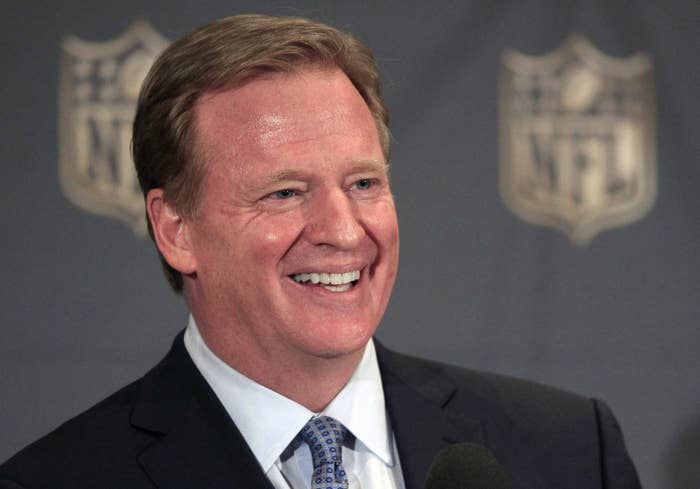 The NFL will still hold the Super Bowl in Houston, Texas, even though voters repealed the city's LGBT nondiscrimination law Tuesday night — a vote that some warned would spur boycotts of the city that would limit business and prompt the NFL to withdraw the 2017 championship game.
However, NFL spokesman Brian McCarthy told BuzzFeed News in a statement Wednesday, "this will not affect our plans for Super Bowl LI in 2017."
"We will work closely with the Houston Super Bowl Host Committee to make sure all fans feel welcomed at our events," he said. "Our policies emphasize tolerance and inclusiveness, and prohibit discrimination based on age, gender, race, religion, sexual orientation, or any other improper standard."

The host committee referred questions to the NFL.
A Change.org petition Wednesday called on NFL Commissioner Roger Goodell to revoke the Houston game, and many people on social media were calling for boycotts of the city. Mayor Annise Parker spoke in general terms about fearing a "direct economic backlash" to the vote.
On Wednesday afternoon, the Human Rights Campaign — the largest LGBT group in the U.S. and a prominent funder of a failed campaign to uphold the nondiscrimination law — pressed Goodell for an "emergency meeting."
The group's executive director, Chad Griffin, wrote in a letter that he wanted to convene advocacy organizations and league official to discuss "the urgent need for a nondiscrimination ordinance in this city that will ensure the thousands of employees, contractors and attendees at this event will be fully protected under the law."

"Commissioner Goodell," the plea said, "you have emphasized the NFL's commitment to diversity and inclusion, respect and fairness. Out of that commitment we hope you will work with us to find a path forward in Houston."

McCarthy said the NFL "will respond to the letter accordingly," but did not elaborate.
On Wednesday evening, Dan Gavitt, NCAA vice president of men's basketball championships, released a statement regarding the NCAA hosting Final Four tournaments in Houston in the future:
The NCAA remains committed to hosting the Final Four and its many fan-related events in Houston so they are open and accessible for all. The NCAA has no plans to move the 2016 Final Four, as it takes years to plan and implement this world-class event. We will continue our work with the Houston Local Organizing Committee to provide an inclusive environment for the student-athletes competing in and visitors attending our games and events in April. This vote, however, could impact the NCAA returning to Houston for a future Final Four. There are many factors in a thorough bid process that the NCAA considers when determining what cities will host the Final Four, including but not limited to local, city and state laws and ordinances.

In a crushing defeat for LGBT advocates, Houston voters repealed the city's nondiscrimination ordinance in a 61% to 39% vote. Known as HERO, the Houston Equal Rights Ordinance protected 15 classes of people, including gays, lesbians, transgender people, people of color, and people of faith.
Critics had claimed the law would allow male sex predators to prowl women's restrooms — a claim that law enforcement officials said was baseless.
Bob McNair, owner of the Houston Texans, had given the repeal campaign $10,000 but withdrew the sum after a public outcry and the campaign used his name to promote the group's message.