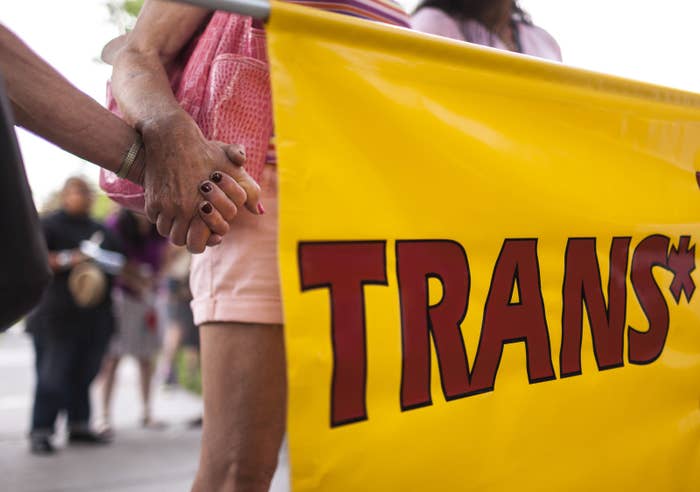 The New York Times ran a headline last summer: "In One Day, Trump Administration Lands 3 Punches Against Gay Rights." But the first punch that day had nothing do with with gay rights: It was "a tweet from President Trump announcing a ban on transgender people serving in the military."
The Times — which I get delivered, read daily, and which makes up 92% of my recycling — gets this wrong a lot.
But this isn't just about the Times. It's about how transgender people are understood in America. Misconceptions about gender identity frequently animate prejudices against transgender people, driving many of the stories about them that become news. Media should clear up those misunderstandings, not fuel them.
Referring to transgender issues as "gay" reinforces the myth that transgender people are defined by sexual predilection. Look no further than campaigns to deny transgender people's access to restrooms to see how their gender identity is equated with dangerous sexuality.
I've covered LGBT issues for more than three years at BuzzFeed News. I'm gay as a basket of rainbows, for the record, and I'll admit that I've bungled my words on trans issues a few times, particularly on Twitter. There were times I thought the language of LGBT politics was too pedantic or repetitive, especially to unfamiliar readers. But I was wrong — and so is the Times.
When the Times covered the death of LGBT advocacy lawyer David Buckel this month, the headline called him a "gay rights" champion. But one of his career-defining accomplishments, which the article noted above his work for marriage equality, was a landmark lawsuit over the murder of a transgender man.
The paper also routinely calls LGBT organizations "gay rights groups" in stories about trans issues. In an especially awkward example, it reported on "gay rights advocates who were angered by Mr. Trump's abrupt decision to bar transgender people from any military job."
The Times prizes its loyalty to the facts. But the fact is, many transgender people don't identify as gay.
According to the US Transgender Survey of 2015, the largest and most recent report of its type, a majority of transgender people aren't straight or gay — rather, researchers found they identified as queer, gay, straight, bisexual, and asexual.
But anti-LGBT activists work hard to conflate gender identity with sexuality. A campaign this year in Massachusetts claims transgender people are suffering from "gender confusion" and warns that a state nondiscrimination law enables "sexual predators who claim 'confusion' about their gender as a cover for their evil intentions."
Or check out the Family Research Council, which seeks to roll back LGBT rights. In its 2015 report titled Understanding and Responding to the Transgender Movement, it says that the "three major patterns of transgender desire" all have erotic motives: males attracted to males, those with a sexual fetish for cross-dressing, and females attracted to females.
That is, the group contends most transgender people are basically gay.
The Times sometimes gets the distinction right — referring to transgender issues as such, and running "LGBTQ" in headlines — but it's not the standard, according to its guidelines.
Danielle Rhoades Ha, a spokesperson for the Times, sent me an email citing the company's stylebook entry, which says "LGBT" should be used "sparingly outside quotes; the abbreviation is cumbersome if used repeatedly, and it may still be unfamiliar to some readers."
It may be true that some Times readers don't know the meaning of LGBT. But a scan of recent Times headlines shows lots of shorthand terms that might be unfamiliar to some readers: "DACA," "ACLU," and "Pruitt" aren't universally known, either.
"Certainly there are times when in looking for shorthand descriptions, we stumble over this," said Rhoades Ha, adding that "we should avoid conflating gay and transgender issues (though of course many organizations, laws etc. deal with both)."
The Times often refers to those LGBT organizations as "gay rights" groups — such as here, here, and here — including the Human Rights Campaign and GLAAD.
"All media outlets, including the New York Times, should clearly identify whether an issue affects the entire LGBTQ community or if it only affects a specific part of the community," Sue Yacka-Bible, a spokesperson for GLAAD, which advocates for accurate media coverage on LGBT matters, said by email.
Yacka-Bible noted the Trump administration has singled out transgender people in some of its recent moves, adding, "When discussing the proposed ban on transgender military service or legislation designed to exclude transgender people from public spaces like bathrooms, it's imperative that media be specific about who is being targeted by these attacks."
Sarah McBride, the national press secretary for the Human Rights Campaign, said that while media coverage has improved across outlets, "We still sometimes see the use of troublesome and outdated terminology. As an LGBTQ civil rights organization, transgender equality lies at the heart of our work and mission, and we encourage reporting that reflects that community-wide reality."
LGBT people share a common cause — they're discriminated against for refusing to meet sex stereotypes and gender roles (like having same-sex partners or identifying differently from their sex designated at birth).
And yet, that connection does not erase what makes LGBTQ people different. Transgender people are subjected to a unique set of challenges, from rampant discrimination in health care to outsize rates of violence. So media coverage shouldn't erase those challenges, either.