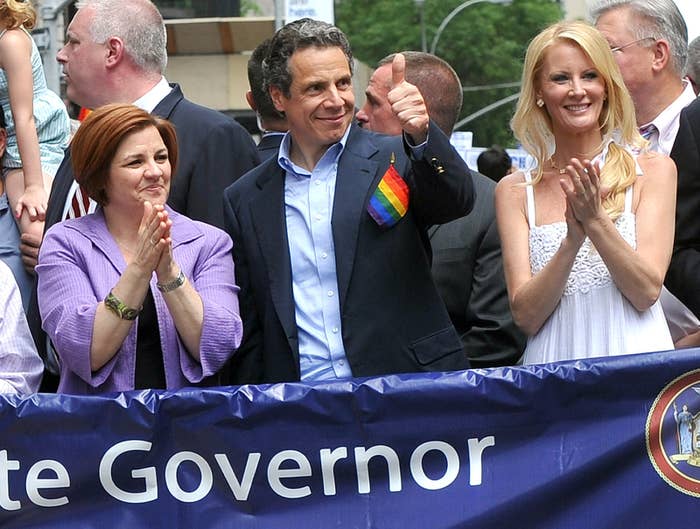 Making an end-run around a legislature paralyzed on the issue, New York Gov. Andrew Cuomo plans to use his executive authority to ban discrimination against transgender people in housing, employment, credit education, and public accommodations statewide.

Currently, the state prohibits discrimination on the basis of sexual orientation. But after the legislature failed several times to pass a bill protecting transgender New Yorkers, the governor decided to take the apparently unprecedented step of invoking his executive powers on the matter, an administration official said.
In a formal announcement about his strategy to extend protections to all LGBT people, Cuomo is scheduled address the Empire State Pride Agenda at an event Thursday evening.
An administration official familiar with planning process told BuzzFeed News that the governor convened key staff this summer to explore ways to implement new rules himself.
Lawyers in the governor's office found that under Executive Law 2995, the New York State Division of Human Rights has the authority to promulgate regulations of the state's Human Rights Law, the administration official said.
The proposed regulations, which the governor's office will soon enter into the state registry for a 45-day comment period, would expand definitions of "sex" and "disability" discrimination to include gender identity, gender expression, and gender dysphoria.
Although the Human Rights Law as passed by the state legislature would not itself be amended, the new additions that apply to the law would grant the New York State Division of Human Rights power to enforce the regulations with the force of law.

New York passed the Sexual Orientation Non-Discrimination Act — which barred discrimination against gays, lesbians, and bisexuals — in 1990. However, efforts to expand on that statute to cover the full LGBT community have faltered. Eight times, the state Assembly passed the Gender Expression Non-Discrimination Act (GENDA), most recently in June, but the Senate failed to pass the measure.

Cuomo, who has long been a champion for LGBT rights, including marriage equality, wanted to right what he saw as a historic wrong against transgender people, said the administration official. The official added that Cuomo and his staff are not aware of any other state where a governor has used executive authority to grant similar protections.
In a statement released before the governor's announcement, Nathan Schaefer, executive director of the Empire State Pride Agenda, said, "We look forward to working with the Administration to quickly implement these regulations so transgender New Yorkers are protected from discrimination — a basic civil right that is long overdue."