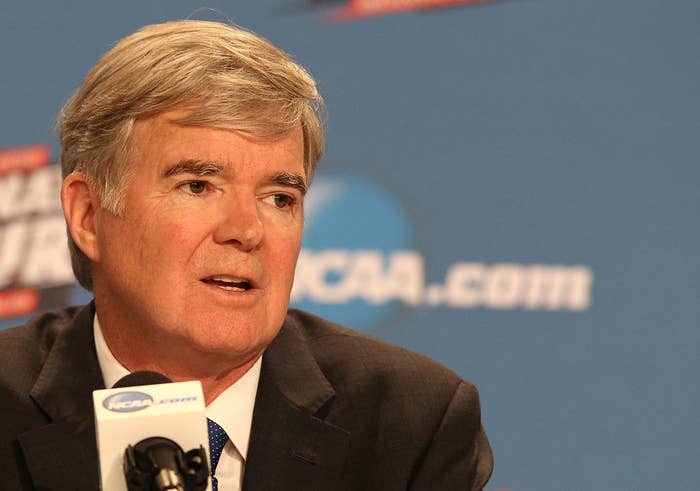 The National Collegiate Athletic Association announced on Tuesday that it will once again schedule championship games in North Carolina, given that the state repealed a key part of a law restricting LGBT rights.
The NCAA's board of governors said in a statement on Tuesday morning that North Carolina's new policy "restores the state to...a landscape similar to other jurisdictions presently hosting NCAA championships."
North Carolina's legislature last week repealed part of the 2016 law, known as HB2, that gained attention for banning many transgender people from restrooms that matched their gender identity in government facilities — making North Carolina the first state with such a policy, while drawing corporate boycotts and lawsuits.
However, a lesser-known provision of HB2 will continue to block local jurisdictions from enacting their own LGBT nondiscrimination ordinances until 2020.
By continuing to ban local nondiscrimination laws, the state's new policy only reinforces the state's position that discrimination would remain legal, activists said.
"As with most compromises, this new law is far from perfect," the NCAA said in its statement. "While the new law meets the minimal NCAA requirements, the board remains concerned that some may perceive North Carolina's moratorium against affording opportunities for communities to extend basic civil rights as a signal that discriminatory behavior is permitted and acceptable, which is inconsistent with the NCAA Bylaws."
However, the board continued, "this new law has minimally achieved a situation where we believe NCAA championships may be conducted in a nondiscriminatory environment. If we find that our expectations of a discrimination-free environment are not met, we will not hesitate to take necessary action at any time."

"In the end, a majority on the NCAA Board of Governors reluctantly voted to allow consideration of championship bids in North Carolina by our committees that are presently meeting. The NCAA championships previously awarded to North Carolina for 2017-18 will remain in the state. The board, however, directs that any site awarded a championship event in North Carolina or elsewhere be required to submit additional documentation demonstrating how student-athletes and fans will be protected from discrimination."
LGBT groups quickly chastised the NCAA, given that parts of the law remained intact. "The NCAA's decision to backtrack on their vow to protect LGBTQ players, employees and fans is deeply disappointing and puts people at risk," said Chad Griffin, president of the Human Rights Campaign, said in a statement. "After drawing a line in the sand and calling for repeal of HB2, the NCAA simply let North Carolina lawmakers off the hook."