On Monday, California, Maine, Maryland, and Minnesota tossed a fourth federal lawsuit onto a pile of cases that seek to block President Trump from ending DACA — a program created under former president Obama that allows nearly 800,000 young undocumented immigrants to remain in the United States.
The states contend Trump broke protocols for dumping the program, formally called Deferred Action for Childhood Arrival, as required by the Administrative Procedure Act and Regulatory Flexibility Act. They also claim he infringed on due process rights guaranteed by the Fifth Amendment.

"DACA is a humane policy with a proven track record of success," says a complaint in US District Court in Northern California, which claims the abrupt termination was "arbitrary and capricious" and "violates fundamental notions of justice."
The Trump administration failed to give public notice, seek comment, or gauge the impacts of rescinding the policy as required, California Attorney General Xavier Becerra, who is leading the suit, said at a press conference on Monday. "The reckless choice to rescind DACA violated the Constitution as well as federal law."
The suit names the United States, the Department of Homeland Security, and acting secretary Elaine Duke as defendants.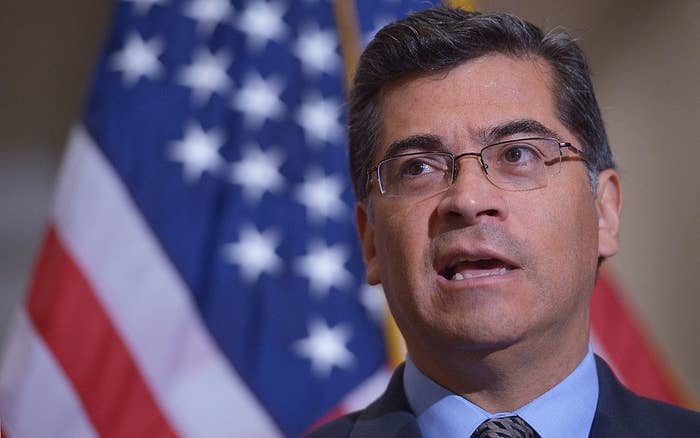 The lawsuit's most striking difference from a case filed last week by 15 other states and Washington, DC, is the location: Those states had sued Trump in the Eastern District of New York.
The California-led suit has been filed within the boundaries of the 9th Circuit — a multi-state appeals court known for its leftward tilt and demonstrated a willingness to suspend Trump's executive actions.
In terms of the argument, the states behind Monday's case echo several of the core claims raised by the other 15 states.
The California-based lawsuit alleges the Department of Homeland Security ran afoul of Fifth Amendment rights to equal protection and due process, arguing that an FAQ on the rescission did not provide "adequate assurances" personal information from DACA applicants won't be used for enforcement in the future.
"They were required to undergo fingerprinting regardless of criminal history," the suit says. "DACA grantees are now at risk that this type of biometric information will be used against them for immigration enforcement purposes."
The suit also argues the federal government violated the legal principle of equitable estoppel by promising a safe harbor for undocumented immigrants to identify themselves and disclose private information, only to see their legal status change.

"We don't bait and switch in this country," Becerra said at the press conference.
Home to more DACA recipients than any other state, California claims it has standing to bring the suit in federal court because it faces harm, including businesses that employ DACA recipients and pay taxes. "There is no state that will be more economically impacted by the Trump administration's ending of DACA than California," said Becerra, adding that rescinding the program "would be felt by California businesses who have depended on economic success of the DACA program."
The Los Angeles Times reported that 222,795 DACA recipients, known as DREAMers, live in the state.
"They are innocent and should not be punished for things done by others."
Flanked by two young women who are enrolled in the DACA program on Monday, Becerra noted they were brought to the United States at the age of four and have lived their lives in the country. "They are innocent and should not be punished for things done by others," he said. "We have no choice but to fight for them."
Last week, when US Attorney General Jeff Sessions announced the administration would "wind down" DACA, he said the 2012 policy was indefensible in part because a related — but different — program called Deferred Action for Parents of Americans (DAPA) was suspended by federal courts.
However, the University of California challenged Sessions' logic in its own lawsuit on Friday. Led by university president Janet Napolitano, who instituted DACA in 2012 when she was secretary of the Department of Homeland Security, the university's complaint, which was also filed in US District Court in Northern California, said the Trump administration's "failure to recognize the many differences between the programs renders their decision unreasonable."
In another case against the administration, a Mexican man enrolled in DACA filed a brief last week in US District Court in the Eastern District of New York. Martín Batalla Vidal argued the Trump administration failed to offer a reasoned explanation for the decision, in violation of the Administrative Procedure Act, and the decision was unconstitutionally "motivated by anti-Mexican and anti-Latino animus."