Missouri Republicans Break Democrats' 39-Hour Filibuster, Advancing Anti-Gay Bill
Lawmakers were trying to block a constitutional amendment, backed by Republicans in the state senate, that would protect religious people and organizations that oppose same-sex marriage.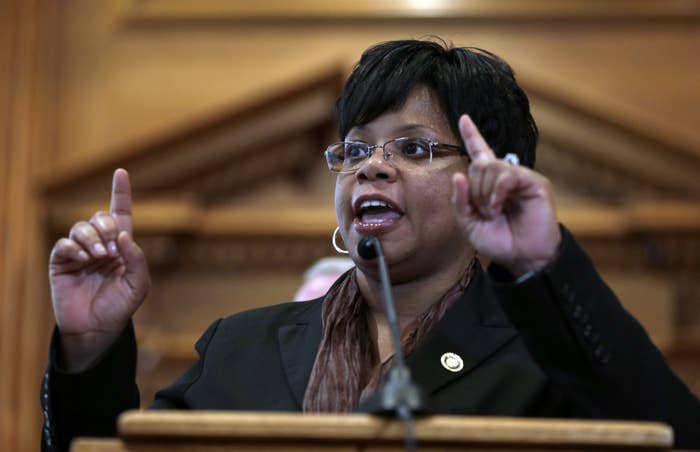 Republicans in Missouri's state senate broke a 39-hour Democratic filibuster Wednesday morning, voting to advance a bill that would protect religious people and organizations opposed to same-sex marriage.
The GOP state senate voted 23-9 to end debate Wednesday morning by using a rare procedural move called a "previous question."
The senate must pass the bill again on a final reading — which is scheduled for Thursday when the senate convenes at 10 a.m. Central Time — before it goes to the state house. If approved by both chambers, the bill must be approved by popular vote at the ballot.
One of the Democratic leaders of the filibuster posted on Twitter, "we fought the good fight":
Democrats are in the legislative minority in Missouri's capitol, but they seized control of the microphone on Monday afternoon by taking advantage of state rules allowing legislators to hold up a bill by talking or debating its merits, also called a filibuster.

Both procedure and theater, the action drew national attention and support from major companies, presidential candidates, and the governor.
"I want to see us go for 24 hours," said Democratic Sen. Maria Chappelle-Nadal halfway through the marathon session.
Critics say the measure would "enshrine discrimination into the state constitution."
Democrats traded off the floor in three-hour shifts, with banter that took on the texture of a morning talk show: eyedrops, watercolor painting, health care management, and, of course, the issue at hand. They said the measure to protect those opposed to same-sex marriage would "enshrine discrimination into the state constitution."
At issue is Senate Joint Resolution 39, which would create a constitutional amendment that prohibits the state from penalizing clergy, religious organizations, and individuals who act on their religious beliefs against marriage between two people of the same sex. It is one of dozens of religious freedom bills filed in legislatures around the country.
Republican Sen. Bob Onder, the bill's sponsor, issued a statement on Tuesday responding to the bill's critics. "This measure does NOT discriminate," he said.
"We are fighting for fairness and the right for people to freely live out their faith while not infringing on the rights of others," the statement continued. "It's about liberty."
The Republican state caucus tweeted that the bill was "a shield, not a sword."
But major corporations and politicians argued otherwise.
Hitting close to home, the Missouri-based agricultural giant Monsanto issued a statement Tuesday amid the filibuster when asked about rumors that the company was lobbying to defeat the measure.
"At Monsanto we remain committed to diversity and inclusion for all. This legislation would be contrary to that position," Monsanto spokesperson Charla Lord told BuzzFeed News. "Monsanto is calling on other businesses and the agricultural community to join the company in speaking out against discrimination here in our home state of Missouri and around the world."
The St. Louis chamber of commerce also weighed in, saying SJR 39 "sends the message to the rest of the country that Missouri condones discrimination." The group called to amend the bill. Likewise, Dow Chemical, which maintains plants in the state, announced during the filibuster that it opposed the legislation.
Politicians, including Democratic presidential candidates Bernie Sanders and Hillary Clinton, weighed in while the filibuster persevered through the Tuesday primary.
Gov. Jay Nixon, a Democrat, also rallied for the filibuster. The bill does not require his signature to become law.
LGBT advocates warned that Onder's measure, if passed, would create a legally dubious double standard because it singles out one type of person — those in a same-sex marriage — for discrimination.

"The state cannot constitutionally prefer one set of religious beliefs (here, those opposed to marriage for same sex couples) over all other beliefs," Eunice Rho, advocacy and policy counsel for the ACLU, said in an email to BuzzFeed News.

She added that the measure raises "serious constitutional concerns" because the Supreme Court's marriage equality ruling last June ensures "same-sex couples enjoy the same constitutional right to marry as everyone else."
Likewise, the Human Rights Campaign said in a statement on Tuesday that the measure is "shrouded in language" about protecting those with religious beliefs. But, the group argues, "it opens the door to discrimination against same-sex couples."
SJR 39 would protect religious organizations — even if they are only religious "in part" — for taking action based on their opposition to same-sex couples marrying. Those organizations could include a religious society, corporation, entity, partnership, order, preschool, school, institution of higher education, ministry, charity, social service provider, and others.
Further, it would protect individuals — including "a closely held commercial entity" — from refusing goods of expression or artistic creation for a same-sex wedding.

The state would be barred from penalizing, taxing, denying a tax exemption, refusing a license, terminating a contract, and taking various other actions against a qualified entity.

Missouri lacks a state law protecting LGBT people from discrimination.

The filibuster against the bill was being led by Democratic Sens. Jamilah Nasheed, Jill Schupp, Scott Sifton, Jason Holsman, Chappelle-Nadal, Joseph Keaveny, and Kiki Curls.