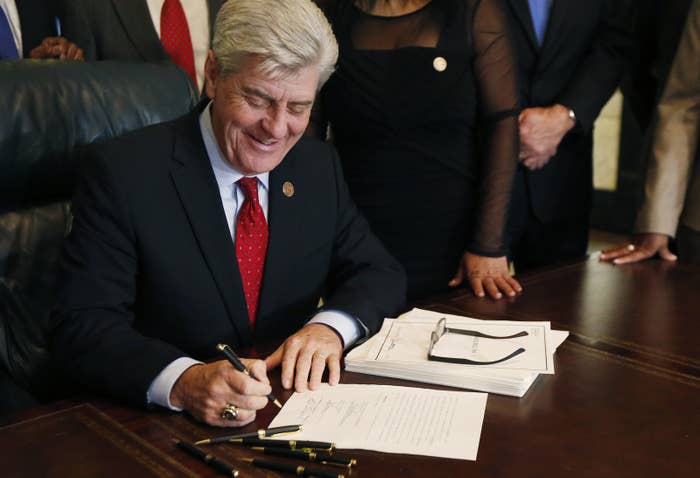 Mississippi Gov. Phil Bryant on Tuesday signed into law what critics say is the most sweeping anti-LGBT legislation in the United States, permitting the denial of products and services in a wide range of venues.

The Republican governor said he enacted the law "to protect the sincerely held religious beliefs and moral convictions of individuals, organizations, and private associations."
Attempting to rebut criticism from LGBT advocates and Democrats — who had urged him to veto the measure — Bryant added the law does not strip anyone's existing rights.
Here is Bryant's statement.
House Bill 1523 protects individuals, religious organizations, and certain businesses who take actions due to their religious objections to same-sex marriage — or any sex outside straight marriage. It also protects those who object to transgender people.
The bill says they could not face government retribution if they were acting based on "sincerely held" religious beliefs.

In addition, it covers those who decline for reasons of faith to provide counseling services, foster care, and adoption services — even, apparently, those receiving government funding. Clerks who issue marriage licenses could also recuse themselves.

Republican backers argued their legislation fixes problems created for people of faith when the Supreme Court ruled for marriage equality last year.

The law protects individuals, certain businesses, and religious organizations with religious objections to same-sex marriage or transgender people.

Existing Mississippi law does not protect people from discrimination on the basis of gender identity or sexual orientation — however, the law previously did not provide explicit protection for those who do discriminate.
"This is probably the worst religious freedom bill to date," Ben Needham, director of Project One America, an LGBT advocacy project in the Deep South run by the Human Rights Campaign, told BuzzFeed News.
Needham and other critics have argued the legislation explicitly allows the denial of services, goods, wedding products, medical treatment, housing, and employment to LGBT people.
"This is the most hateful bill I have seen in my career in the legislature," Rep. Stephen Holland said last week, urging his colleagues to stop the bill. "You ought to be ashamed of yourself. You are doing nothing but discrimination."
However, the Republican-dominated Mississippi House of Representatives voted 70–47 on Monday to send the bill to the governor.

On Monday evening, a crowd had gathered outside the governor's mansion, urging Bryant to veto the bill.
In speeches on the Senate floor Wednesday night, Republicans said the law was needed for Christians.

"It gives protection to those in the state who cannot in a good conscience provide services for a same-sex marriage," Sen. Jennifer Branning said in an address to her colleagues.
"I don't think this bill is discriminatory," she continued, saying the bill instead protects the rights of Christians from government retribution if they oppose same-sex couples getting married. "It takes no rights away from anyone."
But Democrats fiercely contend the new law is overly broad, specifically encouraging discrimination against LGBT people in numerous settings, thereby inviting backlash that other states, including North Carolina, have faced for passing laws targeting LGBT people.
The Mississippi law was enacted weeks after North Carolina passed a law that targets LGBT rights and Georgia's governor vetoed a religious protection bill under pressure from corporations threatening to pull business from the state.

The Mississippi legislation combines elements of lightning-rod Religious Freedom Restoration Acts (which restrict government from burdening exercise of faith) and First Amendment Defense Acts (which protect people opposed to same-sex couples marrying).

"This would be a new type of bill out there," Needham said before the bill was signed.

"It is very broad and very dangerous. It basically sanctions religious discrimination."
The 13-page measure prohibits the government from "discriminating" against a person and certain organizations for acting on their religious convictions.

It defines "person" broadly — including "sole proprietorship, or closely held company, partnership, association, organization, firm, corporation, cooperative, trust, society or other closely held entity."

The government also could not penalize a religious organization for denying housing, employment, or services.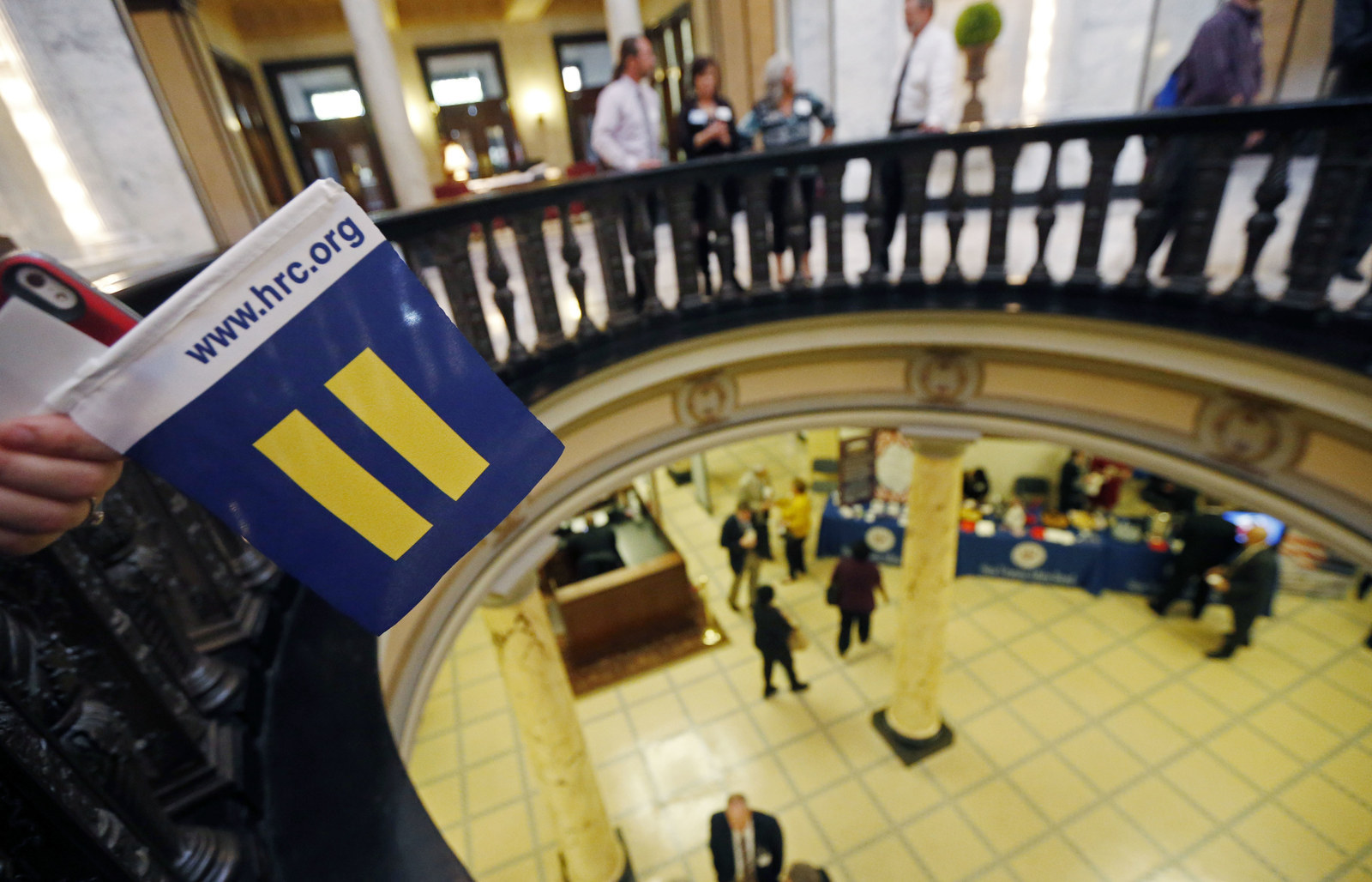 The law further protects those providing photography, poetry, videography, disc-jockey services, wedding planning, printing, floral arrangements, dress making, cake or pastry, artistry, wedding-venue rentals, limousine, car-service rentals, jewelry sales and services, or similar marriage-related services.
It also protects those who believe "sexual relations are properly reserved" to opposite-sex marriages, and that being male or female is "objectively determined by anatomy and genetics at time of birth."

It goes on to cover those enforcing sex-specific policies for employee or student dress or grooming, or concerning access to restrooms, showers, dressing rooms, or locker rooms.
It also protects those who decline treatments, counseling, or surgeries related to sex reassignment or gender-identity transitioning — or decline to participate in psychological, counseling, or fertility services. The law provides an exception for medical emergencies.
In defining "discriminating," the law says government could not fine, withhold loans, give bad grades, refuse to hire, or take dozens of other retaliatory acts against individuals acting on their faith.
"It is very broad and very dangerous," said Erik Fleming, the director of advocacy and policy for the ACLU of Mississippi, who also served for 11 years in the state House. "It basically sanctions religious discrimination."
"It is reminiscent of what happened 50 or 60 years ago in this same state," Fleming told BuzzFeed News. "People say that it is just religious, but there were people who had a religious belief that black and white people should be segregated, and you're opening that Pandora's box again."
Democratic Sen. John Horhn had warned about repeating that history.

"Why does this keep happening to Mississippi? Why do people keep thinking so badly of us?" he said in a speech to fellow lawmakers.
"This is one of them," he said. "It's House Bill 1523 before us. They say it's about same-sex marriage. If that's the case, why does it include adoptions? Then why does it allow discrimination in medical services? The reason we are so adamantly opposed to it is because we have already been there.
"Ladies and gentleman, we don't need to pass this legislation. We don't need to put another stain on Mississippi."