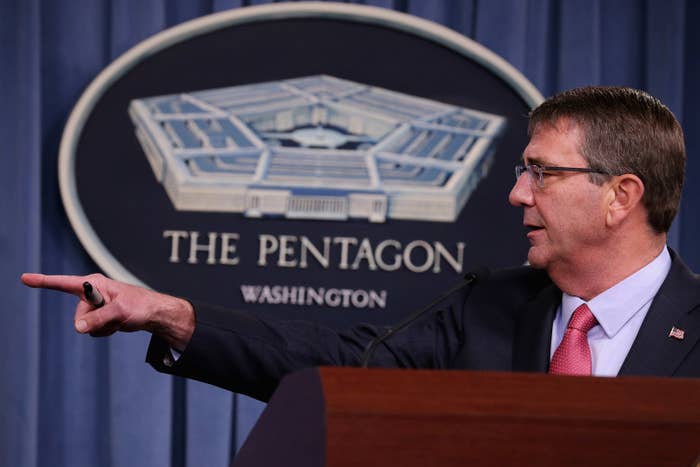 The Department of Defense is expected to unveil a new policy in the coming days or weeks that allows transgender people to serve openly in the U.S. military, sources told BuzzFeed News and other media outlets in the past week.
Three individuals familiar with the policy's development over the past year have now provided BuzzFeed News insights into major issues that the rules are likely to address. The U.S. Department of Defense has not provided a copy of its final policy to BuzzFeed News.
Above all, Secretary of Defense Ash Carter would need to repeal rules that deem transgender people inherently unfit to serve. More than that, the sources said, a practical set of guidelines will likely include standards for transgender military applicants, procedures to let current service members transition their gender, a mechanism to provide health care, rules for housing and dress codes, and other details.
According to the sources, these are some of the major areas the policy will cover:
Repealing the Ban
Any reform that allows transgender people to join the military would require repealing or amending a Department of Defense rule that says people with a history "transsexualism" have a "psychosexual condition" that renders them medically unfit for service. Each branch of the military would need to reform any analogous policies.
Admissions
Transgender people would be allowed to enlist if they meet certain criteria, the sources told BuzzFeed News this week. A transgender applicant would likely need to show they have completed their gender transition. This may include providing proof from a medical professional of gender dysphoria — the medical term for being transgender — while also showing the gender dysphoria is currently being addressed so that the applicant is not currently feeling distress. (As a general matter, treatments for gender dysphoria include socially living as one's target gender and undergoing hormone replacement therapy under a doctor's care. Some transgender people also have surgery to change primary or secondary sex characteristics.)
The sources said that a policy is unlikely to mandate that an applicant undergo any specific medical procedure, such as surgery, to enlist.
In order to qualify, applicants would also likely need to demonstrate that their gender transition has been complete for a certain time period, the sources said. It is unclear how long that period would be; the sources believed that the military will mandate 18 months between the final stage of transition and when the person applies.
The applicant would need to meet the fitness standards as their target gender to be accepted, the sources said.
Health Care
A cornerstone of any policy would be providing care though the Military Health System, the medical provider for military personnel. Once enlisted, service members would be able to seek care from in-house counselors and physicians, the sources said, allowing them to receive treatments and medications.
That system already provides certain medications, such as hormones, to non-transgender service members. Likewise, some military surgeons already have experience performing procedures transgender people may require, such as genital reconstruction and breast augmentation.
Medical services required outside of the military could be arranged through Tricare, the Defense Department's civilian health coverage program, the sources said.
Transitioning While Serving in the Military
More than 10,000 transgender people are currently enlisted in the military, according to estimates from the Williams Institute at UCLA Law School, yet only a handful are currently able to serve openly. Many of those service members would likely seek to transition after a new policy is announced.
The sources said that a policy would likely lay out a framework for branches of the military to create protocols for active service members to transition.
Such policies would include service members receiving a diagnosis for gender dysphoria from a counselor, undergoing treatments under a doctor's care, and meeting with a commanding officer to arrange a gender transition. The commanding officer would likely have broad discretion to approve a timeline for that transition, including delaying it based on the unit's needs. The transition would notably include changing a service member's gender markers in the military's medical and administrative systems.
The policy would also establish timeframes when transgender service members are considered non-deployable — like being unable to be sent to combat zones — after beginning certain treatments or undergoing procedures, the sources said.
Like those applying to the military, active service members would need to meet fitness standards corresponding with their gender identity, the sources said. However, military officials sometimes temporarily waive a fitness test for members with medical exemptions. The sources added that transgender service members could also be qualify for temporary waivers.
Housing, Restrooms, Grooming, and Uniforms
Once a transgender service member enlists or an active member switches their gender, the sources said, the policy would likely require them to use housing, meet grooming standards, and and wear uniform consistent with their gender identity right away. Likewise, they would use restrooms and shower facilities reflecting their target gender. The Defense Department would likely require military branches to establish codes to implement these rules. Those rules could reflect standards already used among mixed-gender groups of service members.
Confidentiality
The policy is likely to include rules for keeping records of a person's birth sex private, so that transgender people are not inadvertently outed, the sources said. Likewise, there may be efforts to synchronize changes to various records all at once, so that inconsistencies between records do not reveal that a service member is transgender.
Nondiscrimination Policy
The Equal Employment Opportunity Commission, a federal agency that deals with employment discrimination law, has found discrimination on the basis of gender identity is illegal among government and civilian workers. But the agency's jurisdiction ends at the military's door. The sources said the Defense Department would likely amend its Military Equal Opportunity policy, which currently bans discrimination on the basis of sex, to state that includes discrimination on the basis of gender identity.
Gordon Trowbridge, a spokesperson for the Department of Defense, declined to comment on the details of the policy on Wednesday. He told BuzzFeed News, "We hope to have something to tell folks soon about the work we have been doing since the secretary's' announcement last July that he would look at this issue."