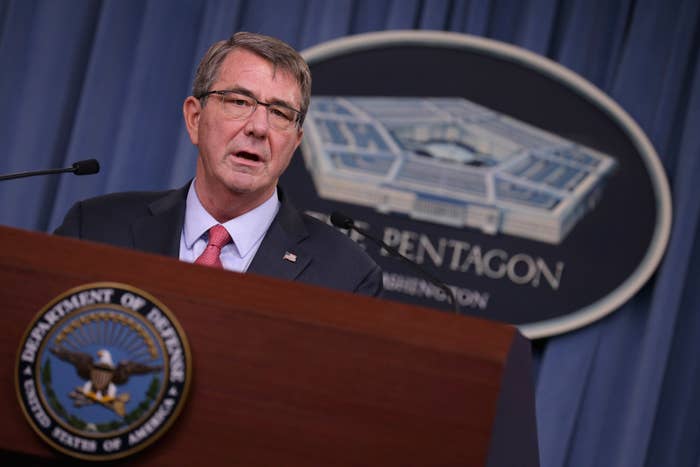 The Pentagon has repealed its long-standing ban on transgender people serving openly in the U.S. military "effective immediately," Defense Secretary Ash Carter announced Thursday.
"Americans who want to serve and meet our standards should be afforded the opportunity to do so," Carter said. "Implementation will begin today."
"We don't want barriers limiting a person's qualifications to serve," he said. "We have reason to be proud today of what this will mean for our military, because it is the right thing to do, and it is another step in ensuring that we continue to recruit and retain the most qualified people,"
A previous Department of Defense rule said people with a history "transsexualism" have a "psychosexual condition" that renders them medically unfit for service.

"It is the right thing to do, and it is another step in ensuring that we continue to recruit and retain the most qualified people."

Under the new rules, Carter said at a Pentagon press briefing, transgender people would be allowed to enlist if they meet certain criteria. A transgender applicant would need to show they have completed their gender transition for 18 months.
Further, he said, transgender people currently serving in the military will be able to legally transition to their target gender with the help of the military's healthcare system and under the guidance of commanding officers.
Within 90 days, the military's medical providers will establish mechanisms for transition-related medical care and changing gender markers within the military's personnel system.
Carter said the policy would be fully implemented to allow promotions and accessions service members — including meeting fitness standards of their target gender — within a year.
After two years, Carter added, the department would review the policies — including the rule that applicants must have completed their gender transition for 18 months before enlisting.
As BuzzFeed News reported Wednesday, sources familiar with the policy's development said the new rules would give commanding officers broad discretion to approve timelines for gender transition by active duty service members, including delaying the transition based on the unit's needs.
Further, those sources said, once a transgender service member enlists or an active member switches their gender, the policy would likely require them to use housing, meet grooming standards, and and wear uniform consistent with their gender identity right away. Likewise, they would use restrooms and shower facilities reflecting their target gender.
LGBT military groups praised the announcement, including SPARTA, which has been a leading advocate for reforms since Secretary Carter announced plans to study the issue last July.
"The thousands of transgender soldiers, sailors, airmen, Marines, and Coast Guardsmen — and their commanders — have one less burden on their shoulders today," said a statement from dormer army captain and SPARTA president Sue Fulton.
"We are grateful to the military and civilian leaders in the Department of Defense who worked so hard to get this right," she added.
Mara Keisling, the executive director of the National Center for Transgender Equality, "commend[ed] the Pentagon's action" on Thursday, but noted, "We do have remaining concerns about an expected 18-month delay for individuals to join the military after a gender transition."
"This delay is substantially longer than individuals for comparable medical issues," she said. "We hope that this is a lingering piece of transgender exceptionalism that we expect will change as the military sees that it is simply an unnecessary barrier to getting the best talent."
An outside consultant, the RAND Corporation, found that healthcare "costs would be minimal" and that "the medical treatment that service members who are currently transgender require is fairly straightforward, well understood," Carter said.
He added that the Pentagon found that 18 other nations' militaries allow transgender people to serve openly and that major U.S. companies have "health insurance plans with transgender inclusive coverage. That's up from zero such companies in 2002."
"Although relatively few in number," he said, "we are talking about talented Americans serving this country with honor."
Read this fact sheet about the implementation of the policy change that was provided by the Pentagon:
Download PDF