Michigan's State Senate Leader Expects Religious Freedom Bill To Die
Senate Majority Leader Randy Richardville "does not expect the bill to come up for a vote" before the legislative session ends, his spokesperson said.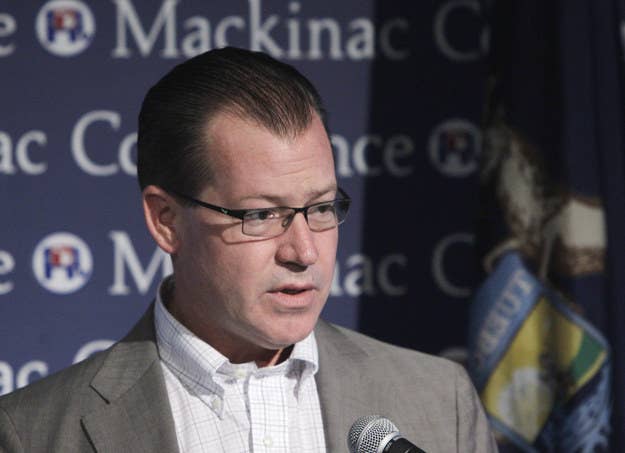 Michigan Senate Majority Leader Randy Richardville expects a religious freedom bill, which would allow people the right to refuse service based on their faith, to die in the legislature without a vote, according to his spokesperson.
"He does not expect the bill to come up for a vote in the senate before the end of the term," said Richardville's spokesperson, Amber McCann.
The state's GOP-controlled house of representatives passed the Religious Freedom Restoration Act (RFRA) along party lines on Dec. 4. The bill is now in the state senate, where Richardville, a Republican, sets the agenda. Michigan's legislature session adjourns this month.
"He does not feel the need to rush any bill through for a vote," McCann told BuzzFeed News. "RFRA is not a priority for Senator Richardville."
Critics have dubbed the measure the "right-to-discriminate bill," arguing it would grant people sweeping discretion to discriminate against any sect of society they choose on religious grounds.
As successes rack up in the form of marriage equality rulings and anti-discrimination laws across the United States, some conservatives have begun a counter-offense, advancing a raft of state religious freedom bills that would allow people with moral objections to avoid involving themselves and their businesses with LGBT people. Such bills have either been pre-filed or are expected soon in Kansas, Texas, North Carolina, Utah, and other jurisdictions.
In Michigan, an LGBT anti-discrimination bill failed in the house after key players disagreed about the measure's scope while the RFRA bill — originally introduced as a companion measure to the LGBT anti-discrimination bill —passed just before a cutoff deadline.
Critics have said the RFRA is particularly broad, providing a legal argument to refuse selling everything from wedding cakes to couples because they are gay or transgender to refusing lunch service to someone because she is black.
"It is very broad," said Rana Elmir, deputy director at ACLU of Michigan, which lobbied against the RFRA as part of the group's ongoing work to provide equal access in public accommodations. For example, Elmir told BuzzFeed News, "It would allow an officer to argue that he or she would not have to patrol a mosque. Pharmacists could argue that they can refuse to give daily birth control. It seem like the sky's the limit."
Michigan's House Republicans hit back against those arguments in an online FAQ that says the bill "is merely a protection for people who are forced by government to violate deeply held religious beliefs. It does not provide a legal sword for people to use as a method to discriminate."
Elmir told BuzzFeed News tens of thousands of people, organized by numerous groups and religious leaders, contacted lawmakers in protest of the bill in recent weeks. She said public opinion is on their side, adding, "discrimination is not a Michigan value."
The text of the bill provides a legal defense to people whose "religious exercise is substantially burdened," allowing them to act or refuse to act when "substantially motivated by a sincerely held religious belief, whether or not compelled by or central to a system of religious belief."
Many expect Michigan's RFRA to return in 2015. But it is unclear if Richardville supports passage of the state law.
"If it's important to the next crop of senators then they reintroduce in the new year," said McCann. Asked if Richardville supports such a proposal, she said, "He supports the premise but he feels federal law already offers enough protection."