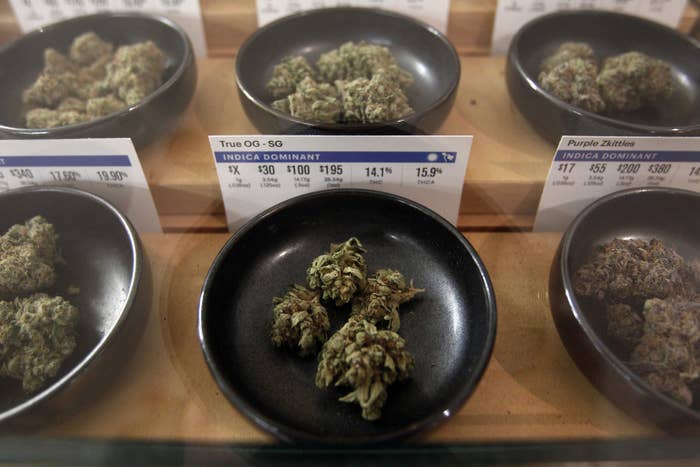 Michigan voters puff, puff, passed a measure to legalize marijuana on Tuesday, joining a wave of other states to break away from federal prohibition amid a seemingly unstoppable surge of public support to let adults use, buy, and sell the drug in peace.
State election officials showed the measure passing 58% to 42%, with 55% of precincts reporting.
Michigan Proposition 1 lets adults 21 and older purchase, possess, and use cannabis, while growing up to 12 plants for personal use. There's a 10-ounce limit for marijuana kept at residences. Like eight other states, it mandates a licensing system for marijuana businesses. Sales of marijuana and edibles would be subjected to a 10% tax.

Meanwhile on Tuesday, North Dakota voters rejected a proposal to legalize marijuana — Measure 3 — by roughly 20 points. That proposal would have been an anomaly among legalization laws, in that it lacked any provision to regulate the marijuana industry. Rather, it would have wiped out all criminal penalties for possessing, growing, and selling marijuana — except sales to people under 21 — without imposing any structure to license farmers or stores.

Since Washington state and Colorado first legalized marijuana in 2012, those states and others have implemented rigorous regulatory models to tax and license pot businesses, trying to stave off a federal crackdown. Vermont's legislature legalized possession and growing a few plants — but not a system to sell the drug.

The Controlled Substances Act federally bans marijuana for any purpose, including medical use, but federal law enforcement agencies lack resources for small-time pot busts and federal courts usually ignore all but the largest cases. The Justice Department has since tolerated pot businesses that don't trigger certain federal priorities — like not selling to kids, not letting pot cross state lines, and cutting off proceeds from reaching crime rings.
The subsequent explosion of pot businesses from California to Massachusetts has allowed a massive above-board industry to take root as public support for legalization surged. A Pew Research Poll in October found 62% of Americans supported legalization — the highest in the survey's history — while only a third opposed it.
CORRECTION
Michigan is the 10th state to legalize marijuana. An earlier version of this article omitted Vermont.