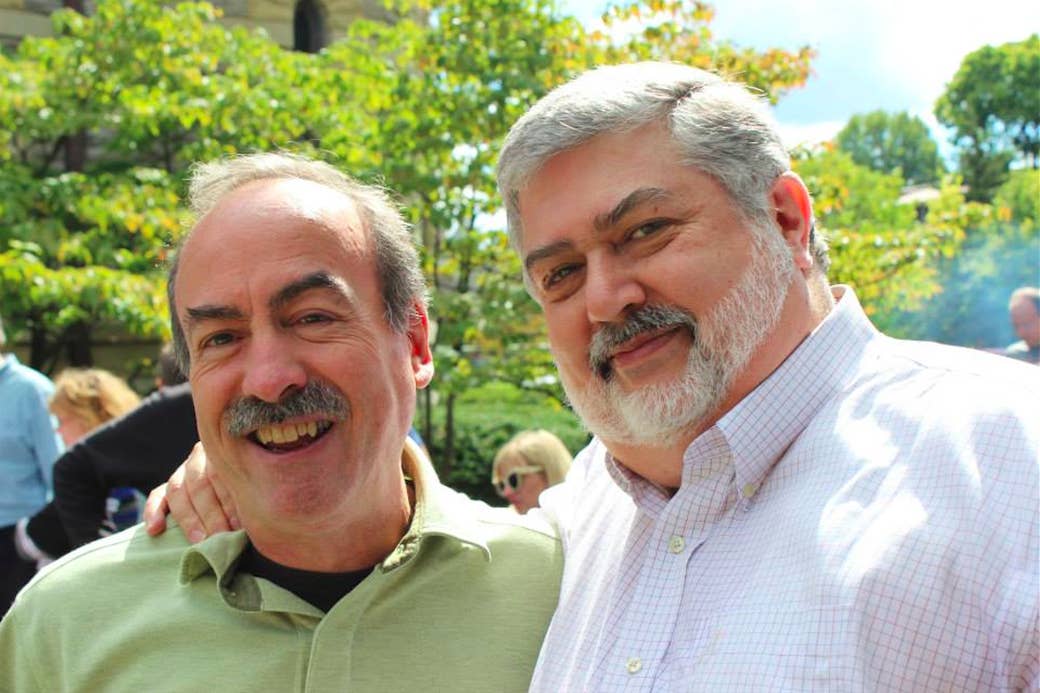 Pastor David Meredith, an ordained minister of the United Methodist Church, married his boyfriend of 28 years on Saturday in a potent protest against church doctrine that bans ministers from marrying same-sex partners.

"I am completely aware that there are consequences, but I am not afraid," Meredith told BuzzFeed News in a phone call before the ceremony, pointing out he could be defrocked, removed from his congregation in Cincinnati, and lose his income.
The wedding was, of course, primarily about his union with Jim Schlachter, he said. But, he added, "if it leads to a change, it will be a big win."
The timing was deliberate. With the church's international voting body meeting Tuesday in Oregon, the high-profile marriage could persuade delegates at the General Conference to pass several proposals that would repeal the church's anti-gay rules. Those rules ban clergy from being out homosexuals, prohibit clergy from marrying same-sex couples, and bar funding for LGBT-positive organizations.
Rev. Susan Brooks Thistlethwaite, a professor of theology at the Chicago Theological Seminary, told BuzzFeed News, "This is a very important moment for the United Methodist Church. I think the wedding can inspire empathy among the delegates, because you have a Methodist pastor — this is one of the leaders of the church. This is someone they have ordained, and that is important to other church leaders."
"The church is at a boiling point."
It was the latest example of a growing insurgency within the United Methodist Church, which has about 80 million followers. The church's voting body shot down proposals in 2008 and 2012 to remove anti-gay policies. But now that the Supreme Court has scrapped marriage bans in the United States, many believe that high-profile acts of disobedience could have repercussions.
Divisions within the church could lead to a mass exodus of progressives fed up with anti-gay rules, for example. Or, so many gay Methodists could disobey church doctrine that the rules become unenforceable.
As BuzzFeed News reported last month, a Methodist minister married two gay men in North Carolina, and a formal complaint was filed within days. The local bishop launched an investigation into the minister, a straight pastor, who performed the wedding. In the past few years, another pastor was defrocked and a bishop faced an investigation for their roles in marrying gay couples.
"The church is at a boiling point over the wedding in North Carolina, and it's going to boil even further," Matt Berryman, the executive director of Reconciling Ministries Network, an LGBT advocacy coalition leading the charge for changing Methodist policy on sexual orientation, told BuzzFeed News. His group has assembled hundreds of congregations that are on the record supporting LGBT rights.
"This wedding is a big deal because it's happening right before the General Conference," he said. "It's just a sign of what's to come. "
The wedding in Ohio wasn't the first case of a United Methodist Church minister marrying a same-sex partner — there are at least three other examples in the last decade, including one in Seattle in 2013 — but the ceremony stands out for its calculated timing and geography. Held in a United Methodist Church in Columbus, it occurred in the church's relatively conservative West Ohio Conference, where members are considered more likely to file a formal complaint.
With about 7 million members in the U.S., the United Methodist Church is the largest mainline Protestant Christian denomination. Yet, unlike several other leading denominations, such as the Episcopal Church, it has not repealed its ban on same-sex weddings.
And realistically, like its conventions in 2008 and 2012, the church's General Conference appears unlikely to repeal the anti-gay rules this year. A majority of delegates represent foreign countries — and the church's large, growing African contingent is overwhelmingly opposed to LGBT inclusion.
Failing to pass the proposals again would only exacerbate tensions and protest, Berryman said.
"If they don't change the rules, the reality is that this is just the beginning," he said. "The floodgates will open and everyone should expect to see mass civil disobedience — or biblical obedience — after the General Conference. Weddings will be happening so frequently, the church will have to lay down its arms."
Alternatively, Thistlethwaite said, the church risks losing its members. "If they don't pass these proposals, I really think there will be a stampeding exodus from the United Methodist Church, because young people are just not having this anymore," she said. "They are not willing to equate religion with discrimination."
She added that the United Church of Christ could serve as an example: After it embraced marriage equality, some members left, but now, the policy on gay rights is an asset. "We're growing, and the others are not," said Thistlethwaite, who belongs to the United Church of Christ.
"I don't feel guilty for being gay. I am a better pastor and a better disciple of Jesus because of it."
For his part, Pastor Meredith acknowledged that the General Conference may not pass proposals striking down anti-gay church rules.
"But they can't ignore it," said Meredith, who added that while he is breaking parts of canon law, he is obeying teachings of the Bible. Meredith said has never hidden the fact that he is gay from the church's hierarchy, but he has never made it impossible for them to ignore until now. "I want the policy to change, and I want the practice to change."
"I run the risk of losing it all," he continued. "If they want me to say I'm guilty, I won't say 'I am guilty.' I will own that I am gay, but I will not own it with their language that says there's something wrong with it. I don't feel guilty for being gay. I am a better pastor and a better disciple of Jesus because of it."
"It doesn't feel like I am being brave or courageous," he said. "Inside, it feels like I am being faithful."
More than changing policy in the church, Meredith said he wants to change the Methodist church's culture in Ohio.
"I hope that every person who is gay, lesbian, transgender, bisexual, or queer in the United Methodist Church will feel a sense of strength from this wedding. Having 400 Methodists at my wedding affirm, recognize, and bless 28 years of love and life together, nobody can take that away," he said. "No General Conference can really harm me. No bishop can hurt me when I have the womb of the church surrounding me."
The service itself was, in parts, traditional. There were church songs and a reading of the liturgy, Meredith said. But there were also some signature pieces from the gay canon, too.
"Our closing song is from Rent."