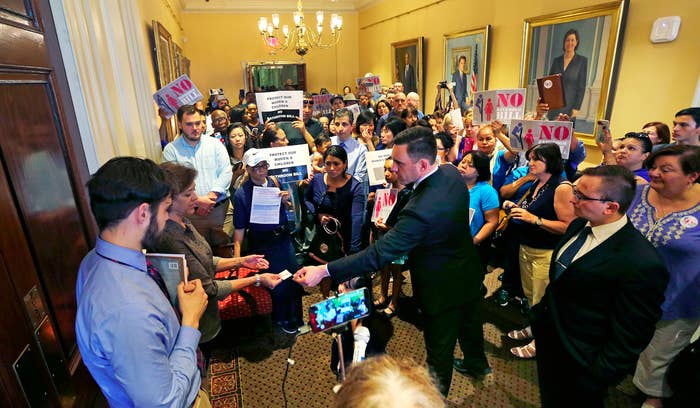 A group that has stoked fears about transgender women preying on girls has submitted enough signatures to place Massachusetts's new transgender-rights law on the November 2018 ballot in an attempt to repeal it.
Keep MA Safe submitted 34,231 valid voter signatures to send the referendum to voters, Brian McNiff, a spokesman for the Massachusetts Secretary of State's office, told BuzzFeed News on Wednesday. The group gathered roughly 2,000 signatures more than required.
The law, which took effect this month after being passed by lawmakers this spring, bans discrimination on the basis of gender identity in places of public accommodation.
Among other things, it guarantees that transgender people may use publicly accessible restrooms, locker rooms, and showers that match their gender identity.
Keep MA Safe worries those rules pose a threat to women and girls by allowing transgender women (which the group refers to as men) into female restroom and locker rooms. The campaign's website said the law would expose girls to "sexual predators who claim 'confusion' about their gender as a cover for their evil intentions."
"We think it is a dangerous law and we would like to repeal it," Keep MA Safe spokesperson Andrew Beckwith said in a phone interview. "The definition of gender identity in the law is extremely broad and ripe for abuse."
"It doesn't matter how a 50-year-old man identifies. If he has a male body, I have problem with him being in a locker room with my daughter," Beckwith added.
Since 2002, Boston has had an ordinance on the books providing the same transgender protections.
While Beckwith could not cite an example of that ordinance enabling harm to women or girls, he cited a news story about an "anatomical man who identified as female" that made women uncomfortable in a women's homeless shelter.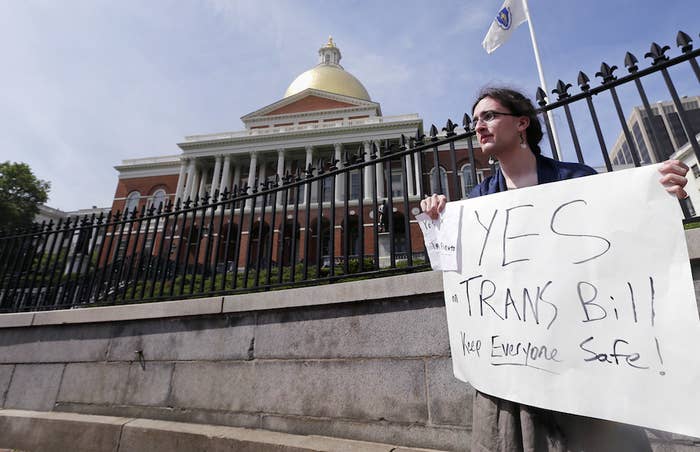 LGBT advocates have faced a couple of spectacular setbacks as they pushed for nondiscrimination policies in the year since the Supreme Court legalized same-sex marriage. Voters in Houston, Texas, repealed a nondiscrimination ordinance last fall after a campaign warned it allowed "men in women's bathrooms." And this year, after Charlotte, North Carolina, passed a nondiscrimination ordinance, the legislature passed a bill to neutralize it based on the same rationale.
Churches and clergy sued Massachusetts officials on Tuesday to avoid compliance with the law.
However, Kasey Suffredini, chief program officer of the LGBT group Freedom for All Americans, believes the Massachusetts law will be upheld.
"When presented with the question of whether to continue to treat transgender people as equal members of the Commonwealth in 2018, they will vote yes," he said in a statement.
For his part, Beckwith of Keep MA Safe said he does not have polling data showing where voters stand on the law, adding that he does need to cite an example of actual harm the nondiscrimination law may cause over the next two years.
"If my daughter is being viewed or ogled by a man, that is violation of her privacy," he said. "That is a problem."