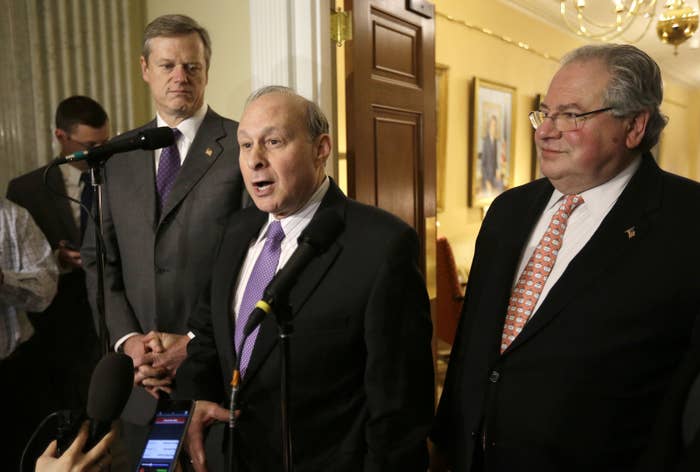 The Massachusetts House on Wednesday joined the Senate in passing a bill that would protect transgender people in places of public accommodation — including in restrooms that match their gender identity.
While the House and Senate versions must be reconciled in a conference committee, the bill is now one step closer to the desk of Gov. Charlie Baker, who has indicated he plans to sign it into law.
The bill also shows Massachusetts lawmakers' willingness to diverge from several other states that advanced legislation this year to curtail transgender people's access to restrooms.
In the months before the vote, Democrats had argued the bill advanced basic civil rights for transgender people, and blocked several amendments from Republicans that would have weakened the legislation.
"It is our responsibility to advance these provisions when there is clearly evidence that transgender people can and are being discriminated against," Senate President Stanley Rosenberg, a Democrat, told BuzzFeed News.
State lawmakers also overcame concerns that had held the bill back in years past, specifically, a fear that banning transgender discrimination in places of public accommodation would allow transgender sex predators to prowl women's restrooms.
Conservative critics of LGBT rights have suggested men could abuse legal protections by simply claiming to be transgender.
But House Speaker Robert A. DeLeo told reporters in May that he liked the bill as passed by a joint judiciary committee, suggesting he was prepared to bring the legislation to a floor vote.
And Tuesday, Baker told the Boston Globe, "If the House bill were to pass in its current form, yeah, I would sign it."
What allows Massachusetts to zig while other legislatures zag?
However, the Republican governor was not always so outspoken. He was booed off stage in April after expressing ambivalence about the measure.
Lizzy Guyton, a spokesman for Baker, told BuzzFeed News in a statement in May that the governor "will carefully review a bill should the legislature act," adding that he "believes no one should be discriminated against based on gender identity."
The governor also supports existing state laws banning transgender discrimination in housing and employment, Guyton added.
Those arguments provided the impetus for North Carolina's legislature to pass a law in March banning transgender people from using restrooms that match their gender identity in public buildings and schools. A law passed this year in Mississippi allows transgender people to be banned from restrooms based on religious objections.
In North Dakota, the legislature passed a bill that restricted transgender people in schools this year, before the governor vetoed the bill, and in Tennessee, lawmakers advanced similar legislation.
So what allows Massachusetts to zig while others zag?

Massachusetts Senate Bill 735, along with its companion bill in the House, would ban discrimination on the basis of gender identity in places of public accommodation. In doing so, it would expand existing state laws that ban discrimination based on a wide range of characteristics — including sexual orientation and race. It applies in all public businesses and venues, from transit facilities to restaurants.

Protecting trans people in these public places has been the missing tooth in the state's otherwise full row of LGBT protections.
"It is a glaring omission right now," Sonia Chang-Díaz, the bill's prime senate sponsor, told BuzzFeed News. She said that unfounded fears about bathrooms had held back the protections from a 2011 bill to protect transgender people in housing and employment.
"Transgender advocates and individuals have come up, person by person, to tell their story to make this issue real for legislators who are not familiar with them."
Chang-Díaz said lawmakers appear ready to fill in "the last gap" after "transgender advocates and individuals have come up, person by person, to tell their story to make this issue real for legislators who are not familiar with them."

Concerns about bathrooms are "red herring," noting that violence and discrimination against transgender people is well studied, she added.
In the 17 states and 225 cities with similar protections for gender identity in places of public accommodation, there are no documented examples of the laws being used by transgender people — or those posing as transgender — for nefarious purposes in restrooms or locker rooms.

In contrast, according to a 2013 study by the Williams Institute at the UCLA School of Law, 70% of survey respondents reported being denied access, verbally harassed, or physically assaulted in public restrooms.
Meanwhile, research conducted by Massachusetts-based 2014 Fenway Health shows 65% of transgender people reported discrimination in public accommodation settings in the previous year.
Freedom for All Americans, a founding partner of Freedom Massachusetts, which advocates for the bill's passage, said in a statement that state senators "set a high bar for the rest of the nation on what being a champion for LGBT equality looks like."

The House version of the bill would require that the Massachusetts Commission Against Discrimination create rules to prevent abuse — essentially, ensuring that people do not claim to be transgender for unlawful purposes. The state attorney general's office, meanwhile, would need provide guidance for law enforcement dealing with anyone who "asserts gender identity for an improper purpose."
The senate had rejected similar amendments.
Before the Senate vote, Rosenberg had said those regulations were "unnecessary," but added that they "address a set of fears that are actually just that — they're fears as opposed to evidence of problem."