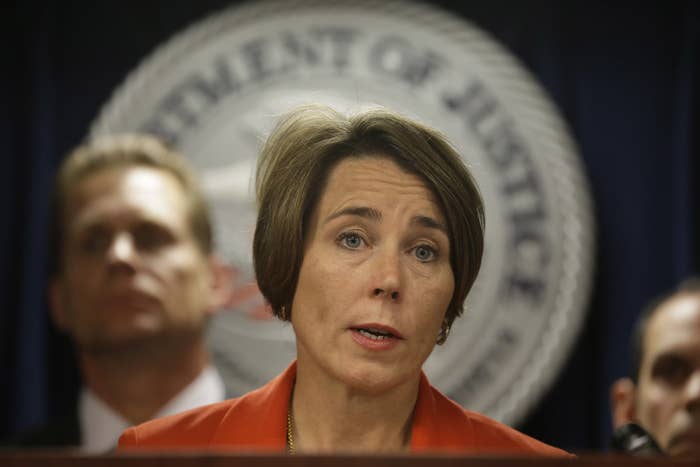 A Massachusetts law that took effect this month to protect transgender people from discrimination in public places violates the constitutional rights of churches, according to a lawsuit filed Tuesday in federal court.

Four houses of worship and their pastors are asking the US District Court of Eastern Massachusetts to suspend the law for them, and to issue a decision declaring that the law violates the First and Fourteenth Amendments of the US Constitution for all pastors and churches in the state.
"To force the Churches to permit biological males to access female changing rooms and restrooms or to allow biological females to access male changing areas and restrooms would violate and distort the Churches' religious beliefs and teaching on the subject of sex," the lawsuit says.
The suit, filed by Alliance Defending Freedom, is part of a larger body of litigation around the country to bar transgender people from using restrooms and locker rooms that match their gender identity.
The conservative legal group, based in Arizona, filed three other lawsuits this year preemptively challenging LGBT nondiscrimination laws in other states — and like the one filed Tuesday, they were filed before an LGBT person could allege they were the victim of discrimination.
Gov. Charlie Baker signed the Massachusetts law in July, joining more than a dozen states that have similar transgender protections on the books. It bans discrimination on the basis of the gender identity in places of public accommodation.
State Attorney General Maura Healey is named as a defendant in the case in her official capacity. Her office's website notes that places of public accommodation include "houses of worship," and guidance from her office says that "transgender people, may use whichever sex- segregated facilities, including restrooms, locker rooms, and changing rooms, are most consistent with their gender identity (rather than their assigned birth sex)."
Healey's office is currently reviewing the lawsuit. In a statement, spokesperson Jillian Fennimore told BuzzFeed News, "We are pleased that we finally have a law in place that protects transgender people from discrimination in public places. This law is about civil rights and is critical for people who were without full protection and equality under the law for too long."
Other defendants include three members of the Massachusetts Commission Against Discrimination, which issued guidance for enforcing the law in September that says "a church could be seen as a place of public accommodation if it holds a secular event, such as a spaghetti supper, that is open to the public."

In challenging the law, the lawsuit argues that by "forcing the Churches and Pastors to self-censor their speech and violate their religious beliefs, the Churches and Pastors suffer and will continue to suffer irreparable harm to their constitutional liberties."
Read the complaint here.