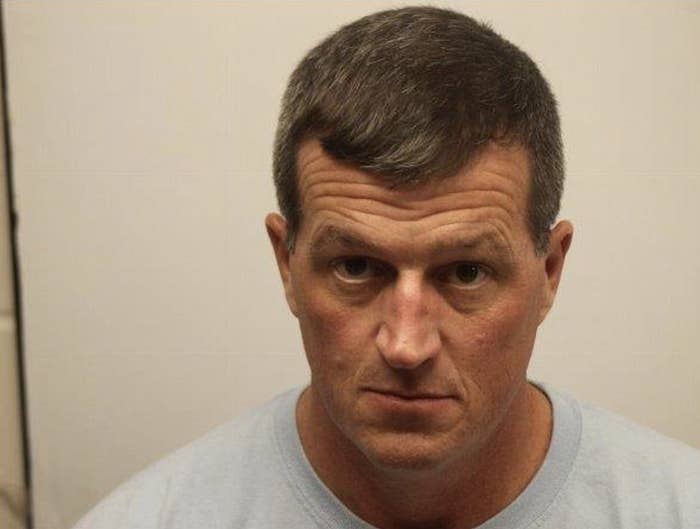 Thomas Callaway, 43, of Georgia, said he was "caught up in the moment" last Saturday when he hit a reporter's backside as she delivered a live TV broadcast of a race.
Now he's caught up in court.
The Savannah Police Department arrested Callaway Friday evening on charges of sexual battery, punishable by up to 12 months in county jail, after turning himself in. He was released on a $1,300 bond, and a court date is pending.
Alex Bozarjian, a multimedia reporter for WSAV, was dispatching live from the Enmarket Savannah Bridge Run on Dec. 7 when Callaway approached her from behind and whacked her backside. The incident, caught on camera, was widely shared on social media.
She reported the incident to police, who opened an investigation into a case that quickly became a focal point of national outrage.
"Alex Bozarjian is glad that law enforcement is taking this matter seriously," said a statement provided to BuzzFeed News on Saturday from her lawyer, Gloria Allred, a nationally recognized attorney. "She feels that a reporter should be able to do her job without being assaulted."
"If this case goes to trial, she will be a witness," Allred added of her client. "For that reason, she will have no further comment until the case concludes, but she does hope that there will be a just result."
Callaway and his lawyer did not immediately respond to requests for comment.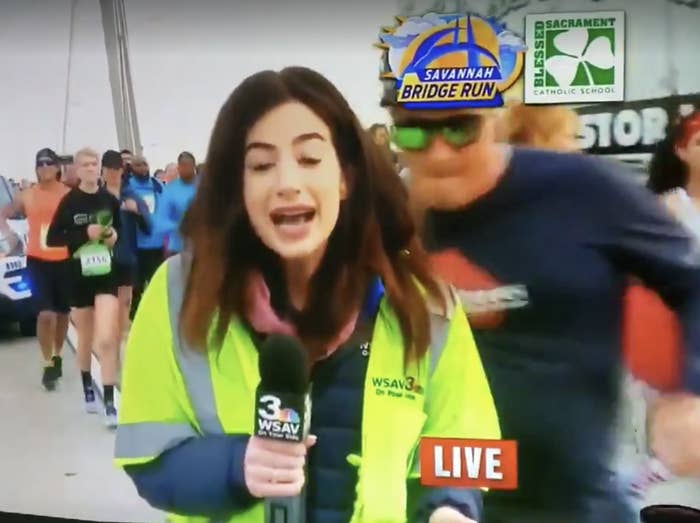 Chatham County Sheriff John Wilcher told BuzzFeed News, "I think it's sad that this happened to somebody, sad that somebody would do that type of thing."
Georgia law says that sexual battery, a misdemeanor, occurs when someone "intentionally makes physical contact with the intimate parts of the body of another person without the consent of that person."
Bianca Johnson, a spokesperson for the Savannah Police Department, told BuzzFeed News that officers got involved after Bozarjian filed a police report. Officers pursued charges of sexual battery.

"We assigned the case to a detective and it went from there," Johnson said. "Next he will go to court."
Bozarjian addressed him bluntly on Twitter: "To the man who smacked my butt on live TV this morning: You violated, objectified, and embarrassed me. No woman should EVER have to put up with this at work or anywhere!! Do better."

Callaway tried to explain his behavior in an interview with Inside Edition, saying he was "caught up in the moment."
"I was getting ready to bring my hands up and wave to the camera to the audience, there was a misjudge in character and decision-making," he said. "I touched her back. I did not know exactly where I touched her."
He said he agreed with Bozarjian's statement on Twitter, adding, "the two most important words were her last two words, 'do better.' And that's my intention."
Callaway works at Swedish Match North America, a tobacco products company, according to his LinkedIn bio, which also notes he's been a leader with the Boy Scouts of America.
But the repercussions came even before his arrest. The Savannah Sports Council, which sponsored the run, banned Callaway from future events. And the Boy Scouts of America issued a statement cutting ties, the Washington Examiner reported.
"We immediately removed this individual and prohibited him from any future participation in our programs," the Boy Scouts said.
Callaway's lawyer, Joseph Turner, told WTOC that Callaway is a "loving husband and father who is very active in his community," adding he is "working with those involved to correct the situation. While we regret the situation, Mr. Callaway did not act with any criminal intentions."
Turner did not respond to a request for comment about the arrest, but Callaway apologized earlier this week on WSAV.
"It was an awful act and an awful mistake," he said. "I am not that person that people are portraying me as. I make mistakes, I'm not perfect and I'm asking for forgiveness and to accept my apology."
On Friday evening, WSAV issued a statement about the arrest: "The conduct displayed toward Alex Bozarjian during her live coverage of Saturday's Savannah Bridge Run was reprehensible and completely unacceptable. No one should ever be disrespected in this manner. The safety and protection of our employees is WSAV-TV's highest priority. WSAV continues to support Alex completely as this case moves forward."