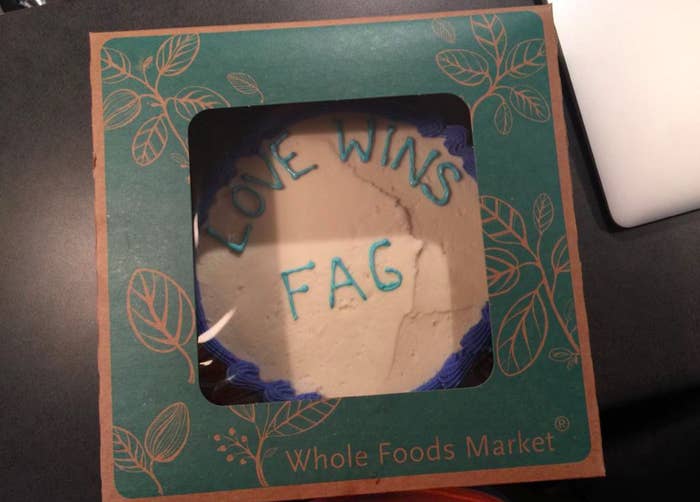 A gay man in Texas is dropping a lawsuit that alleged Whole Foods Market inscribed a gay slur on his custom cake with icing, saying in a statement that the company "did nothing wrong."
In turn, Whole Foods told BuzzFeed News that it is dropping its counterclaim against Jordan Brown and his lawyer, saying the company is "very pleased that the truth has come to light."
In April, Brown held a news conference alleging that he ordered a blank, prebaked cake from a Whole Foods in Austin to be personalized with the words "Love Wins." But after he picked it up, he said it instead read "Love Wins Fag." He sued the company for intentionally inflicting emotional distress.

"I was wrong to pursue this matter and use the media to perpetuate this story."
Whole Foods Market filed a counter-claim alleging defamation, saying that Brown's accusations were false and that he had acted with malice. The company released surveillance video that it said undermined his claims.
The company also argued that Brown's lawyer, Austin Kaplan, brought the lawsuit in bad faith and without proper investigation.
In a statement, which was reported Monday by Fox 7 and other media outlets in Austin, Brown said he was wrong to pursue the matter and "use the media to perpetuate this story."
"I want to apologize to Whole Foods and its team members for questioning the company's commitment to its values, and especially the bakery associate who I understand was put in a terrible position because of my actions," Brown said. "I apologize to the LGBT community for diverting attention from real issues. I also want to apologize to my partner, my family, my church family, and my attorney."
Whole Foods responded with its own statement.
"Given Mr. Brown's apology and public admission that his story was a complete fabrication, we see no reason to move forward with our counter suit to defend the integrity of our brand and team members," the company said.
Brown and Kaplan did not immediately respond to requests from BuzzFeed News to comment.