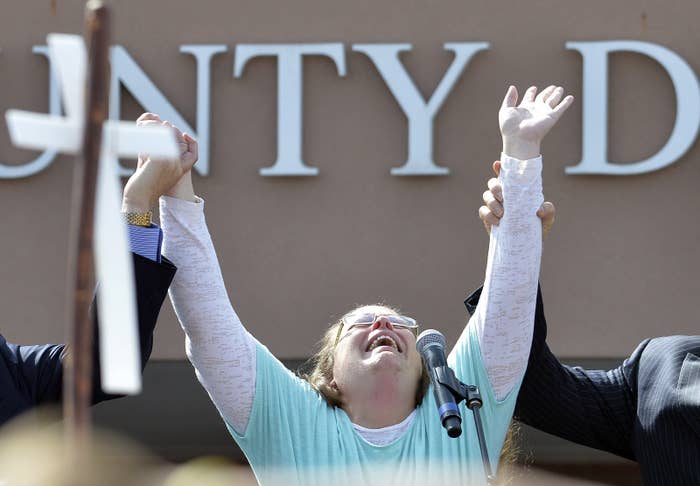 Only one marriage license applicant has been turned away by the office of Kim Davis — the Kentucky clerk who objects to same-sex couples marrying due to her Christian faith — since she was briefly jailed earlier this month.
A man trying to marry God's only begotten son.

"The only denial of a marriage license application that has occurred within the last two weeks was to a gentleman who stated that he wanted a license that would permit him to marry 'Jesus,'" according to a status report that one of Davis's deputy clerks submitted to U.S. District Court on Monday.

"When it was explained to the individual that both parties had to be present," the court document said, "he stated, 'Jesus is always present.'"

The court entry is part of the Rowan County Clerk's ongoing case. Davis's stand has polarized and infuriated advocates for same-sex marriage and religious liberty. And indeed, a man marrying Jesus really muddies the water for people in both camps.
Davis had barred her staff from granting licenses to any couples after the Supreme Court's marriage equality ruling, saying that issuing the certificates to same-sex couples violated her Christian faith. In turn, Judge David L. Bunning jailed Davis for several days for refusing to issue the licenses. Upon releasing her, Judge Bunning said Davis could not interfere with deputies issuing the licenses and ordered the deputies to provide status updates to the court every 14 days.
Deputy Clerk Kristy Plank, through the status update submitted by her lawyer, explained what happened to the man who would wed Jesus.
"After being denied, the gentleman returned later and presented a type of Power of Attorney document issued by his church granting him authority to sign 'Jesus'' name," the court record explains.

Alas: "Since both parties were not present these requests were denied."

From the filing: