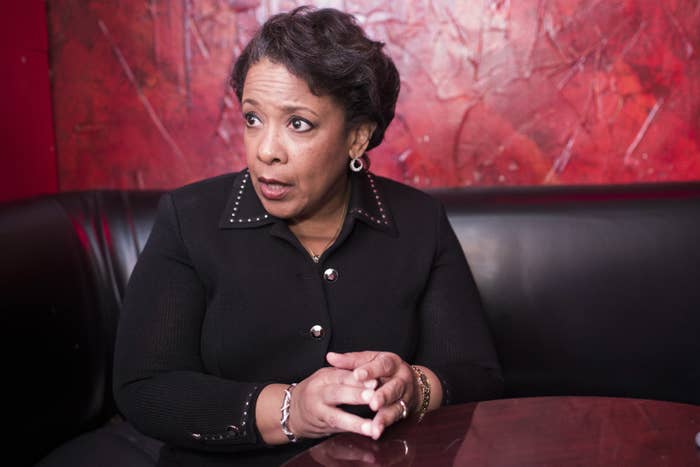 US Attorney General Loretta Lynch and her staff have been meeting with lawyers for Donald Trump's transition team, she told BuzzFeed News in an interview on Tuesday that addressed how the Justice Department will keep advocating for LGBT rights in her final weeks and hand that work off to the new administration.

"Every administration does have different priorities, and that is a fact of life, but that does not mean that issues go away," Lynch said. "It does not mean that they disappear from the hearts and minds of people who care about them."
Thousands of career workers at the Justice Department, rather than political appointees, staff the agency from one president to the next, Lynch noted, and they will stay on.
"I know that people are very committed to the work of protecting the rights of our LGBT friends, family members, and neighbors. That work has continued throughout several administrations recently, so I do feel that the commitment will remain, that the people who care about these issues will remain, and they will continue raising them as well," she said.
But unlike the career staff's obligation to enforce bans on religious or racial discrimination, which are explicitly banned under federal law, LGBT people's legal protections are more vulnerable to the next political tide.
Lynch's lawyers, since she took the Justice Department's helm in early 2015, have aggressively advanced the view that civil rights laws that ban sex discrimination also ban discrimination against transgender people — particularly at work and in school. That viewpoint is a signature of Obama's LGBT legacy and has been adopted across numerous agencies, but it is not federal law. Rather, it has been baked into regulations and guidance, rankling conservatives who have sued the government to reverse some of the guidance.
Speaking to what may unfold under the next attorney general, she said, "Where there is a matter that is pure policy as opposed to settled law, I don't know what will happen there."
Trump has nominated Sen. Jeff Sessions to be his attorney general, which still requires confirmation by the Senate. The Alabama Republican voted to advance a constitutional ban on same-sex marriage, voted against a workplace nondiscrimination bill that addressed sexual orientation, and he co-sponsored a religious freedom bill to protect those who act in religious opposition to same-sex marriage.

Sitting in the back of the Stonewall Inn, the site of riots that helped shape the modern LGBT rights movement, Lynch acknowledged that after Trump assumes office on Jan. 20, the government could chart a new course.
The president-elect has announced some starkly different views than the Obama administration on LGBT issues, such as pledging to sign the bill to protect those opposed to same-sex marriage, and saying states should decide rules for transgender people's access to restrooms.
Lynch, in contrast, sued the state of North Carolina over a bathroom law targeting transgender people.
She did not speculate on what work could be lost, or reveal whether Trump's transition teams telegraphed their intentions on key areas of the Justice Department's work. Instead, she stressed internal efforts to persuade the landing teams and looked outward to external forces that may shape the Trump administration.
"What we are trying to do is make sure that the incoming transition team obviously has all the information it needs to get set up for the new people coming in, but also that they are aware of what we are working on and why it's important," Lynch said.
Lynch said she endeavors to create "a smooth and seamless transition," and before Trump's inauguration, there are "a number of open investigations and open matters, and we don't know the timing of those but we will continue to work on them up to the 20th and beyond."
Looking past Jan. 21, she added, "I don't so much look at it so much as a fear of what will be lost but as a way to ensure that people know how to continue to raise important issues in case there is a change."
Among her priorities is enforcing hate crimes laws, such as a the Matthew Shepard and James Byrd, Jr., Hate Crimes Prevention Act, which expanded the government's hate-crime law to include gender identity and sexual orientation.
"We will be conveying the importance of this work," said Lynch. "We will be conveying the pain that it has caused to the victims of any kind of hate crime — whether it is someone who is part of the LGBT community, or Muslim American individuals, or African American. These issues have galvanized attention because they have affected ordinary Americans."