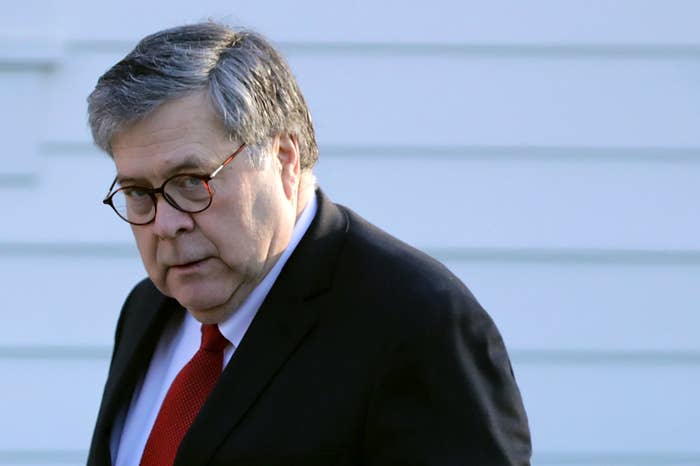 The Justice Department has grown increasingly hostile toward its own LGBT workers, causing top talent to quit as they experience discrimination and "declining morale," according to a group of LGBT employees who confronted Attorney General Bill Barr in a letter this week.
The group DOJ Pride, which says it represents thousands of employees at the agency, cites its internal survey of LGBT workers who find it "demoralizing" that officials have failed to issue a statement guaranteeing protection from harassment at the Justice Department.
Other workers cited in the letter said the FBI academy discriminates against gays and Latinos and evaluates them more harshly, and that "many gay agents attending [the FBI academy] are dismissed because they are not 'bro-y' or masculine enough."
"I am leaving the DOJ in part due to the DOJ's treatment of its LGBTQ employees," one worker said in the October survey, while another complained, "The DOJ is no longer the welcoming, inclusive environment for LGBTQ employees that it once was."
Founded in 1994, DOJ Pride represents LGBT employees across the federal government's largest law enforcement agency, which includes the FBI, DEA, Bureau of Prisons, US Attorney's Offices, and other subdivisions. Their survey found just under one-third of LGBT DOJ workers believe the agency "values its LGBTQ employees," and only 43% believe it "does not discriminate on the basis of sexual orientation or gender identity or expression."
The Justice Department did not directly answer questions from BuzzFeed News about the discrimination claims.
Spokesperson Kelly Laco said in an email on Friday evening, "The Department of Justice is committed to implementing policies that will ensure equal employment opportunity in all aspects of the Department's daily operations and hiring practices, enforcing employment anti-discrimination laws, and fostering inclusive work environments that afford men and women from diverse backgrounds the equal opportunity to grow in their careers and support the Justice mission."
"Additionally," Laco added, "it is the policy of the Department of Justice to foster a work environment that is free from harassment based on sex, race, color, religion, national origin, gender identity, age, disability, sexual orientation, marital or parental status, or political affiliation, among other factors.

The letter, which was released publicly Thursday, congratulates Barr on his recent appointment and welcomes him back to the Department of Justice, where he first served as attorney general in the 1990s. The group cites issued that began under the Trump administration, largely before Barr was sworn in.
But the letter asserts that other problems reflect ongoing inaction by top department officials and positions that Barr holds himself.
For instance, the Justice Department filed a brief in federal appeals courts in 2017 and 2018 arguing that Title VII of the Civil Rights Act of 1964 doesn't ban discrimination on the basis of gender identity or sexual orientation — contradicting numerous federal court rulings in recent years. During Barr's confirmation hearing, he said anti-gay discrimination should be illegal under the law, but he said current law does, in fact, allow anti-LGBT discrimination against workers.
DOJ Pride pressured Barr in its Wednesday letter to issue an Equal Employment Opportunity statement that asserts the Justice Department will create a "workplace free of discriminatory harassment." The agency hasn't issued a statement like that since the Obama administration.

"This affirmation is especially important to our members in light of the Department's recent litigating position, which it volunteered 'in its capacity as the Nation's largest employer,' that Title VII does not protect against discrimination on the basis of sexual orientation or gender identity," the group's letter says.
Laco did not answer a question from BuzzFeed News about whether Barr would issue a formal equal employment opportunity statement.
Under President Donald Trump, the Justice Department has taken a wide array of anti-LGBT positions, guided by former attorney general Jeff Sessions and former acting attorney general Matt Whitaker. Among them, it has said transgender women in prison must be jailed in cells with men, argued that religious shopkeepers can refuse service to same-sex couples, and defended a ban on transgender troops in the military.
Two executive orders issued by former presidents Bill Clinton and Barack Obama ban discrimination against federal workers on the basis of sexual orientation or gender identity. However, Sessions issued guidance memos in October 2017 that critics feared would give people of faith — including government workers and contractors — a loophole to ignore those policies.
"I understand that elections have consequences and that I work at an institution that at times takes positions with which I personally disagree," says one comment in the employee survey quoted in the letter to Barr. "That's nothing new. But, as the administration's positions on LGBTQ issues emerged, it would have been a sound management practice for DOJ leadership to take conciliatory actions with LGBTQ employees."
UPDATE
Updated with a response from the Justice Department.