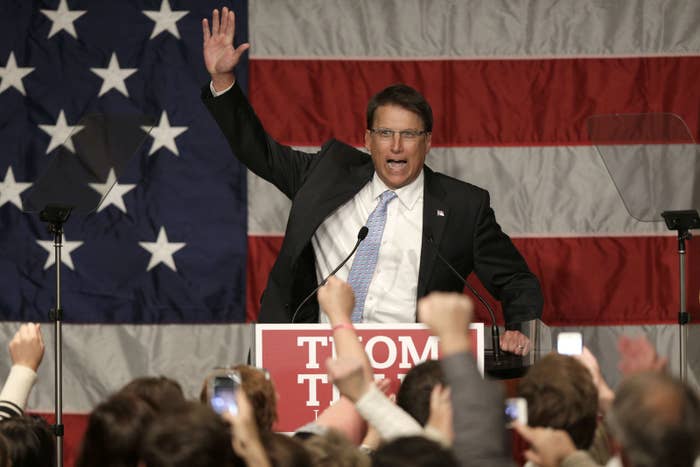 Reacting to North Carolina's new law that strips LGBT protections and targets transgender people for discrimination, an LGBT family group is canceling its summer gathering in the state, saying the antagonistic environment raises safety concerns.

"Given the hostile climate under this new law, we could not guarantee the safety of our families as they traveled to and from our event," Emily Hecht-McGowan, a leader of the Family Equality Council, said in a statement to BuzzFeed News.
In advocating for and defending the law, Republican lawmakers and Gov. Pat McCrory have consistently argued transgender women — whom they called "men" — are sex predators who prey in public restrooms. They said the law was necessary to protect women and girls.
With that discussion dominating state politics, leaders of the Family Equality Council worried about the 25 families, including many from out of state, scheduled to attend the event outside Hendersonville.

"We do not want to put our children in harm's way," Hecht-McGowan said. "We are committed to serving our families in the South, but we also need to be reasonably confident that we don't put their safety, security and dignity at risk."
Although officials have claimed transgender people pose a safety threat in restrooms, there is no evidence of such problems in 17 states and 225 cities with nondiscrimination protections for LGBT people.
House Bill 2 stripped local jurisdictions in North Carolina of LGBT nondiscrimination protections and banned transgender people from restrooms that match their gender in government-run facilities.

A federal lawsuit argues the state's law is unconstitutional, because it targets LGBT people for disparate treatment. Corporations have mounted a backlash, including PayPal, which canceled a planned expansion of 400 employees in the state.
Family Weekend in the South is among many of the Family Equality Council's events for parents who are lesbian, gay, bisexual, transgender — and for their children. The June gathering was to be the group's inaugural event in North Carolina, modeled after Family Weekend in the Midwest, Gay Days at Anaheim, and Family Week in Ptown.
Brent Wright, another organization leader, explained in a statement to BuzzFeed News, "We are committed to serving our families in the South, but given the situation in North Carolina, this is just not the right place for our families at this time."