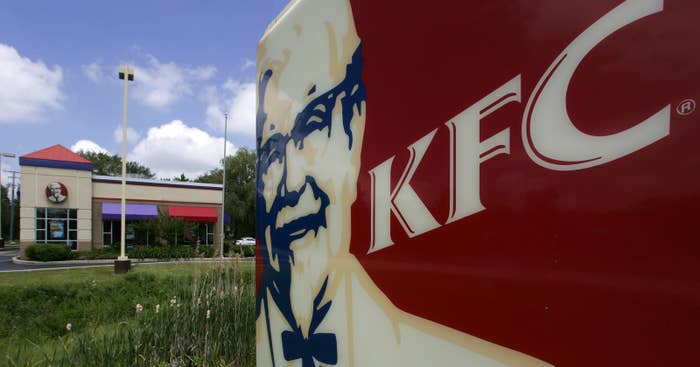 A woman said her excitement at being offered a job at a KFC in Virginia last week quickly turned to dismay when a manager rescinded the offer within an hour — because she is transgender.

But on Tuesday, national KFC spokespeople said in a statement to BuzzFeed News that the company decided instead to fire the manager and offer the woman, Georgia Carter, a job "effective immediately."
"The manager has been terminated for violating the franchisee's anti-discrimination policy, which is inclusive of gender identity and sexual orientation," KFC said in a statement on Tuesday to BuzzFeed News. The company said the decision came after the owner of the franchise restaurant in Richmond investigated the situation.
"The franchisee's leadership has also had a conversation with Ms. Carter," the statement read, "offering her employment at this restaurant or any of their Richmond area KFC restaurants, effective immediately."

The intervention was a particularly swift example of a national corporation implementing its own LGBT nondiscrimination policies, even in a location where state law doesn't offer employees the same protections.

Last week, Carter had called her boyfriend to celebrate her job offer, she said in an interview with KTRK, which first reported Carter's allegations on Saturday. "I'm an active member of society again," she told her boyfriend. "I was so happy."
But when the manager called back within an hour, she said, "He was like, 'My supervisor and I have a problem because on your license it says 'male,' but you're...' and I was like, 'I'm transgender.'"
The manager rescinded the job offer, according to Carter, because the manager and his supervisors did not know which bathroom Carter should use.
Some people were sharing the news on Twitter. By Tuesday morning, the corporate offices for the chicken chain were crowing at the manager and cooing for Carter.
In the statement to BuzzFeed News, the company said, "KFC's policy is to treat everyone fairly, equally and with respect, and we do not tolerate discrimination of any kind. Upon learning of this allegation, the franchisee who owns this Richmond restaurant conducted an immediate and thorough investigation."

KTRK reported that the restaurant manager said he never offered Carter a job, only interviewed her. Spokespeople for KFC did not answer questions from BuzzFeed News about whether Carter had been officially offered a job or not.
Carter could not immediately be reached for comment on Tuesday.

Virginia lacks discrimination protections for private-sector LGBT employees. But in recent years, many top corporations in the U.S. have adopted nondiscrimination policies. Yum! Brands, the parent company of KFC, has an 80% score on the Human Rights Campaign's Corporate Equality Index, which gauges employers' LGBT policies.
While Yum! Brands gets high marks for an equality policy that includes gender identity, its score was reduced in the survey for lacking adequate competency training on LGBT issues and lacking transgender health care coverage.
"Additionally," KFC's statement concluded, "the franchisee is emphasizing sensitivity and compliance with their policies to keep this from happening again."