Kentucky Governor Orders Names Of County Clerks To Be Removed From Marriage Licenses
Responding to an uproar involving Rowan County Clerk Kim Davis, newly elected Gov. Matt Bevin is removing a state requirement that the county clerk's name appear on the forms. But critics say he lacks that authority.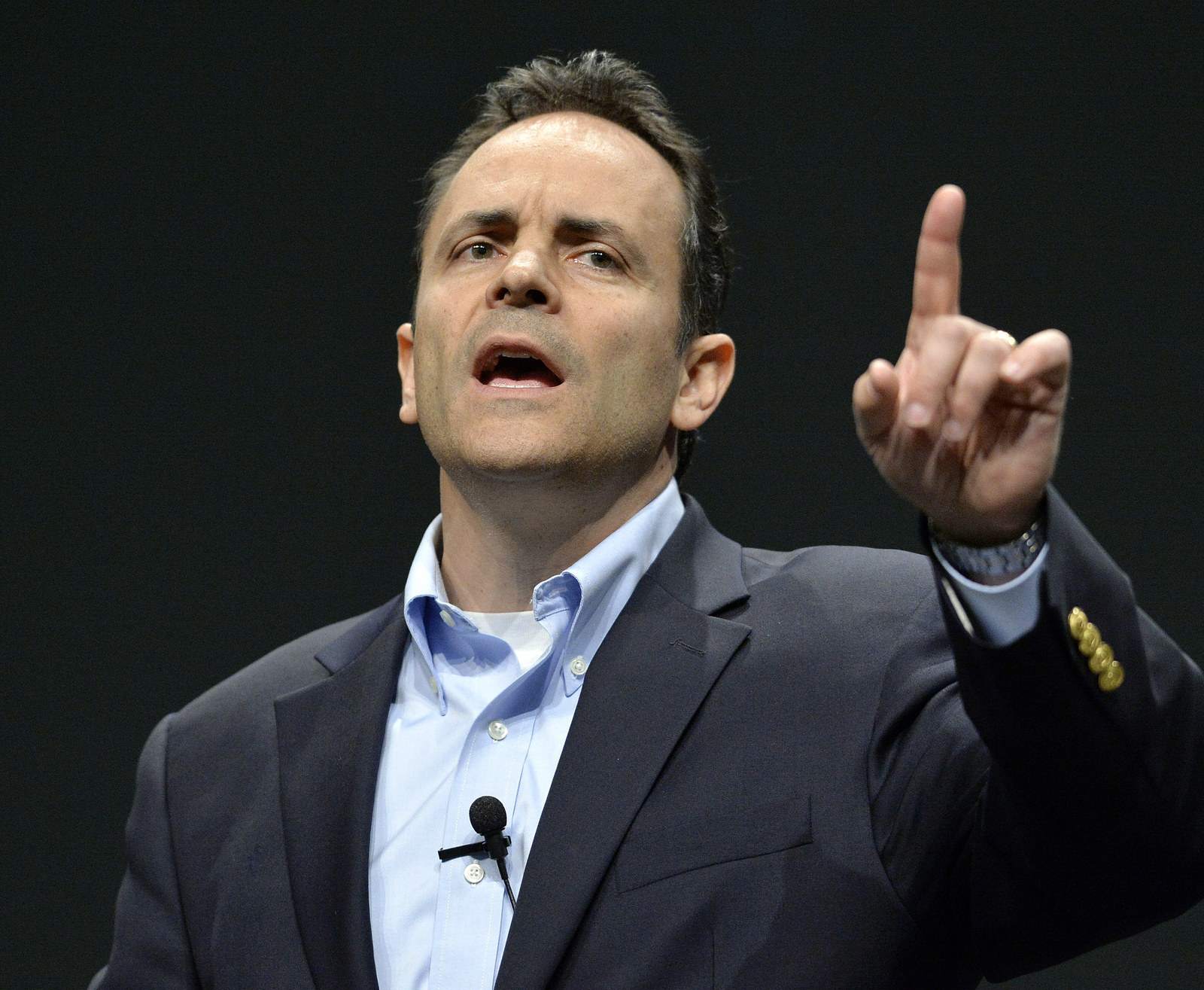 Just weeks after winning his election, Kentucky Republican Gov. Matt Bevin fulfilled a campaign promise on Tuesday to accommodate county clerks who hold a religious objection to same-sex couples marrying — a cause elevated to national attention by Rowan County Clerk Kim Davis.

But critics said Bevin has overstepped his authority as governor.
At the heart of the dispute is Davis, who was sued in federal court for refusing to issue marriage licenses after the Supreme Court's ruling for marriage equality. Davis contended that issuing licenses to same-sex couples violated her religious freedom, because Kentucky state law mandates that the name of elected county clerks appear on the licenses — which Davis argued was a form of endorsement of those marriages.
Bevin issued an executive order Tuesday that directs the Kentucky Department for Libraries and Archives to issue a revised marriage license to Kentucky county clerks. According to press release from his office, "The name of the County Clerk is no longer required to appear on the form."
Gov. Bevin supplied a new marriage license form with his order that includes a field for the name and title of the "official" issuing the licenses. The previous form specifically called for the name of the county clerk under whose authority the license was issued.
Jessica Ditto, a spokesperson for the governor, told BuzzFeed News, "It's a simple solution that ensures everyone's religious beliefs are honored. It removes any form of conflict that may be found by issuing those marriage licenses."
Asked where the governor derives authority to change the licensing form requirements without action from the legislature, Ditto said that legislative action "is simply not required."
But Bill Sharp, legal director of the ACLU of Kentucky, which is representing the plaintiffs in the suit against Davis, disagreed.
In a statement, Sharp said, "The requirement that the county clerk's name appear on marriage licenses is prescribed by Kentucky law and is not subject to unilateral change by the governor — conceded by the previous administration in court filings. Today, however, a new administration claims to have that authority."

"Governor Bevin's executive action has added to the cloud of uncertainty that hangs over marriage licensing in Kentucky," he added.
"This is a wonderful Christmas gift for Kim Davis," one of her lawyers said.
Although Davis was briefly jailed this summer for violating a court order to issue the licenses, one of her deputy clerks has since been providing licenses to same sex couples; however, the licenses have lacked Davis's name, raising questions about their validity.
Mat Staver, chairman of Liberty Counsel, the Christian advocacy law firm representing Davis in court, said in a statement that the executive order was "a wonderful Christmas gift for Kim Davis."
"What former Gov. [Steve] Beshear could have done but refused to do, Gov. Bevin did with this executive order," Staver said. "We will notify the courts of the executive order and this order proves our point that a reasonable accommodation should have been done to avoid Kim having to spend time in jail."
Asked if Gov. Bevin would take further steps concerning marriage licenses or if he would attempt to obstruct the Supreme Court ruling's implementation in the state, Ditto told BuzzFeed News, "He does not believe the government should be involved in the marriage business whatsoever." Ditto declined to elaborate.
Amid the uproar over Davis and Rowan County, two other county clerks in Kentucky — the clerks in Casey and Whitley Counties — have also refused to issue marriage licenses. However, no plaintiffs have come forward to challenge those county clerks in court.