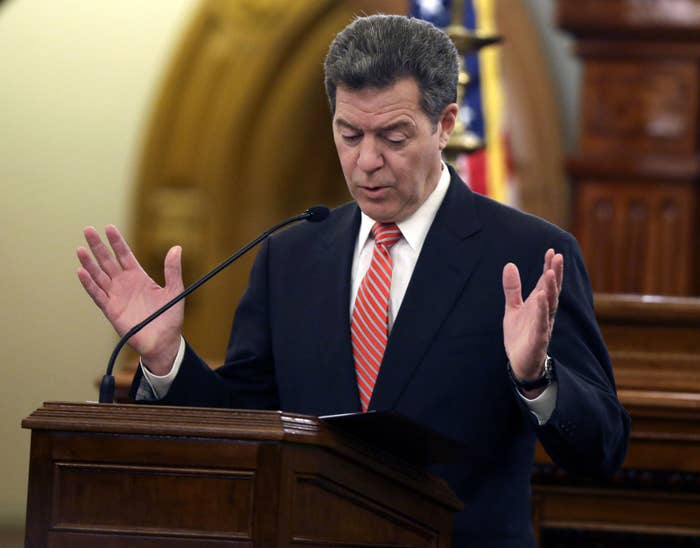 Within hours of the U.S. Supreme Court's June 26 ruling that same-sex couples have a constitutional right to marry nationwide, several governors announced marriage equality was their state policy. And last week, Louisiana, Mississippi, and Texas adopted a similar stance after lower federal courts ordered them to comply.

But there's no place like Kansas.
Kansas is the last state to recognize same-sex couples' marriages as a matter of state policy — and even then, that recognition remains incomplete.
On Tuesday, state agencies recognized same-sex couples' marriages when issuing identification and enrolling people in state-run health insurance plans — but not on tax filings.
Gov. Sam Brownback then focused his efforts on religious liberty, issuing an executive order Tuesday afternoon that warns the "recent imposition of same sex marriage by the United States Supreme Court poses potential infringements on the civil right of religious liberty."
The order prevents state government from taking action against clergy or religious groups — including those providing social services — that refuse services due to their moral objection to same-sex couples who marry.
"All the state has to do is stop rejecting the tax returns of same-sex couples. This is not rocket science," said Thomas Witt, executive director of Kansas Equality.
"This assures them the State of Kansas recognizes and respects their rights to act in accordance with their sincere and deeply held religious beliefs," Eileen Hawley, a spokesperson for Gov. Brownback, told BuzzFeed News.
She added that state rules now mean that "married couples may change names on a driver's license if they have a marriage certificate; they also may enroll a spouse in their health plan."
However, those same-sex spouses may not file their taxes together.
"The department is still reviewing policy and procedures for tax filings," Jeannine Koranda, a spokesperson for the Kansas Department of Revenue, told BuzzFeed News. Like the governor's office and officials who manage state health insurance programs, Koranda said the holdup is caused by an ongoing review of the Supreme Court decision.
"We have been in the process of going through all the department's policies and procedures to see what may need to be changed. It takes time to make sure everything is done correctly and nothing is missed," Koranda said.
But Thomas Witt, the executive director of Kansas Equality, told BuzzFeed News the delays are merely "foot-dragging."
"All they have to do as a state government is stop enforcing certain laws," said Witt, whose LGBT rights group exerted pressure on state officials this past week to honor the high court's decision. "All the state has to do is stop rejecting the tax returns of same-sex couples. This is not rocket science."
Gov. Brownback's order says the state will not take "discriminatory action" against religious groups or religious leaders who "decline to solemnize any marriage or to provide services, accommodations, facilities, goods, or privileges for a purpose related to the solemnization, formation, celebration or recognition of any marriage, based upon or consistent with a sincerely held religious belief or moral conviction."
While Brownback issued that order, did he tell the Department of Revenue, which handles taxes and state identification, that same-sex marriage is legal as a matter of state policy?
No, according to Koranda. "This was a department review."
Likewise, did Brownback tell the agency that handles insurance claims for 104,000 people in the state's employee health care system that same-sex marriage is state policy? "No," Sara Belfry, a spokesperson for the Department of Health and the Environment, told BuzzFeed News.
Both spokespeople said their agencies decided Tuesday morning — independent of the governor — to change their policies and allow married couples to change their name on state driver's licenses and add each other on health care plans.
Gov. Brownback's office did not answer questions from BuzzFeed News about whether the governor adopted same-sex marriage as state policy in light of the Supreme Court's ruling.
"This is a big hot potato and nobody wants got caught holding on to it," said Witt.
Couples have been marrying in some local jurisdictions in Kansas since November pursuant to a prior federal appeals court ruling in favor of marriage equality and a subsequent district court ruling. But many county officials did not begin marrying couples until after the Supreme Court ruled in June.
After the Supreme Court's decision, Gov. Brownback did not immediately announce his state would comply. Rather, a statement issued by Brownback that day read, "Activist courts should not overrule the people of this state, who have clearly supported the Kansas Constitution's definition of marriage as being between one man and one woman."

But as of Monday, 413 same-sex marriages were registered in Kansas, according to Belfry, who said marriages were being performed in all 105 counties in the state. But those marriages were not acknowledged by the state until Tuesday, she said, because we "wanted to make sure that we fully understood the [Supreme Court] ruling."
To the extent that tax filings are still not permitted, Hawley said on the governor's behalf, "We are a nation of laws and we will comply with the law of the nation." She did not provide a timeline for recognizing same-sex couples filing their taxes together.
On July 9, lawyers for the state said in a federal court filing that the Kansas Dept. of Revenue (KDOR) is now accepting tax filings from same-sex married couples. Explaining that Kansas is complying with the Supreme Court's June ruling, the lawyers asked a judge to dismiss a lawsuit filed by several couples who had argued the state failed to recognize the legal marriages of same-sex couples.
"Kansas income tax returns filed jointly are now being accepted for all married couples," the lawyers state. "Given the change in law effected by Obergefell and in accordance with that June 26, 2015 decision, KDOR will accept and process income tax returns submitted by same-sex married couples in the same manner as the returns submitted by opposite sex married couples."
A "guidance" for same-sex couples who sought to file taxes accordingly has been removed from the state's website, the lawyers add. The website currently notes that tax guidance is "no longer valid."