Judge Voids Conviction Of Trans Woman In High-Profile Case
"I have to fight because I am innocent. And I am going to keep on standing up for what is right," Monica Jones tells BuzzFeed News. Her conviction was voided because she was "deprived… of a fair trial."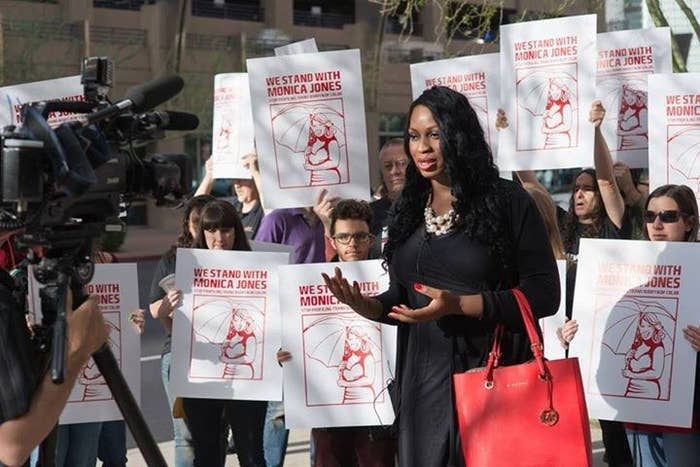 An Arizona superior court judge handed LGBT advocates a victory today by overturning the conviction of Monica Jones, a transgender woman found guilty in 2014 of "intent" to commit prostitution under a broadly written ordinance in Phoenix.
Superior Court Judge Crane McClennen found a lower court had denied Jones a fair trial by doubting her credibility and sent the case back for a possible retrial.
"It was an unconstitutional trial of an unconstitutional statute for a crime she didn't commit," Jones' lawyer, Jean-Jacques "J" Cabou of Perkins Coie, said. "I am very happy the conviction was vacated."
With a boost from Orange Is the New Black star Laverne Cox who spoke out in support last year, Jones' legal saga has gained national attention for challenging the Phoenix law that criminalizes "manifesting an intent to commit or solicit an act of prostitution." Jones and her legal team argue the law gives police license to profile and arrest people for lawful activity, including talking to passersby, particularly in marginalized communities.
LGBT groups highlighted her case in an October 2014 letter to Attorney General Eric Holder that decried the sort of anti-transgender profiling to which they assert Roberts was subjected.
On the phone with BuzzFeed News after hearing the judge's ruling, Jones was elated, but she said celebration would be short-lived.
"This is a smaller win," Jones said. "I think there is a bigger issue that needs to be addressed: This law needs to be thrown out because it unfairly targets women, transgender women, and people of color living in poverty." She said that while women are arrested under the law, "police wouldn't do that to a man standing on the corner talking to a passerby."
Judge McClennen avoided broad constitutional questions about whether the law enables illegal profiling or stifles free speech, instead ruling on the validity of Jones's previous conviction in Phoenix Municipal Court. In that decision, a judge had discounted the credibility of Jones's testimony — finding she testified in her own defense because she risked being punished.
But McClellen squarely rejected that logic in an order signed Jan. 22 and filed today with a court clerk for Maricopa County: "For the trial court to have concluded Defendant was not credible and thus guilty because she was facing conviction and sentence deprived Defendant of a fair trial. The conviction must therefore be reversed and remanded to a new trial."
Chase Strangio, a staff attorney for the ACLU, which filed briefs in support of Jones, praised the decision, saying the lower court had "turned the presumption of innocence on its head." And while today's decision did not settle broad legal questions, Strangio added, "The case highlights for prosecutors and local officials in Phoenix that we are ready to take this fight as far as we need to take it."
For her part, Jones said, "I have to fight because I am innocent. And I am going to keep on standing up for what is right."
It remains unclear where that fight goes, however.
Gary Shupe, an assistant city prosecutor for Phoenix, did not return a call before this story was published asking if he would seek a new trial.
Jones' lawyer, Cabou, told BuzzFeed News that Jones's legal team will contest charges in a lower court if prosecutors do pursue a new trial. However, Cabou said, he will also determine if a state appellate court can rule on the larger constitutional issues of the city law without disturbing today's decision.
The charges stem from a May 2013 incident, when Jones was picked up by an undercover police officer conducting a prostitution-related sting. Prosecutors later pointed out that Jones had previous convictions for prostitution.
In talking with BuzzFeed News, Jones said that using her past convictions to justify future charges merely for alleged "intent" amounted to criminalizing her repeatedly for the same crime: "That creates a revolving door into the justice system under this law."
Jones said said overturning the Phoenix law is also a matter of safety for transgender women, who have been targeted of an epidemic of hate crimes. "My experience of being a transgender woman is walking down the street and being harassed by police officers," she said. "They are supposed to protect and serve the most vulnerable communities, but police are causing the most grief and strife. If people think it's okay for police officers to harass transgender women, people will think it's okay for everyone else."