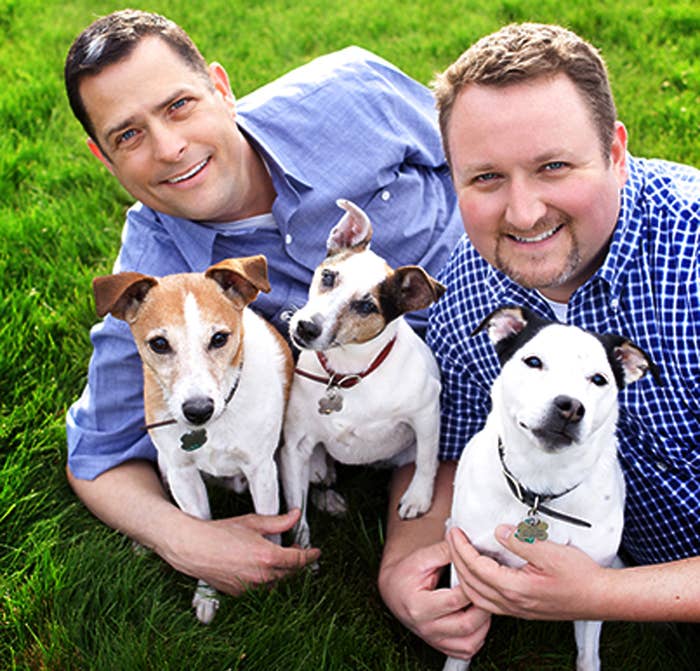 A Christian florist violated anti-discrimination laws when she refused to sell flowers to a gay couple for their wedding, despite her defense that she was exempted by her religious beliefs, a judge in Washington state ruled Wednesday.
"In trade and commerce, and more particularly when seeking to prevent discrimination in public accommodations, the courts have confirmed the power of the legislative branch to prohibit conduct it deems discriminatory, even where the motivation for that conduct is grounded in religious belief," said Benton County Superior Court Judge Alexander C. Ekstrom in a 60-page order.
The florist's attorney, Kristen Waggoner, told BuzzFeed News she was "obviously disappointed" with the decision and her client, Barronelle Stutzman, would challenge the ruling in a state court of appeals.
"The court's ruling sends the message that it is all right for the government to bring about your personal and professional ruin if you don't help celebrate same-sex marriage," Waggoner said.
"We are getting to a point now to where the government is telling us what we have to say, and that power is really scary."
By upholding the case against both Stutzman and her business, Waggoner argued, "it puts her home, her savings, and her retirement in jeopardy."
But Washington State Attorney General Bob Ferguson, who filed suit along with the gay couple, hailed the judge for enforcing a 2006 act that bars discrimination on the basis of sexual orientation.
"The law is clear," Ferguson said in a statement to BuzzFeed News. "If you choose to provide a service to couples of the opposite sex, you must provide the same service to same-sex couples."
"Washingtonians have enacted laws recognizing equality for same-sex couples, and I will continue to vigorously uphold these laws," he said. "I appreciate the judge's decision and am very proud of my team's hard work to stop this unlawful discrimination."
The case began in 2013 — the year after Washington voters legalized same-sex marriage — when Rob Ingersoll attempted to buy flowers for his wedding with Curt Freed.
"I just put my hands on his and told him because of my relationship with Jesus Christ, I couldn't do that, couldn't do his wedding," Stutzman, who owns Arlene's Flowers in Richland, Washington, said in a court deposition.
Turning away the couple triggered a legal battle among leading players in a national war over religious freedom and LGBT rights. Ingersoll and Freed filed suit, with backing from the American Civil Liberties Union, while Ferguson took the unprecedented step of filing his own lawsuit against Stutzman under authority of state consumer protection laws.
Stutzman and her legal team, including the Alliance Defending Freedom, told the court that due to her Christian faith — which holds marriage is confined to a man and woman — she should be exempt in this case from the Washington Law Against Discrimination and Consumer Protection Act. She further argued floral arrangements were protected forms of free speech.
Regarding the claim that the Washington law violates the First Amendment's free speech guarantee, the court pointed to a recent similar case out of New Mexico: "The existing jurisprudence on this issue, including the most recent and comparable case, Elane Photography, is soundly against the defendants."
Ekstrom also rejected a claim that the anti-discrimination law violates free-exercise guarantees.
"Again, defendant mixes the distinction between belief and conduct, clergy and laity, and the distinction between accommodation and public accommodation, and as a result cites to cases that are distinguishable on their facts," he wrote.
"Religious beliefs do not give any of us a right to ignore the law or to harm others because of who they are."
The judge's decision raises questions about the future of Stutzman's business, and possibly others like it.
Two other closely watched cases involve Masterpiece Cakeshop owner Jack Phillips, who refused to sell a cake to a same-sex couple in Colorado, and Sweet Cakes by Melissa, a bakery owned by Aaron and Melissa Klein, who turned away a lesbian couple seeking a wedding cake.
In his ruling, Ekstrom wrote: "Stutzman cannot comply with both the law and her faith if she continues to provide flowers for weddings as part of her duly-licensed business, Arlene's Flowers."
That finding in particular alarmed Waggoner, who also serves as senior counsel for the Alliance Defending Freedom.
"It's just the idea that government is telling you what you can't say — that is a bad thing and it's against our history as a nation," Waggoner said. "We are getting to a point now to where the government is telling us what we have to say, and that power is really scary."
Waggoner noted that some proponents of same-sex marriage had promised nothing would change for people of faith, yet under those marriage laws, rules are shifting.
The ACLU of Washington, though, praised the ruling as a balance between faith and the state's anti-discrimination law.
"Religious freedom is a fundamental part of America. But religious beliefs do not give any of us a right to ignore the law or to harm others because of who they are," said legal director Sarah Dunne. "When gay people go to a business, they should be treated like anyone else and not be discriminated against."