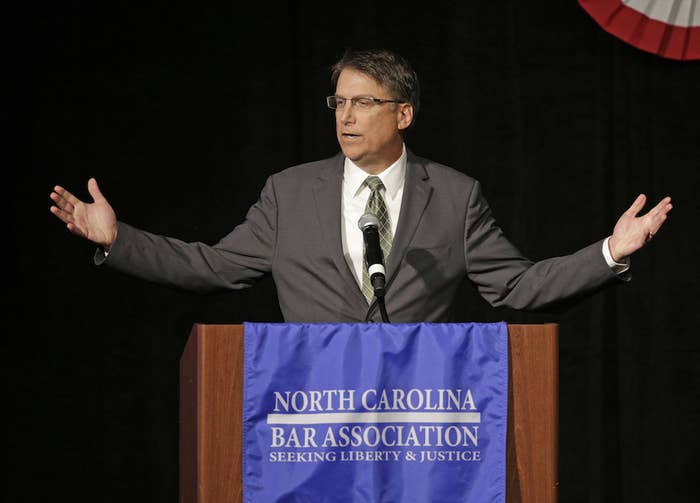 WINSTON-SALEM, North Carolina — A federal judge expressed skepticism on Monday that North Carolina lawmakers were solving a legitimate safety problem when they passed a law that bans many transgender people from restrooms in government facilities that match their gender identity.
US District Court Judge Thomas D. Schroeder also seemed flummoxed at one point by how the law could function in practical terms — it requires people to use single-sex restrooms associated with the sex on their birth certificate, thereby making transgender people enter facilities that conflict with their identity and appearance.
"We would have people dressed like males, who consider themselves male, walking into the ladies room," he told a lawyer representing Gov. Pat McCrory.
"How on earth is that supposed to work?" he asked.
Schroeder was considering a request to suspend the law while its underlying legal merits are considered at a trial. "I endeavor to make a decision as soon as I can," he told the courtroom. "I know school is about to ramp up."
"Is there any legislative record here of a problem that needed to be addressed?" the judge asked.
In a hearing that stretched more than three hours, Schroeder asked lawyers from both sides how pre-existing state laws against indecent exposure, peeping, and trespassing could apply. "Why aren't those sufficient protection, or are they?" he said. "How does this law make us safer?"
And he asked whether the University of North Carolina should be named as a defendant at all.
Yet he expressed concern for the privacy rights of young students, particularly girls, who could be exposed to seeing a transgender girl's genitals — which may appear male — in locker rooms, showers, or changing facilities.
He said there could be a heightened interest in protecting privacy "if minors are involved," pointing out they are living through "impressionable years."

On March 23, Republican state lawmakers convened a one-day legislative session to pass House Bill 2 with the explicit goal of overriding an ordinance in Charlotte that would have protected LGBT people from discrimination in housing and public accommodations.

McCrory and GOP lawmakers claimed the public accommodations portion of the city's ordinance posed a safety threat by allowing transgender women — whom they called "men" — to prey on women and girls, particularly in bathrooms.
In addition to superseding Charlotte's policy, the law stated that single-sex restrooms and locker rooms in public schools and government buildings may only be used by people with the corresponding sex listed on their birth certificate.
Within days, a challenge was filed by a transgender student and a transgender employee at the University of North Carolina. Represented by lawyers from the ACLU and Lambda Legal, they argued that the law violated their constitutional and civil rights — leaning on a growing body of court cases and legal interpretations that find transgender discrimination is a form of illegal sex discrimination.
On Monday they went to court to ask that the law be suspended — the furthest along of at least five lawsuits relating to the state law. Judge Schroeder has scheduled a full trial for November. Meanwhile, there is a parallel case before his court brought by the Department of Justice, which sued North Carolina to strike down the statute.
Before the governor's lawyer, Karl Bowers, could finish the first sentence of his oral argument on Monday, Judge Schroeder cut him off.

"What is the problem?" Judge Schroeder began.
Bowers said the Charlotte ordinance created an issue; by extending new rights for transgender people in restrooms, it compromised public safety and privacy.

"HB2 confirms the privacy rights of not being exposed to the genitals of someone of the opposite sex," said a lawyer for the governor.
"Is there any legislative record here of a problem that needed to be addressed?" the judge pressed, asking if hearings or floor debates cited issues associated with transgender people using restrooms.
"Not that I am aware of," Bowers replied. Bowers said he would submit records from the day of proceedings on HB2.
Judge Schroeder then inquired what ramifications would arise from suspending the law and returning to the status quo.
Rather than answer, however, Bowers replied that he would turn the judge's question "on its head," saying that HB2 was "reaffirming privacy."
But the judge continued. Were other laws that ban nefarious activities — such as indecent exposure — not enough? he asked. "Why aren't those sufficient protection, or are they?" he said. "How does this law make us safer?"
Bowers answered, "HB2 confirms the privacy rights of not being exposed to the genitals of someone of the opposite sex."
But Schroeder pointed out that restrooms have partitions that prevent exposure to other people's genitals.
"Not always," Bowers noted.
"Are there urinals in the ladies room?" Schroeder rejoined. "I am at a loss, unless someone strips down naked, which is a violation of the law [that already exists to ban such behaviors], as I understand it."
When pressed on how HB2 would work, requiring transgender men use women's rooms, Bowers pointed out that some transgender people "would continue" to use the restroom that reflects their gender identity regardless of the law.

"Then why have it?" said Schroeder. "I don't understand."
The legal challenge was filed in US District Court for the Middle District of North Carolina on behalf of Joaquín Carcaño, a transgender man who works at the University of North Carolina, Chapel Hill; Payton Grey McGarry, a transgender man who is a student at the University of North Carolina, Greensboro; and Angela Gilmore, a lesbian who is the associate dean for academic affairs at North Carolina Central University.

The ACLU of North Carolina and Equality North Carolina are also named as plaintiffs.
Their underlying complaint argues that the law violates their rights to equal protection, privacy, and liberty under the 14th Amendment to the US Constitution and their civil rights under Title IX of the Education Amendments of of 1972.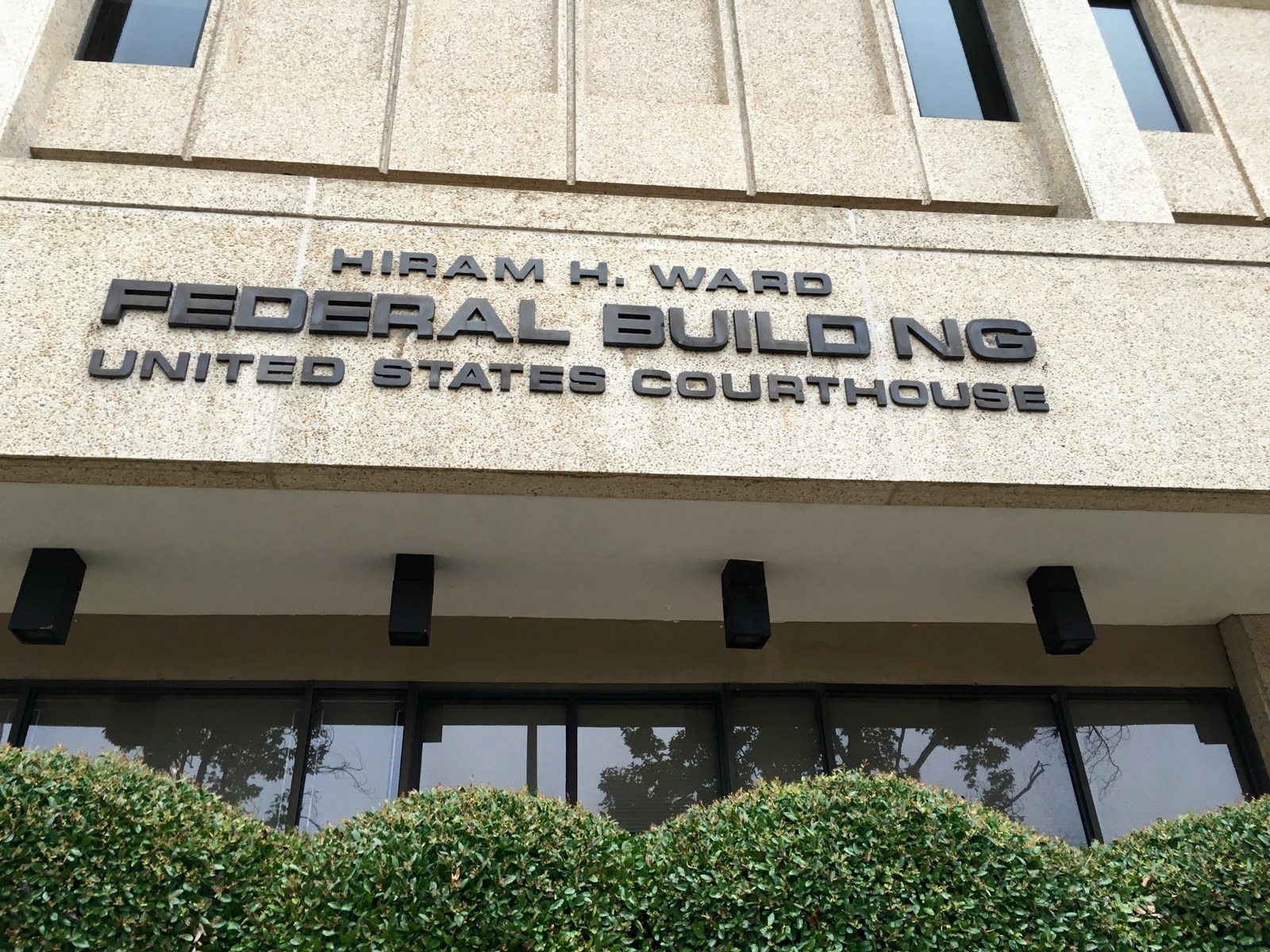 For several years, federal agencies have interpreted Title IX — which bans discrimination in publicly funded schools on the basis of sex — as a ban on transgender discrimination as a form of sex discrimination.
In another case involving a transgender student, the 4th Circuit Court of Appeals found in April that the Education Department had deference to make that interpretation of Title IX.
Several school districts have resisted that federal interpretation of Title IX. However, North Carolina is the first and only state to enact a law banning transgender students from school restrooms that correspond with their gender identity.

In briefs submitted to the court, McCrory's lawyers have argued that Title IX applies to "biological sex" — defined as the sex listed on a birth certificate — and does not extend nondiscrimination protections on the basis gender identity.
Meanwhile, House Speaker Tim Moore and Senate Pro Tempore Phil Berger, who intervened to join the case, argued in court documents that the ACLU was essentially attempting to abolish sex-segregated facilities entirely.

Representing those two Republican lawmakers, attorney Kyle Duncan argued against an injunction on Monday. He bristled at the idea that letting transgender people use restrooms that match their gender would return North Carolina to the status quo, saying that the Obama administration has advanced its "novel" idea about Title IX only in recent years.
"It stretches credibility to the breaking point to suggest that was the status quo," said Duncan, making an alternate case that suspending HB2 would move away from a traditional understanding of facilities separated based on users' "biological sex."
Judge Schroeder also struggled at times with the scope of sex discrimination. On the one hand, he said that separate facilities for males and females was inherently a form of discrimination.
The University of North Carolina, which was also named as a defendant, argued that it was not enforcing the law and "shouldn't be required to participate in these proceedings at all," said lawyer Noel Franciso.
But Corey Stoughton, a lawyer for the US Department of Justice's Civil Rights Division, argued that the university system should be remain as a defendant, in part because a Title IX claim could only be brought by an education institution that receives federal funds.

Judge Schroeder invited the parties to submit briefs by the end of the week on whether the University of North Carolina should be removed from the proceedings.
"It is not entirely clear to me why they are in the case," he noted. "You could sue every agency in the state with a bathroom."

Judge Schroeder repeatedly got stuck on who has authority to enforce the law, given that the statute doesn't explain how state agencies would take action against violators. "It's not clear to me how the law is supposed to work, other than agencies are supposed to follow it."