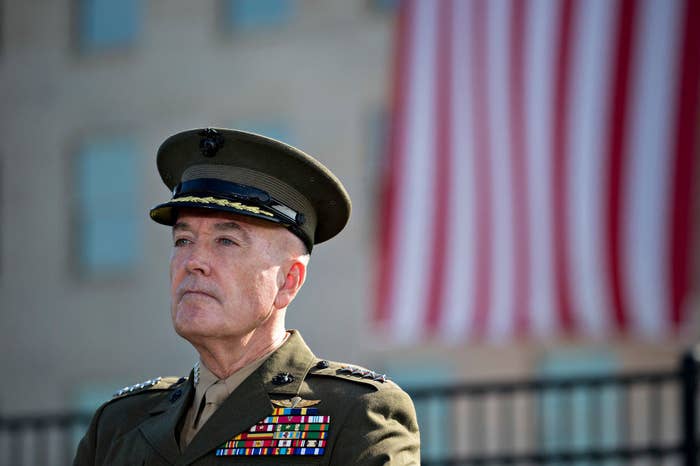 Less than 24 hours after President Trump tweeted that "after consultation with my Generals and military experts" he would end transgender military service, the chair of the Joint Chiefs of Staff sent emails to the country's top generals saying Trump's announcement "was unexpected" and that he intended to say he was "not consulted."

The two emails, obtained by BuzzFeed News, were sent by Gen. Joseph Dunford, the country's highest-ranking military general, on July 27, 2017, to generals of the Air Force, Army, Marines, National Guard, and Navy.
They suggest widespread surprise among the chiefs, while raising further questions about Trump's claim that he announced the position after consulting with military brass.
Federal courts have since temporarily suspended the transgender military ban, which Trump formalized in an August memo, saying transgender people who'd sued were likely to prove the president violated their due process rights.
As one federal judge wrote in November, "President Trump's tweets did not emerge from a policy review," adding, "A capricious, arbitrary, and unqualified tweet of new policy does not trump the methodical and systematic review by military stakeholders."
Since then, courts have continued to consider the ban's legality and determine how, exactly, it was created — and the extent to which leading military officials were involved. Officials announced this winter that the Pentagon would issue new policy recommendations to the president by Wednesday.
The emails were shared with BuzzFeed News on the condition that they were only to be quoted from, due to their sensitive nature.
The Joint Chiefs of Staff did not deny or confirm the emails' authenticity to BuzzFeed News. Col. Patrick Ryder, a spokesperson for Dunford, said that because there are ongoing lawsuits over transgender people enlisting in the military, "it would be inappropriate for us to comment at this time on questions related to actual or alleged internal DOD correspondence."
"P.S. When asked, I will state that I was not consulted."
"Chiefs," the first email from Dunford begins at 7:55 a.m on July 27. "I know yesterday's announcement was unexpected."
It was addressed to Gen. Mark Milley, chief of staff for the US Army; Gen. Joseph Lengyel, chief of the National Guard Bureau; Gen. David Goldfein, chief of staff of the US Air Force; Adm. John Richardson, chief of Naval Operations; and Gen. Robert Neller, commandant of the Marine Corps.
At the bottom of the email, Dunford provided the chiefs a draft of a memo that said Trump's tweets had not changed any policy as of yet.
Speaking to that memo — which officials did distribute later that same day — Dunford gave the Joint Chiefs of Staff a heads up so they could blast the statement out to a large audience: "The message below is provided in advance of an official letterhead memo from me. It's as much as we can say right now. I'd ask that you ensure widest dissemination."
"VR, Joe," Dunford signed off, using the military initialism for "very respectfully."
Dunford followed up with another message at 10:57 a.m. that day: "P.S. When asked, I will state that I was not consulted. … expect that question will come NLT [no later than] my September hearing."
Dunford was apparently referring to his scheduled appearance on Sept. 26, 2017, before the Senate Armed Services Committee, for a hearing on his reappointment as chairman of the Joint Chiefs of Staff.
The morning before Dunford's two emails, Trump had tweeted his plans and explanation for his position: "After consultation with my Generals and military experts, please be advised that the United States Government will not accept or allow Transgender individuals to serve in any capacity in the U.S. Military. Our military must be focused on decisive and overwhelming victory and cannot be burdened with the tremendous medical costs and disruption that transgender in the military would entail. Thank you."
Reuters reported at the time that Dunford told senior military leaders that Trump's announcement was "unexpected," according to an unnamed source. But the outlet did not report on the email or its recipients. Nor did it mention Dunford's follow-up email about plans to say he was not consulted, or that he expected to be asked about the matter by September.
In that September hearing, according to a Senate transcript, Dunford said he believed transgender troops should be allowed to continue to serve — but he was not asked whether Trump consulted him in advance, and he did not address the matter.
In the fall, federal judges temporarily suspended the policy as trial courts continued to consider the merits of the lawsuits.

Asked to furnish information about Trump's claim that he consulted with "Generals and military experts" before announcing the ban, the Justice Department raised executive privilege to try to keep that information secret.

But a judge wrote in an order last week that Trump was incorrectly arguing that an "absolute" privilege protected the administration from having to turn over certain information about meetings or conversations the president had in advance of his July 27 tweets.