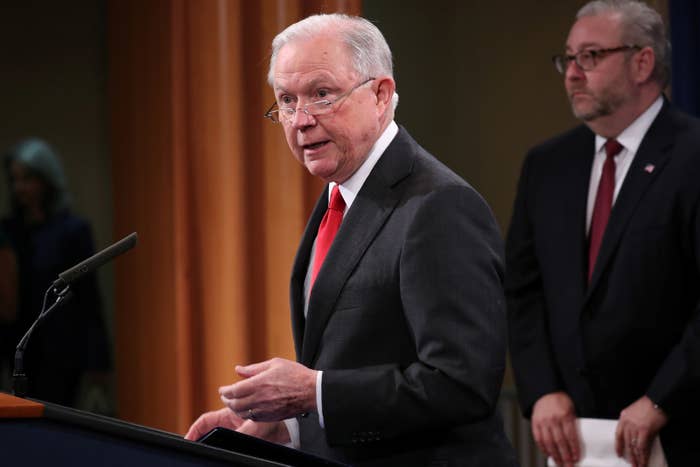 Minutes before President Donald Trump warned on Twitter that he'd seek "Maximum Criminal Penalties" against anyone caught voting illegally in the midterms, Attorney General Jeff Sessions said Monday he would deploy monitors to 35 jurisdictions across the country to ensure compliance with voting rights laws and stop "fraud in the voting process."
While DOJ always monitors elections across the country, critics quickly lambasted Sessions for nurturing a narrative of widespread voter fraud, a right-wing myth that has been refuted time and again. Using the Justice Department's megaphone this way, they said, twists the agency's mission of fighting voter suppression to supporting voter intimidation.
"I have not seen DOJ send out that kind of threatening message before in its pre-election press releases," Wendy Weiser, a voting expert at the Brennan Center for Justice, part of the NYU School of Law, told BuzzFeed News.
"It is my view that this kind of threatening language from the Department of Justice right before an election is inappropriate and can be interpreted as scaring voters in the targeted jurisdictions," she said.
The Justice Department's Civil Rights Division typically monitors a few dozen counties in federal elections, with a focus on ensuring access to the ballot, particularly for historically disenfranchised populations like racial minorities and people with disabilities. The division will continue that practice this year, enforcing the Voting Rights Act of 1965 and other civil rights laws.

But Sessions put a fine point on voter fraud.
"Citizens of America control this country through their selection of their governmental officials at the ballot box," Sessions said. "Likewise, fraud in the voting process will not be tolerated. Fraud also corrupts the integrity of the ballot."
The Justice Department said on Saturday that its US Attorneys' Offices, which enforce voter fraud laws, would work with "specially trained FBI personnel in each district to ensure that complaints from the public involving possible voter fraud are handled appropriately."
Kristen Clarke, president of the Lawyers' Committee for Civil Rights Under Law, told BuzzFeed News she was concerned both with Sessions' "fraud" rhetoric and that some hot spots in Georgia aren't being monitored.
No monitors are being deployed to Randolph County, where local officials this year had planned to shutter seven of nine polling sites — after the threat of a lawsuit, they reversed course. There also are no monitors being sent to Macon-Bibb County, where officials in 2016 tried to move a polling place in a black neighborhood to a sheriff's office. Nor are there monitors this year in Hancock County, which the Justice Department did monitor in 2016; the county has been criticized for issuing summonses that require people to prove their voter registrations and adopting hyper-stringent standards for voting.
"Attorney General Jeff Sessions does not have his eyes set on voter suppression and last minute intimidation, but is instead exploiting this moment to push a false narrative about voter fraud," said Clarke.
She added that the Lawyers' Committee for Civil Rights Under Law "condemn[s] the Justice Department's announcement regarding the deployment of federal observers. In stark contrast to how these observers have been deployed in the past, at every turn, this Justice Department has failed to take action to enforce the Voting Rights Act and protect the interests of minority voters."
The Justice Department did not explain why it had picked the 35 jurisdictions for review, saying in a statement to BuzzFeed News that it "considers a number of factors," including information from local officials and ongoing compliance reviews.
The Justice Department, under Sessions, has supported a restrictive voter ID law in Texas, reversing course from former president Barack Obama, who'd opposed the law.
The Justice Department under Obama also noted possible fraud in press releases, including in 2014 and 2016. But unlike Sessions, former attorney general Loretta Lynch focused her remarks before Election Day on increasing voter access, not fraud.
Justin Levitt, former head of the Justice Department's Voting Rights Section under Obama, lamented Sessions' language, but he believes the Civil Rights Division monitors on the ground will stick with protecting voting access, not going after fraud. "I don't love the attorney general's quote," he told BuzzFeed News, saying that it "seems to be focused on fraud at polls more than prior AGs have been on their pre-election press release. That's in line with the president's comments this morning."
The Justice Department responded to critics by citing a statement Sessions issued on Saturday.
"The Department of Justice and its component agencies protect our democratic process year-round," Sessions' weekend statement said. "During election season, we put in place additional security awareness and monitoring measures with our federal, state, and local partners to ensure the securest possible settings for our elections. Any attempts to interfere or subvert our democratic process by foreign or domestic entities will be met with severe consequences. The American people can be confident that their voices will be heard."
Weiser added, "Just because Jeff Sessions and the like are using intimidating language, that doesn't mean that voters should be worried. The Civil Rights Division's mission is to protect voters, and that is what they are being deployed to do here."
These are the 35 jurisdictions the Justice Department will monitor on Tuesday:
Bethel Census Area, Alaska;
Dillingham Census Area, Alaska;
Kusilvak Census Area, Alaska;
Yukon-Koyukuk Census Area, Alaska;
Apache County, Arizona;
Cochise County, Arizona;
Maricopa County, Arizona;
Navajo County, Arizona;
Sacramento County, California;
San Mateo County, California;
DeSoto County, Florida;
Palm Beach County, Florida;
Pinellas County, Florida;
Fulton County, Georgia;
Gwinnett County, Georgia;
Buena Vista County, Iowa;
Ford County, Kansas;
Lowell, Massachusetts;
Malden, Massachusetts;
Clark County, Nevada;
Washoe County, Nevada;
Middlesex County, New Jersey;
Union County, New Jersey;
Erie County, New York;
Benson County, North Dakota;
Rolette County, North Dakota;
Texas County, Oklahoma;
Lehigh County, Pennsylvania;
Pawtucket, Rhode Island;
Buffalo County, South Dakota;
Harris County, Texas;
Tarrant County, Texas;
Waller County, Texas;
San Juan County, Utah; and
Fairfax County, Virginia.