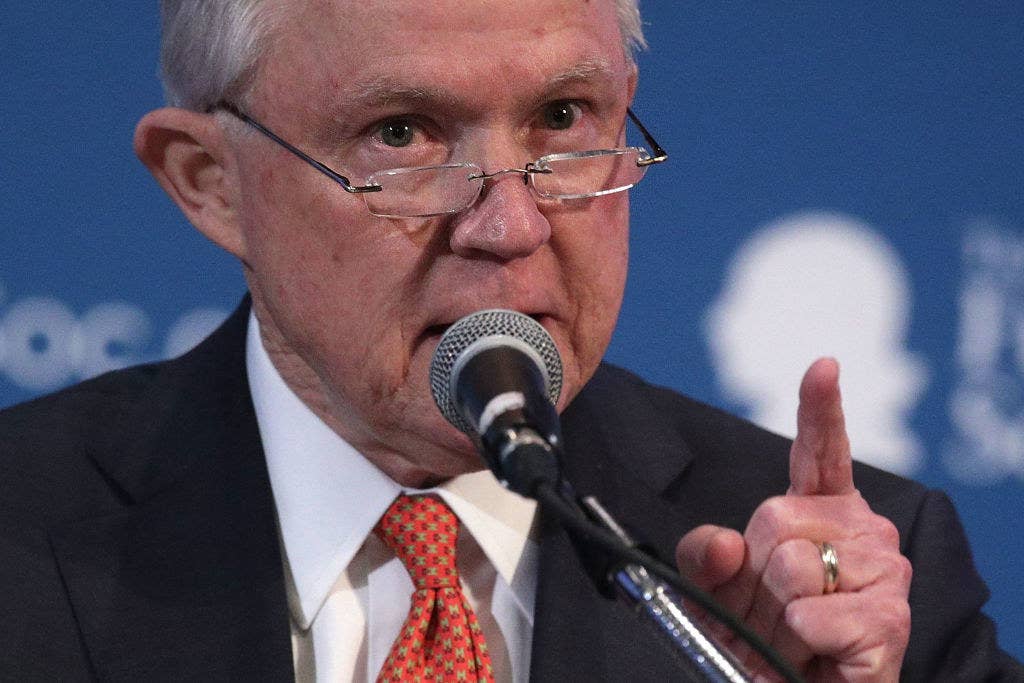 Attorney General Jeff Sessions has complained all spring that he's the victim of a pernicious new trend. Federal judges have imposed at least 22 so-called nationwide injunctions that block the Trump administration's policies from going into effect — an unprecedented wave. These judges are threatening democracy, Sessions warns, and all but breaking the law.
The travel bans, the transgender military ban, an effort to curb refugees, rescinding DACA, Trump's order to defund sanctuary cities, and more — all blocked by US District Court judges. Most recently, in April, the 7th Circuit Court of Appeals upheld a nationwide injunction that stopped Sessions from punishing sanctuary cities.
Sessions hasn't been content with criticizing the injunctions as improper — as legal scholars on the left and right have done, too. He is also weaponizing the criticism into attacks on judges themselves. He's scolded the "activist judges," accusing them of "ideological judging" and trying to advance an "ideology or express political beliefs."
Sessions fumed at the "unconstitutional" rulings in a recent article in the National Review, where he branded the injunctions as a "new vehicle" and "threat to the proper functioning of the federal government."
"The ever more extreme nature of these injunctions is only making it more obvious just how unlawful they are," he said in a March speech.
But while Sessions claims he wants to stop this practice entirely, he is being called out for hypocrisy.
In the 7th Circuit decision, Judge Ilana Rovner — a George H.W. Bush appointee — noted that Sessions had cheered for a nationwide injunction two years ago, when one of these orders struck down an Obama immigration policy.
Sessions berates the "activist judges" these days — but a court called him out for supporting one of these same type of rulings as "a victory" when it blocked Obama.
"At that time, then-Senator and now‐Attorney General Sessions characterized the upholding of one such nationwide preliminary injunction as 'a victory for the American people and for the rule of law,'" she said, citing a press release that Sessions sent at the time. "Now, many who advocated for broad injunctions in those Obama-era cases are opposing them."
As the head of the Justice Department, Sessions is currently using two previous injunctions against Obama to advance the Trump administration's agenda.
He's been unrepentant in this double standard; the Justice Department accused the 7th Circuit of setting a "dangerous precedent."
And while Sessions has stood up to President Donald Trump to defend legal institutions, like the FBI, he's matched the president's taunts to delegitimize the sovereignty of judges. Just as Trump belittled a "so-called" judge who blocked the first travel ban, Sessions diminished "a judge sitting on an island in the Pacific," referring to US District Judge Derrick Watson, who last year blocked the second travel ban.
"Jeff Sessions is — how to put this politely — a nativist hypocrite," Michael Dorf, a professor at Cornell Law School, told BuzzFeed News this week. He said Sessions' comment about Judge Watson was "a dog whistle suggesting that Hawaii isn't a real state."
"It seems like an attack on the rule of law," added Dorf, turning one of Sessions' attack lines back at him. "The concern is that you delegitimize the judiciary and make it seem like political opposition instead of exposition of the law."
A Justice Department spokesperson told BuzzFeed News that Sessions hopes the Supreme Court will resolve the issue of nationwide injunctions, saying, "Suggesting the courts fully consider and resolve an issue is hardly an attempt to delegitimize the judicial branch."
To be fair to Sessions, Dorf agrees that nationwide injunctions create a host of problems. The Obama administration loathed nationwide injunctions, too. By nature, they stymie whichever party is in power. Obama sought to have an injunction on EPA rules narrowed to 13 states that had sued, for instance, just as Sessions now seeks to limit the sanctuary city lawsuit to Chicago.
"Before, it was liberals who were upset about it, and now that shoe is on the other foot, conservatives are upset," Dorf said.
But Dorf takes issue with Sessions' flurry of jabs and inconsistency. "He's insincere in his opposition to nationwide injunctions. He likes them when they enjoin policies he opposes," Dorf said. "It's the Trump administration trying to delegitimize any institutions that don't toe their line."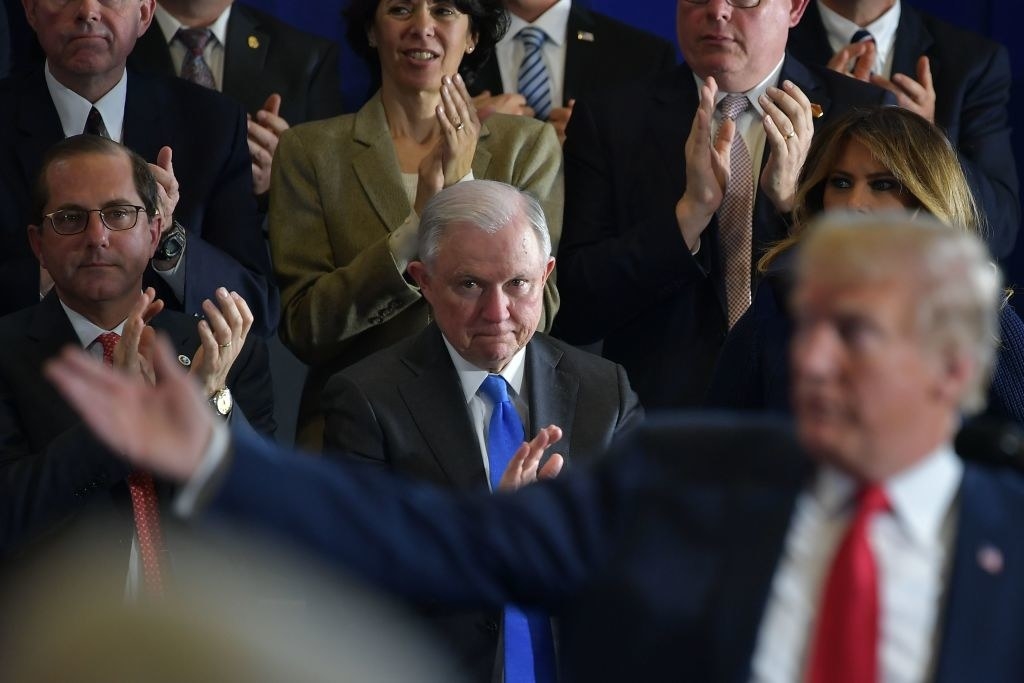 "Clearly," Sessions said at a speech before the Federalist Society in March, "something has changed."
Courts handed down as many nationwide injunctions during the Trump administration's first 14 months as during the country's first 200 years, Sessions said. He called this a quest for "raw power," arguing that judges shutting down elected officials "effectively silences the people who voted for them."
There are, however, other explanations for this change.
The most recent change, clearly, is the Trump administration's policies themselves, which courts have blocked for potential constitutional violations.
Trump issued his first travel ban one week into his term, on a Friday afternoon, sending airports into chaos — critics sued, and a judge suspended part of the ban within two days on constitutional grounds. Trump first announced his transgender military ban on Twitter, without even consulting his top general, and courts found it likely violated equal protection and due process rights.
When Sessions formally recommended rescinding DACA, which concerned undocumented immigrants who came to the US as children, he said that action was necessary because courts blocked a different program for immigrant parents known as DAPA. US District Judge Nicholas Garaufis called Sessions' justification a "thin reed" in a February decision, noting they were separate policies. He said Sessions' argument was "premised on an obvious factual mistake," calling it "flatly incorrect" — and then Judge Garaufis issued a nationwide injunction, keeping DACA alive for now.
Liberals and conservatives have also gotten better in the past decade at filing lawsuits in districts where they believe judges will cooperate — known as "forum shopping." Republicans, for instance, won five nationwide injunctions against Obama in just over a year in Texas.
There's also been a change in Sessions himself.
Sessions didn't complain when US District Court judge in Northern Texas issued a nationwide injunction in 2016 to block the Obama administration's protections for transgender patients and women seeking abortions. Currently, the Department of Health and Human Services is rewriting those rules, which are pending at the Office of Management and Budget. Sessions' lawyers explained last month they made the move in part "to address issues identified by the Court in granting Plaintiffs a preliminary injunction."
That's not the only example of Sessions using a nationwide injunction to advance his agenda. The same Texas judge froze the Obama administration's guidance to protect transgender students. Weeks after becoming attorney general, Sessions rescinded the guidance. Why? "The Texas court preliminarily enjoined enforcement of the interpretation," said a memo from Sessions.
Joshua Block, a lawyer for the ACLU, said he was frustrated when the Texas court blocked transgender protections, because, among other issues, it clashed with other circuit court decisions.
"Jeff Sessions' criticisms are being used opportunistically to criticize the actions of courts that rule against the administration," Block said. "There is an effort — and not just at the Justice Department — to portray judges upholding the law as some sort of judicial resistance, doing something new and inappropriate, and that's just not the case. These are not a new thing, and if you're going to criticize them as inherently illegitimate, you can't just do that selectively for the injunctions that you dislike."
But Sessions notes the judges can issue conflicting orders, like when a court in Maryland affirmed the move to repeal DACA — yet DACA was still kept alive by the previous ruling. Sessions contends that violates the principle of coequal branches of government. "A plaintiff only needs to win once to stop the government from acting," he said in March, "but the government needs to win every time to carry out its policies."
Sessions' spokesperson added, "The Justice Department will let the courts decide these cases, and we are confident that we will ultimately succeed on the merits of our arguments."
Many Republican-appointed judges have blocked Trump administration policies, too.
Sessions has called to limit these orders to only plaintiffs — rather than the entire country. Samuel Bray, a law professor at the UCLA School of Law, made a similar argument in the Harvard Law Review in December. Yet that presents its own problems, which the 7th Circuit noted in the sanctuary city case. If an injunction weren't national in scope, countless other cities and counties may bring more lawsuits.

Marty Lederman, a lawyer at Georgetown Law School who served in the Justice Department's Office of the General Counsel in the Clinton, George H.W. Bush, and Obama administrations, wrote on the blog Balkinization there may be problems with encouraging numerous similar cases — each with their own narrow injunction — to percolate simultaneously to the Supreme Court.
"Why would anyone think that thousands of lawsuits, and countless different resolutions, is an optimal state of affairs in the meantime?" he asks.
Rather than continuing a system that encourages parties to seek nationwide injunctions, Dorf proposes a panel within the judiciary that could consolidate similar lawsuits into one case, much like a multitude of cases against opioid manufacturers that have been placed before one judge in Ohio.
"Sessions might accidentally be correct in his criticism in the scope of some injunctions," Dorf said. "We can evaluate the argument apart from the person making the argument."
Now that the Trump administration is faced with mounting injunctions, Sessions also has said that the potential nationwide scope encourages forum-shopping on both sides — meaning that liberals are filing cases "in California and Hawaii," as he told a group of students in March.
But many Republican-appointed judges (outside of California and Hawaii) have blocked Trump administration policies, too. Judge Rovner, the lead author of 7th Circuit opinion on sanctuary cities, was appointed to a lower court by Reagan and to the appeals court by George H.W. Bush. Judge Harry Leinenweber, the district court judge in the underlying sanctuary city case, was also a Reagan appointee. Plenty more nationwide injunctions against the Trump administration have been issued by judges appointed by Republican presidents. To name a few: Judge John Bates on DACA, Judge Colleen Kollar-Kotelly on the trans military ban, Judge James Robart on the refugee order and travel ban.
Asked how these rulings reveal activist ideologies, the Justice Department spokesperson said Sessions' "concerns about nationwide injunctions are not based on the specific court, judge that issues it, or even whether he agrees with the underlying ruling or not — they are based on his respect for separation of powers and the rule of law."