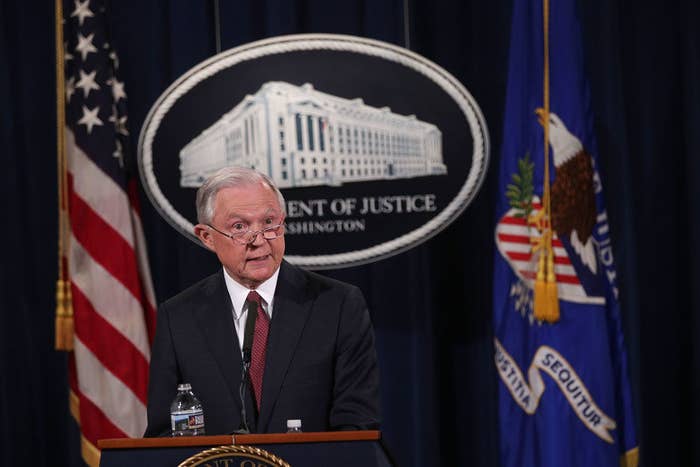 When US Attorney General Jeff Sessions announced the end of the Deferred Action for Childhood Arrivals program on Tuesday, he didn't merely argue that former President Obama's immigration policy was legally flawed.

Sessions, among a menu of reasons, claimed failing to crack down on undocumented immigrants increases the risk of crime and terrorism.
Critics quickly scorched Sessions for linking undocumented immigrants with bomb-plotting terrorists in the same speech, saying that data don't support his claim and that Sessions' reasoning reveals ill motives behind canceling a program that protected some young immigrants brought to the US as children from deportation.
"There is nothing compassionate about the failure to enforce immigration laws," Sessions said from behind a lectern at the Department of Justice. "Enforcing the law saves lives, protects communities and taxpayers, and prevents human suffering. Failure to enforce the laws in the past has put our nation at risk of crime, violence, and even terrorism."
But Frank Sharry, executive director of immigration reform group America's Voice, shot back on a press call that Sessions' comments were "a distortion and a lie that is regularly spewed by talk radio."
"That was right out of the nativist playbook," he said.
Twitter users also jumped aboard, saying the claims amounted to a baseless, racist smear of DREAMers who came to the country as kids.
Sharry countered that studies show immigrants don't commit crime at a higher rate than native-born people. For example, his group cites a new meta-study of 51 other studies announced in June by the University of California, Irvine, which found no relationship between immigration and crime (among studies where immigration did play a factor, most showed crime dropped).

"This is one of the biggest canards," Sharry said.
Asked about the basis for Sessions' crime and terrorism claims, a Justice Department official said the context of those remarks were "not DACA-focused," suggesting they were about immigration enforcement more generally.
"However," the official said, "there have been many times where people attempted to use or successfully used leniencies within immigration enforcement as a launching pad for their attacks against our country. This was the point the AG was trying to get at."
The official, who cited records from Sessions' office when he was a senator that were not connected to the DACA program, noted a press release from 2016 that said roughly two-thirds of people convicted in terror-related cases were foreign born.
The official also said that three terrorists involved in the 1993 World Trade Center bombing had sought "amnesty under the Special Agricultural Workers program, as did a terrorist involved in the 1993 'landmarks' plot. Three of these four who sought amnesty received it."
Obama enacted the DACA program in 2012.
On Twitter, many people said Sessions was directly comparing DREAMers with terrorists.
Sessions' remarks on Tuesday could actually assist legal efforts to halt the DACA reversal, said Marielena Hincapié, the executive director of National Immigration Law Center, who argued his comment show the Trump administration's policy is rooted in animus toward Latinos.

"It's useful that he put that out there," said Hincapié, whose group took legal action to challenge the DACA rescission on Tuesday. "Those statements by Jeff Sessions show the true colors of what is behind this administration. It's part of the blueprint of how they view America and how they want to radically change the makeup of our country, which is all about race and class."
"Those statements by Jeff Sessions show the true colors of what is behind this administration."
Sessions also argued Tuesday that DACA recipients have "denied jobs to hundreds of thousands of Americans by allowing those same illegal aliens to take those jobs." The Department of Justice official did not respond to a question about evidence for that claim.
But on the workforce front, the Cato Institute, a libertarian think tank, defended DACA in March in economic terms, saying, "We estimate that the fiscal cost of immediately deporting the approximately 750,000 people currently in the DACA program would be over $60 billion to the federal government along with a $280 billion reduction in economic growth over the next decade."
That jibes with a statement issued Tuesday by the US Chamber of Commerce, which leans conservative yet blasted rescinding DACA. "With approximately 700,000 DACA recipients working for all sorts of businesses across the country, terminating their employment eligibility runs contrary to the president's goal of growing the U.S. economy," the Chamber said.