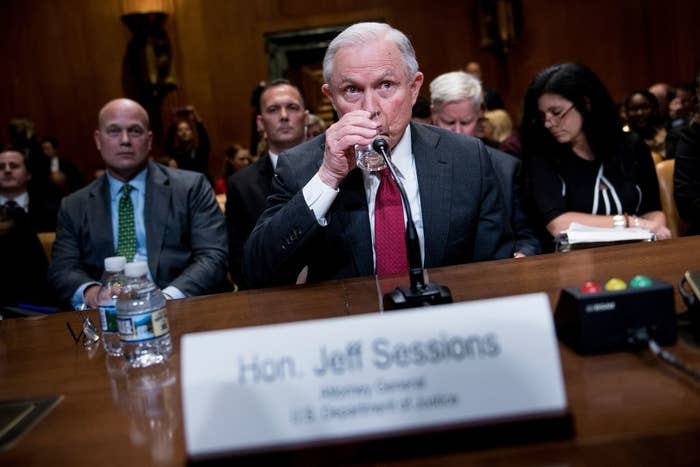 Attorney General Jeff Sessions on Wednesday blamed a federal judge for cutting off $254 million from local police departments, when, in fact, Sessions has chosen to withhold the money himself.
Sessions' testimony before a Senate panel provided his most extensive remarks to date about an unprecedented six-month delay in withholding the country's largest annual local crime-fighting grant.
The attorney general announced last year he would withhold the funds as part of his war on roughly 30 sanctuary jurisdictions — but the impacts have reached much further, undermining Sessions' own allies.
As BuzzFeed News reported last week, Sessions has caught hundreds of police departments and local jurisdictions in the crossfire across the country. They are overwhelmingly not sanctuary jurisdictions, in rural and suburban areas, and the blocked money has particularly hurt drug enforcement.
Sen. John Boozman of Arkansas lamented during Wednesday's hearing that local chiefs and sheriffs need the cash.
"Not having this funding is making a big difference in a very negative way," said Boozman, who asked when the Justice Department would disperse the funds to jurisdictions that are willing to help federal deportation efforts.
But rather than give a date — or acknowledge that it was at his discretion — Sessions blamed federal courts.
"It is just maddening to us that people who totally support our ICE officers and allow them to do the minimal things they ask of local enforcement can't get this money," Sessions told the Senate Appropriations Subcommittee on Commerce, Justice, Science, and Related Agencies.
Sessions has attempted to require all recipients of the Edward Byrne Memorial Justice Assistance Grants to support federal deportation efforts by notifying authorities when an undocumented immigrant is in custody and holding the inmate for immigration agents.
A federal judge in Chicago stuck down those conditions nationwide, issuing a preliminary injunction in September, which left Sessions able to disperse the funds without the conditions. An appeals court affirmed that ruling last Thursday, but Sessions indicated on Tuesday he would challenge that decision, too.
Sessions, however, portrayed himself to the senators as powerless to give out the money in the meantime.
"They," Sessions said, referring to the court, "not only wanted to block us from denying Chicago, the judge issued a nationwide injunction."
"All these other people who comply with the Department of Justice, all the other people that have other and different laws and backgrounds — enjoined by the same federal judge," he claimed, even though the injunction applies to the Justice Department, not the jurisdictions nationwide waiting on the grants. "Now the whole process has stopped and law enforcement has been impacted, and we are determined to try to deal with this issue in an appropriate way."
"It is painful for me not to see the money go out, particularly the people who want to work with us in every way," Sessions added. "I know it's difficult for them. But they have been supportive and understanding. I just have got to say, we are working on it. It's a high priority for me."