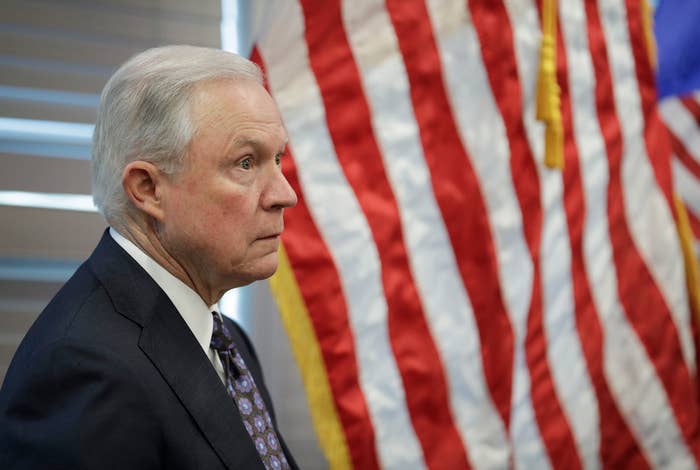 US Attorney General Jeff Sessions announced Monday he will soon release a plan to seize more property from people accused of profiting from drugs — leading activists and one of his former Republican Senate colleagues to urge caution.
Addressing local prosecutors from around the country, Sessions appeared to pledge the department will expand a practice that has been criticized for taking assets from citizens who in many cases haven't been convicted of a crime.
"We hope to issue this week a new directive on asset forfeiture — especially for drug traffickers," Sessions said in prepared remarks to the National District Attorneys Association in Minneapolis.
Sessions argued criminals should not be able to keep their illegal profits as part of his larger campaign to crack down on crime.
"With care and professionalism, we plan to develop policies to increase forfeitures," he told the group of local prosecutors, which endorsed Sessions' appointment and has praised his push for lengthy mandatory drug sentences. "No criminal should be allowed to keep the proceeds of their crime."
"Adoptive forfeitures are appropriate as is sharing with our partners," he added, making what appeared to be a nod toward the Equitable Sharing Program, which allowed state and federal agencies to share the money they seize.
But practices like those have faced pushback inside and outside government.
In 2015, former US Attorney General Eric Holder said he would establish a policy to ban local police from using federal law to seize assets when they lack a warrant or criminal charge, the Washington Post reported.
The Post reported later that year that Holder followed up to say federal authorities will only seize bank accounts when they have documented illegal transactions.
The seizures, a signature of the 1980s and '90s drug war, have been criticized as a tactic that enriched local law enforcement agencies with slush funds, even when the evidence against defendants was thin and criminal convictions didn't stick.

On Monday, Republican Sen. Mike Lee of Utah cautioned the Justice Department not to overstep its bounds as it sets new policy, noting Justice Clarence Thomas wanted the Supreme Court to hear a case challenging asset forfeiture.

"As Justice Thomas has previously said, there are serious constitutional concerns regarding modern civil asset forfeiture practices," Lee said in a statement to BuzzFeed News. "The Department has an obligation to consider due process constraints in crafting its civil asset forfeiture policies."
The Drug Policy Alliance has been among the loudest critics, saying property like cars and homes are seized without giving citizens the same constitutional rights they have in a criminal trial.
"Sessions' announcement is very troubling because it will mean that communities of color and low-income people who cannot afford to fight back will likely be disproportionately impacted by an increase in asset forfeiture activities from the Department of Justice," said Grant Smith, the group's deputy director of national affairs.
"If Sessions orders an increase in the use of asset forfeiture," he added, "more Americans will have their cars, money and other property taken by the police on the mere suspicion than the property was involved in a crime."
The Justice Department did not immediately reply to a request for comment on what the new directive was, what new plans were in the works, the timeframe, or criticisms of expanding asset forfeiture. Nor did the officials say whether defendants would need to be formally charged with or convicted of a crime in order to have their possessions seized.