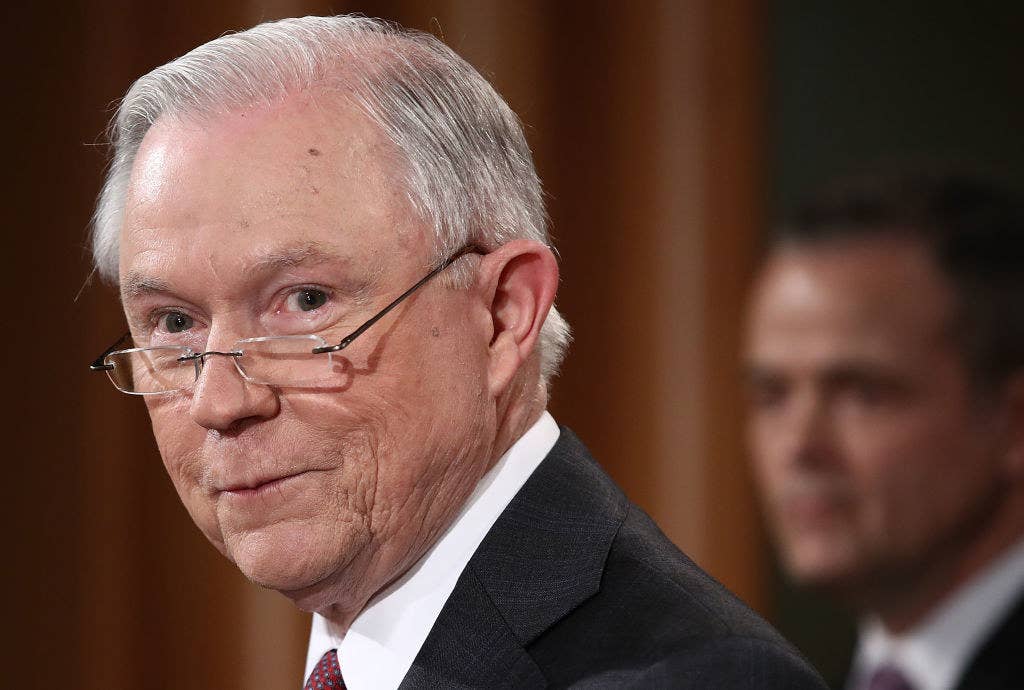 President Trump stormed into office promising an exhausting number of wins, but he's floundered in his attempts to undo his predecessor's signature accomplishment. Trump's White House has frequently stumbled with court delays, public backlash, and spectacular failures in Congress — particularly on health care.

But just a mile away from the White House, the Trump administration is notching a flurry of wins over the Obama administration — and some of the biggest victories of Trump's presidency are being accomplished by the man Trump has spent much of the last several weeks publicly ridiculing.
Attorney General Jeff Sessions is winning constantly, as the White House lurches between crises. Hardly a week goes by that Sessions doesn't rescind a policy, reverse a court position, or issue an order that erases another signature step taken by the previous administration.
Sessions has been surgically dismantling the legacy of Obama's former attorneys general — Eric Holder and Loretta Lynch — on civil rights, criminal justice, and voting access.
And yet Trump has been whipping Sessions as "very weak," saying he's "very disappointed" that his "beleaguered" attorney general recused himself from the Russia investigation, and has not taken steps to investigate Hillary Clinton.
But Sessions slogs on in utter deference.
"Sessions is moving rather swiftly to dismantle civil rights progress."
As a Justice Department official put it to BuzzFeed News this week, "The Attorney General is a workhorse who is committed to fulfilling the president's agenda as expeditiously as possible."
Sessions' success has become dismay for the people who created Obama's legal legacy.
"For us, when we were leading the Department of Justice, there was a keen sense that some of the most significant work had a target on it, and this has borne out to be true," Vanita Gupta, who ran the department's Civil Rights Division from 2014 to 2017, told BuzzFeed News. "There is no questions that Attorney General Sessions is moving rather swiftly to dismantle civil rights progress."

As attorney general for most of Obama's presidency, Holder told every prosecutor under his watch to stop filing charges that mandate multiyear prison terms in certain lower-tier, nonviolent drug cases. He later blocked federal cooperation on many asset seizures that enrich local police departments.
But within months of taking office, Sessions has reinstated those property forfeitures — including seizures from suspects who haven't been convicted of a crime — and enacted a policy to once again seek long mandatory prison terms.
And where Holder was harshly criticized for placing a lower priority on busting noncitizens who are in the country illegally, Sessions has vowed to step up enforcement against those immigrants, and warned so-called sanctuary cities he'd deny them grants.
Sessions has also repealed guidance this year to protect transgender students, and his office sent letters to every state demanding records on how they purge voters from their rolls. The Justice Department is now expected to push against affirmative action policies at American universities that it believes are discriminating against white or Asian-American applicants, the New York Times reported on Tuesday night.
"It seems like their policy announcements are directly contradictory to all the work we did to make justice more fair and more effective over the past eight years," Dena Iverson, a spokesperson for the Department of Justice's Civil Rights Division under Obama, said in an interview with BuzzFeed News.
Part of that work was phasing out private prisons under Lynch, who replaced Holder in 2015. The department issued a memo in August 2016 saying the private facilities lacked the services and security needed to properly handle inmates.
But in February, Sessions reinstated their use, suggesting the inmate population would thrive. In a memo, he said that cutting the for-profit facilities "impaired the ... ability to meet the future needs of the federal corrections system."
Iverson reflected, "It's disheartening to see evidence-based policies that we put in place being undone for what seems like purely ideological reasons."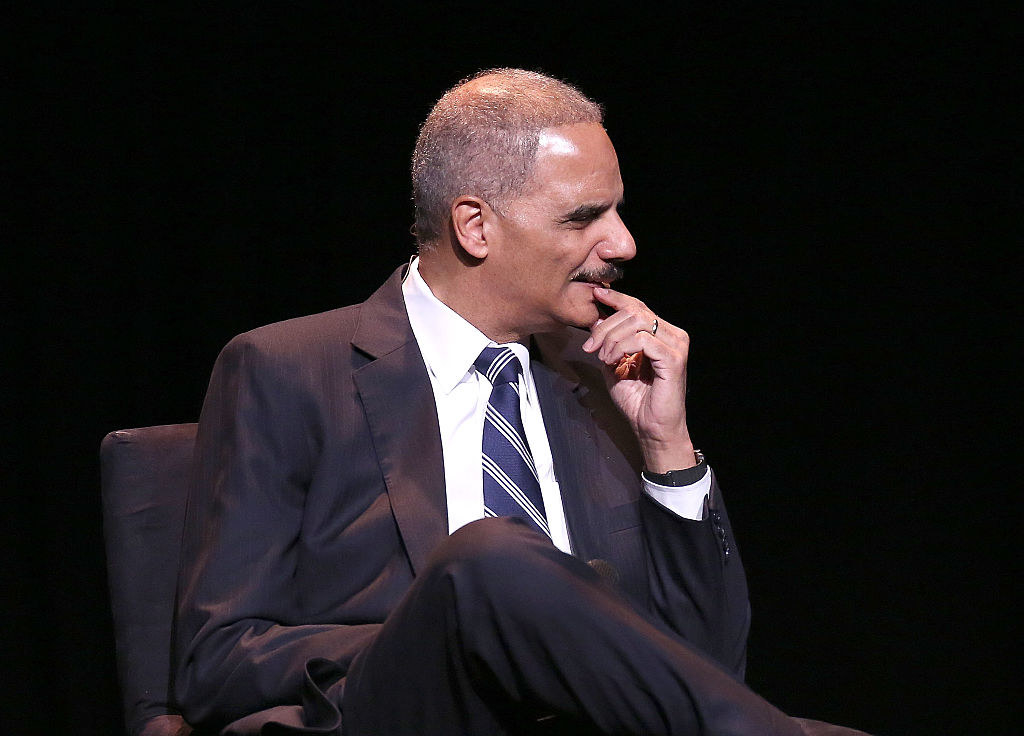 Dismantling Obama's legacy was a goal from the Trump campaign's ideological corners. Stephen Moore, a campaign adviser and senior fellow at the Heritage Foundation, said in an interview with The New Yorker last year that he envisioned a project for Trump's first day: "Trump spends several hours signing papers — and erases the Obama Presidency."
The Heritage Foundation's John Malcolm told BuzzFeed News that Sessions has been essentially doing just that — repairing the past administration's "misguided attempt to bend the law in a political direction."
"I think Jeff Sessions has been quite aggressive at implementing policies he said he would," said Malcolm, whose group had key staff advising the Trump transition. Sessions has frustrated some Republicans by going too far on issues like asset seizure and sentencing, but still, Malcolm said, "Sessions is moving quickly and decisively."
As much as Trump crafted his presidency around opposition to Obama, Sessions has long nurtured his own distaste for Obama's AGs. When Sessions sat on the Senate Judiciary Committee, he supported Holder's appointment in 2009 — a time when Democrats controlled Congress and voting against him would have been futile. Still, Sessions said in a floor speech that he worried for "my beloved Department of Justice," and cautioned that Holder "made many serious errors" when he served under former president Bill Clinton. "We do need to eliminate politics from this office," he said, pointing out that some of Holder's deputy appointments "disturb me."
"We don't need the Department of Justice to become a liberal bastion," Sessions warned.
Sessions immediately set to work breaking down that bastion once he arrived at the Justice Department. The day after being sworn in, on Feb. 10, Sessions dropped the Obama Justice Department's court defense of guidelines that protected transgender students and workers from discrimination. He later walked back the government's defense of a rule that said health insurance must cover transgender people and women seeking abortions under Obamacare. Sessions told the court the government would "reconsider" the policy.
"We don't need the Department of Justice to become a liberal bastion," Sessions warned in 2009.
On the LGBT front last week, Sessions filed a brief in federal appeals court to declare that a 1964 civil rights law doesn't protect gay workers from discrimination, putting the Justice Department at odds with the other federal agency that handled civil rights law in the workplace.
Holder and Lynch had also made banks pay community groups, such as those assisting with housing, as part of settlements. Reuters reported the Justice Department negotiated $46 billion in settlements with US banks between 2013 and 2016 that, in part, directed funds to those organizations.
But Sessions issued a memo banning the practice on June 5, saying the funds should only go to government and victims.
Sessions "doesn't have to go through Congress to change policies," Iverson said, contrasting the attorney general's nimble work with Trump's. "It's easier for him to make those changes, whether it's through sentencing guidelines or enforcement priorities."
Trump, however, has spent more time berating Sessions than taking ownership of his successes.
By bullying Sessions, Malcolm said, Trump is facing "blowback, not just from the public but from conservatives, particularly Republican senators."
Gupta also defended Sessions from Trump's attempts to bully him, saying, "Those type of attacks really attack the Justice Department's independence and the institution's mandate to ensure that nobody is above the law."
Being slightly removed from Trump's spotlight, though, has enabled Sessions to do his work relatively under the radar.
"What worries me is that there is very little bandwidth in the media to cover much more than the daily cabaret acts of the White House," said Gupta. "Every one of those rollbacks on civil rights is going to impose significant harm on the most vulnerable communities, and very few people have the bandwidth to pay attention."
Many of Sessions' actions simply don't get blasted across cable news — Trump's favorite medium.
Many of Sessions' actions simply don't get blasted across cable news — Trump's favorite medium — because they're mildly arcane and pale compared to developments like Trump firing his smack-talking, brand-new communications director.
Gupta and Iverson are encouraged that some civil rights work remains largely untouchable: Police settlements are controlled by federal courts, and prisoners remain released on clemency. Hundreds of career staff who worked under Obama have stayed in the Civil Rights Division under Trump.
But as long as he can survive Trump's current frustrations, Sessions is just getting started.
There are still many Obama-era policies that Sessions is actively targeting. Where Holder's deputy stamped a policy to tolerate legal marijuana operations in several states, Sessions has put that back on the table. He said federal prohibition still applies, and commissioned a subcommittee to make recommendations on how and whether to override Holder's mellow pot policy.
Gupta also fears Sessions will soon try to use state voter data to try purging voter rolls.
The Department of Justice may have been a liberal bastion under Holder and Lynch. But as long as Sessions stays lodged in place, his beloved Justice Department can instead be a conservative battering ram.