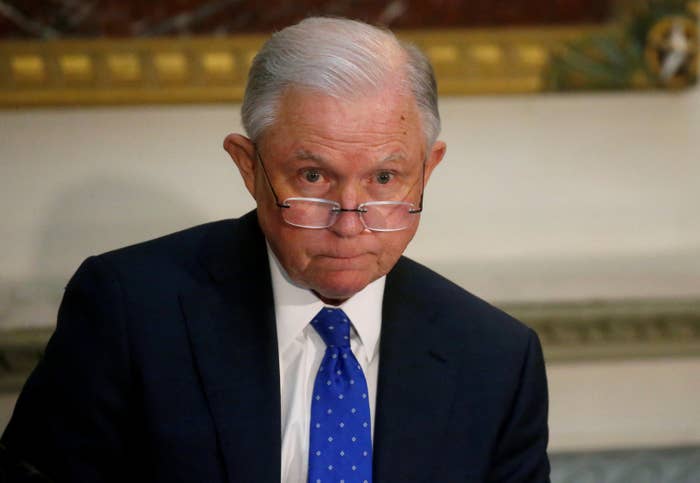 Attorney General Jeff Sessions on Thursday sharpened his attack against federal judges who block the Trump administration policies nationwide, insisting in an internal Justice Department memo that the judiciary has been exceeding limits on its power and demanding that his lawyers push back uniformly.
For now, Sessions' memo carries little weight, since the Supreme Court has not offered a final decision on this particular limit of judicial power. But it signals Sessions' intent to challenge the very ability of lower courts to constrain the federal government with a single ruling, trying to get all his attorneys on the same page to head off any "nationwide injunctions" that block a federal policy while challenges make their way through the courts.
The attorney general has railed against lower-tier federal judges that oversee the nation's 94 district courts for issuing an unprecedented number of the nationwide orders. These types of sweeping court actions have irritated Democratic and Republican administrations alike. But as Sessions points out, the Trump administration has endured a record 25 of them, from suspending Trump's first two travel bans to his transgender military ban, citing violations of the Constitution and federal law.
"A number of such injunctions in recent years have brought to the fore the problem of judges acting outside the bounds of their authority and granting relief that reaches beyond the confines of the particular case or controversy before them," says Sessions' memo to Justice Department divisions that handle litigation.
Sessions says his lawyers handling the cases should abide by several points when a federal policy could be enjoined nationally in a case. The memo instructs them to argue the orders: "(1) exceed the constitutional limitations on judicial power; (2) deviate from longstanding historical exercise of equitable power; (3) impede reasoned discussion of legal issues among the lower courts; (4) undermine legal rules meant to ensure orderly resolution of disputed issues; (5) interfere with judgments proper to the other branches of government; and (6) undermine public confidence in the judiciary."
Those arguments have become commonplace as the Trump administration has fended off challenges over its policies for the past 19 months. Sessions' memo adds that "under no circumstances should Department litigators make arguments inconsistent with these points" without approval from his top deputies.
Sessions has been hypocritical in his attacks on nationwide injunctions and has accused judges of all but breaking the law. He has called them "activist judges" engaged in "ideological judging" and trying to advance an "ideology or express political beliefs." But the 7th Circuit Court of Appeals skewered him in April, pointing out that in 2016, then-senator Sessions hailed a nationwide injunction against the Obama administration. When Sessions detested an immigrant-friendly policy, he praised the nationwide injunction that blocked it; now that courts are applying those orders to Trump administration policies, Sessions contends the orders present a constitutional emergency.
Legal scholars on the left and right have criticized nationwide injunctions, citing some of the same concerns raised by Sessions, including the fact they prevent various courts from considering issues from all sides. But experts point out the alternative is also fraught. For example, if one federal judge couldn't stop a policy that is plainly unconstitutional — that is, if the judge could only block its enforcement for one party or a single jurisdiction — then countless more plaintiffs could file challenges in dozens of courts, resulting in an inconsistent patchwork of rules from one coast to the other.
The nationwide injunctions applied to the Trump administration so far include blocking its travel bans, the transgender military ban, an effort to curb refugees, rescinding DACA, and more. In each of those cases, Sessions has argued the injunction should be limited to the party that brought the case, not the whole country.
Insofar as the injunctions have been on the rise, that may not be the result of judges being ideological, but the byproduct of a flurry of Trump administration policies that were difficult to defend. Many of the policies have been blocked by a variety of courts on similar legal grounds.
Sessions is coming to the defense of Trump policies even as the president frequently rebukes the attorney general for recusing himself from the Russia investigation, raising a drumroll of speculation that Sessions will be fired.