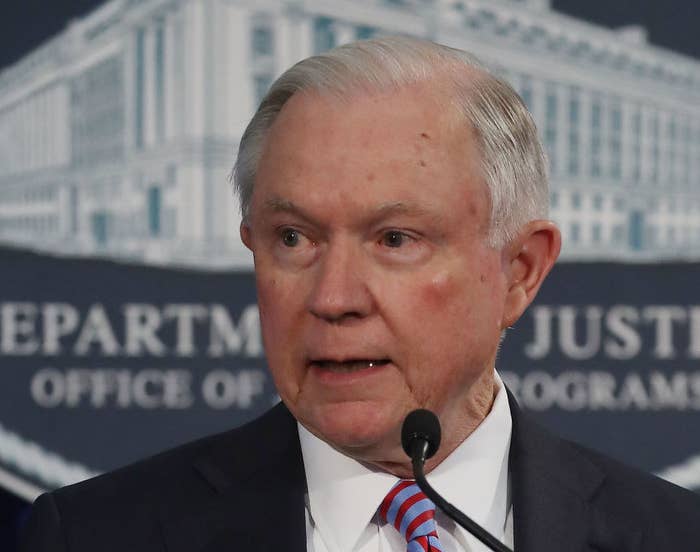 On Thursday morning, US Attorney General Jeff Sessions looked across a meeting hall in Chinatown at several dozen civil-rights leaders.
It was at the US Justice Department's Hate Crimes Summit, the first event of its type under the Trump administration. There, Sessions sought to assure his guests — a few of whom had arrived skeptical — that he's taking violence against minorities seriously.
"I pledge to you," he said in opening remarks, "As long as I am Attorney General, the Department of Justice will continue to protect the civil rights of all Americans — and we will not tolerate the targeting of any community in our country."

The argument is a hard sell for some, who haven't forgotten Trump's anti-Muslim rhetoric on the campaign trail, or Sessions' record of voting against hate crimes legislation in Congress.

But Sessions ticked through accomplishments this year to show that he is dedicated: finding a man suspected of threatening Jewish community centers, obtaining an indictment against a man for the arson of an Islamic center in Texas, charging the suspect in a shooting of three men perceived to be Muslim in Kansas, and sentencing a man in the homicide of a Mississippi transgender woman.

"I'm glad that Jeff Sessions is paying homage to that," said Vanita Gupta, who is the former director of the Justice Department's Civil Rights Division and oversaw hate crimes enforcement under Obama. "But the Justice Department's role in this space is not just a prosecutorial function."
Gupta now leads the Leadership Conference on Civil and Human Rights, which participated in Thursday's summit. It was under Gupta's charge at the DOJ that the man who killed the Mississippi transgender woman pled guilty to a hate crime.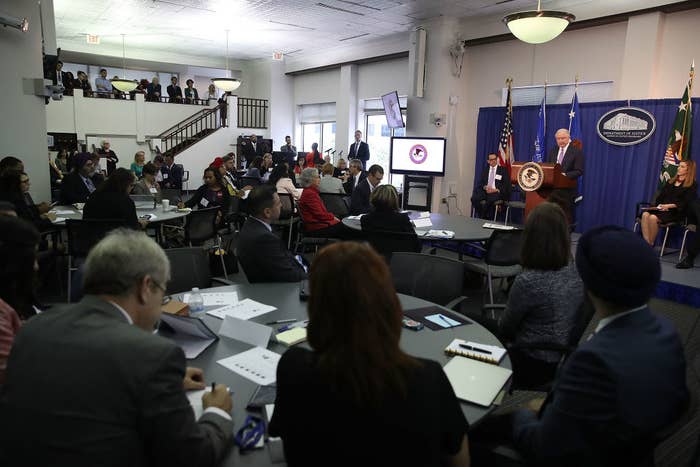 "What I can't square is that Sessions is speaking to the Justice Department's work to enforce hate crimes without acknowledging the role of this administration — including the president and his own role — in using rhetoric and advancing policies that target the very communities that are feeling victimized," she said.

Selling his commitment on hate crimes is also difficult for Sessions as a personal matter, given that in 2009, he made a show of voting against a stronger federal hate crimes law — the Shepard-Byrd Hate Crimes Prevention Act, arguing that there wasn't enough evidence of discrimination against LGBT Americans to necessitate a federal law, and that those crimes should be handled at the state and local levels.

"I'm not sure women or people with different sexual orientations face that kind of discrimination. I just don't see it," he explained in a floor speech at the time. And yet Sessions, now the country's top cop, is responsible for enforcing that very law and legislation like it.

Yet Sessions leaned on his bona fides as a tough-on-crime former prosecutor, telling his audience, "I have directed all our federal prosecutors to make fighting violent crime a top priority, and you can be sure that this includes hate crimes."

But not everyone was convinced — particularly those who weren't invited.

The Council on American–Islamic Relations, for example, asked to be invited four times but was shut out, said spokesperson Robert McCaw. McCaw conceded the group has long had a testy relationship with the Justice Department, including under Obama, but said being left out of the summit "makes us question how serious the Justice Department is about collecting hate reports from the Muslim American community when the nation's largest Muslim civil rights group is not at the table."
He told BuzzFeed News its exclusion was especially frustrating given that his group recently launched an app to collect hate violence reports, and has made identifying those crimes a priority.
"Our absence impairs the Justice Department from being able to carry out its job," he said.

The Justice Department declined to say which groups were invited, or explain why several groups were not included, but said there were advocacy groups from the African-American, Muslim, Jewish, LGBT, Asian, human rights, and other communities.

BuzzFeed News obtained a copy of the summit's participant list, and while it didn't include McCaw's group, several other Muslim organizations were invited, including the Islamic Networks Group, the Arab American Institute, and the Muslim Public Affairs Council.
Sessions gave particular attention to violence against transgender women, saying he personally met with senior officials to "discuss a spate of murders around the country of transgender individuals." Further, he said, he's asked staff and the FBI to find ways to support local efforts.
Yet Sessions has a record of voting against LGBT rights.
LGBT groups in the room included the Human Rights Campaign and the National Center for Transgender Equality. As the Human Rights Campaign's government affairs director David Stacy told BuzzFeed News in a statement, "One speech does not sweep away a career of hostility to LGBTQ equality."
Asked by email to elaborate on the attorney general's agenda for transgender people, a Justice Department official said: "At Attorney General Sessions's direction, the Civil Rights Division created a working group to review transgender hate crimes. The working group — which consists of Civil Rights Division attorneys and prosecutors, and the FBI — assists state and local law enforcement with conducting investigations, provides additional resources, and reviews evidence for the existence of bias for possible prosecution."