Jeff Sessions Goes Full-On 1980s And Warns America To "Just Say No" To Drugs
The attorney general added that "much of the addiction starts with marijuana."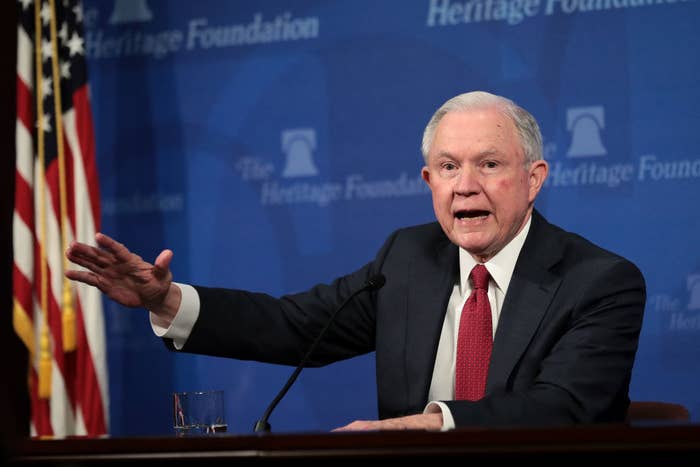 Attorney General Jeff Sessions resurrected popular talking points from the 1980s drug war on Thursday when he intoned that Americans should "just say no" to drugs and warned of the dangers of marijuana.

"I do think this whole country needs to not be so lackadaisical about drugs," Sessions said at a forum hosted by the conservative Heritage Foundation in Washington, DC. "When you talk to police chiefs, consistently they say much of the addiction starts with marijuana. It's not a harmless drug."
"We've got to reestablish, first, a view that you should just say no," he said. "People should say no to drug use."
Sessions, whose Thursday speech focused on the Constitution and law, lamented the spike in drug overdose deaths, particularly from fentanyl and heroin, ahead of an announcement about opioids by President Trump.
Trump, in his speech laying out his administration's opioid strategy at the White House, struck a similar tone. "The fact is, if we can teach young people, and people generally, not to start, it's really, really easy not to take them," the president said of drug use, after detailing his brother's struggles with addiction. "And I think that's going to end up being our most important thing — really tough, really big, really great advertising. So we get to people before they start so they don't have to go through the problems of what people are going through."
"There is nothing desirable about drugs," Trump added later. "They're bad."