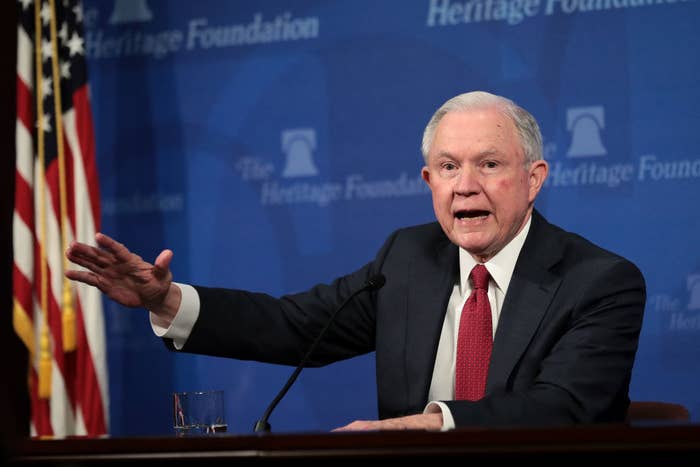 Attorney General Jeff Sessions resurrected popular talking points from the 1980s drug war on Thursday when he intoned that Americans should "just say no" to drugs and warned of the dangers of marijuana.

"I do think this whole country needs to not be so lackadaisical about drugs," Sessions said at a forum hosted by the conservative Heritage Foundation in Washington, DC. "When you talk to police chiefs, consistently they say much of the addiction starts with marijuana. It's not a harmless drug."
"We've got to reestablish, first, a view that you should just say no," he said. "People should say no to drug use."
Sessions, whose Thursday speech focused on the Constitution and law, lamented the spike in drug overdose deaths, particularly from fentanyl and heroin, ahead of an announcement about opioids by President Trump.
Trump, in his speech laying out his administration's opioid strategy at the White House, struck a similar tone. "The fact is, if we can teach young people, and people generally, not to start, it's really, really easy not to take them," the president said of drug use, after detailing his brother's struggles with addiction. "And I think that's going to end up being our most important thing — really tough, really big, really great advertising. So we get to people before they start so they don't have to go through the problems of what people are going through."
"There is nothing desirable about drugs," Trump added later. "They're bad."
Sessions in his speech said "We are going after the drug dealers," noting that "the fentanyl people are really killers."
The "Just Say No" slogan was popularized by former first lady Nancy Reagan as part of a vigorous drug crackdown in the 1980s, spurred in part by a fear of crack in urban cores. The push toward abstinence messages accompanied policing efforts to comb cities for drug offenders and sentence convicts to mandatory prison terms of years or decades. The approach has since been blamed for driving up prison populations with a disproportionate number of inmates of color.
"We are going after the drug dealers."
Exposure to abstinence-based drug programs of the era such as D.A.R.E. — which also promoted the notion that students should simply say no — have been abandoned by many school districts amid reports the curriculum failed to reduce drug initiation or use.

A 1994 study by the Research Triangle Institute, which was funded in part by the Justice Department, found that the program had little to no impact on drug use. And in 2011, the National Institute of Justice rated D.A.R.E. as having "no effects," adding that there was "no statistically significant impact on drug use or attitude towards drug use" for students involved.
Sessions, as leader of the Justice Department, has stressed the importance of treating drugs as a problem for law enforcement, insisting on longer sentences for nonviolent drug offenders and promoting the seizure of property from suspects. He has also cautioned against lax attitudes around marijuana.
But Americans have diverged from the federal government's hardline stance on pot prohibition, too — with eight states having now legalized its adult recreational use and authorized systems to sell it like alcohol. A Gallup poll on Wednesday found that 64% of Americans support legalization.