Gay Rights Bill Dies In Indiana Under Fire From Both GOP and LGBT Groups
Many lawmakers were trying to repair the state's reputation after passing a religious freedom bill in 2015. But critics condemned a nondiscrimination bill introduced this year for omitting protections for transgender people and creating exemptions that would allow faith groups to discriminate.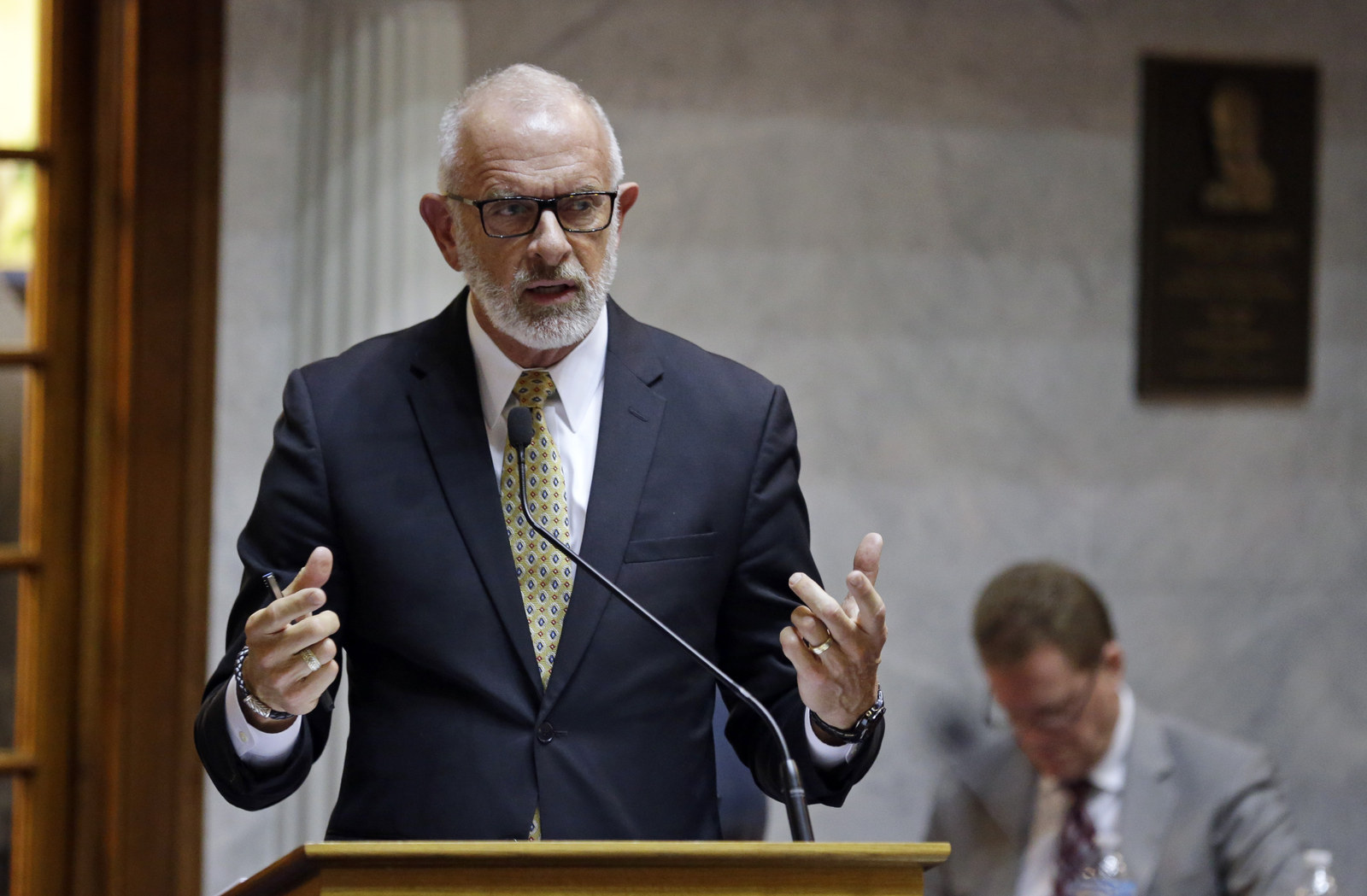 A bill to bar discrimination on the basis of sexual orientation was withdrawn from the Indiana Legislature minutes before it reached a key hurdle in the Republican-controlled senate on Tuesday, rendering the bill dead.
Indiana is reeling from the bad publicity of a religious freedom law passed in 2015, and the bill was widely seen as a means repair the state's reputation as hostile to LGBT people.
"It has has become clear the bill lacks the support to advance in the senate any further," State Sen. Travis Holdman said in a floor speech. "As a result, I will not be calling for a vote."

"I am greatly greatly disappointed," he added, blaming the bill's demise on deadlock between factions of lawmakers, the LGBT movement, and far right.

Watched nationally as a bellwether for LGBT-rights legislation in GOP-led capitals, Senate Bill 344 was nominally intended to expand the rights of lesbians, gays, and bisexuals. But, in a twist, it was opposed primarily by LGBT advocates.
Critics said the bill's language raised similar problems to the Religious Freedom Restoration Act, passed last spring. Although it was modeled on a federal law, Indiana's statute had a broader scope, which critics said would allow private businesses to turn away LGBT customers. Facing a national uproar, Gov. Mike Pence called on lawmakers to pass "fix" bill that stated the law could not be used for discrimination. Despite signing that fix into law, polls have since found some people perceive the state as unwelcoming while business groups contend Indiana has lost millions in convention and tourism revenue.
This year's bill, critics said, allowed religious social service providers and small businesses to raise a faith-based defense if they turned away gays and lesbians.

The bill also lacked any protections for transgender people — which LGBT advocates and business interests considered a deal-breaker.

But the issue of LGBT rights is hardly dead in Indiana.
Senate president pro tempore David Long, the highest ranking Republican in the chamber, said Tuesday, "We'll come back to have this conversation, just not this year."
Advocacy groups had hoped the bill could be favorably amended during a second reading — Tuesday was the bill's deadline for that second reading.
But a clash over how to proceed paralyzed the Indiana senate early Tuesday afternoon, with lawmakers delaying a session while both parties caucused, sources told BuzzFeed News.
Some Republicans — who control the senate by a four-to-one margin — opposed expanding rights on the basis of sexual orientation entirely, requiring support from Democrats to pass the bill. But many Democrats were reluctant to support the bill due to its many exemptions — particularly omitting protections for transgender people.
Sources in the capitol said that the parties could not cobble together a majority needed to approve the measure on the senate floor.

The collapse of Indiana's LGBT rights legislation — which was initially thought to have momentum — reflects the broader challenge with the entire LGBT movement after winning a marriage victory at the Supreme Court last June.

Most states that lack LGBT nondiscrimination protections are controlled by Republican lawmakers, who face vociferous pressure from their evangelical base to oppose any LGBT rights law. However, business chambers, another traditional part of the GOP base, and progressives have teamed up to approve nondiscrimination protections.
Peter Hanscom, initiative director of Indiana Competes, a coalition of more than 300 businesses, said in a statement said it was "a flawed bill, but it generated the most substantive conversation Indiana has seen regarding anti-discrimination legislation for the LGBT community."

In the case of Indiana, lawmakers essentially tried to split the baby by writing religious-freedom rights and LGBT rights into the same bill — creating legislation that was ultimately unviable.
"This is an absultely awful bill," Camilla B. Taylor, counsel for Lambda Legal, told BuzzFeed News on Tuesday morning before the announcement. "There is no way this can be interpreted as helping LGBT people rather than hurting them."
Likewise, Human Rights Campaign legal director Sarah Warbelow had said, "The bill in this form is completely unacceptable."
Other bills concerning LGBT rights were also introduced this session in Indiana, but none made it as far, and given the schedule for deadlines, it appeared unlikely any LGBT related legislation could pass in 2016.

Sen. Holdman, the sponsor, warned fellow lawmakers in his speech Tuesday afternoon, "The underlying issue is not going to go away. I hope that everyone on all sides of the debate can come together and reach a compromise."