Indiana Governor Says Bad Times "Behind Us" Even As State Kills LGBT-Rights Bill
LGBT advocates insist that discrimination remains a problem and the state is still suffering from the fallout of a religious freedom bill controversy.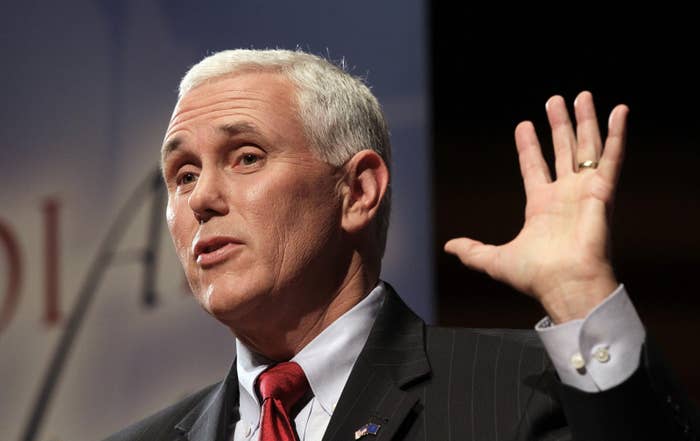 After Indiana stumbled into the "harsh glare of criticism from around the country" in the last month — passing a religious freedom law that critics said allowed LGBT discrimination — Gov. Mike Pence declared Tuesday his state can return to the comfortable shadows.
"I think the difficult time that Indiana just passed through two weeks ago is behind us," Pence told the Indy Star.
But critics demur and Indiana legislators are still embroiled in the same troubles: a new offense by lawmakers that upset LGBT advocates on Tuesday, news breaking this week that state officials are paying millions of dollars to repair their image, and new polling that shows that most voters think businesses sustained economic damage.
The Republican-controlled House of Representatives in Indiana blocked legislation Tuesday that would ban LGBT discrimination. Lawmakers voted down the amendment, offered by by Democrats, 66-24 in a procedural vote.
"We don't have a statewide nondiscrimination law that protects LGBT Hoosiers," said Jennifer Wagner, a spokesperson for Freedom Indiana, told BuzzFeed News. "That conversation is just beginning."
Even though Pence signed legislation this month to "fix" the religious freedom law, Wagner said it did not fix the fact that discrimination based on sexual orientation or gender identify remains legal under state law.
"If we want to be viewed as a welcoming state, we have to make sure our laws protect everyone. It's just that simple," she added.
As BuzzFeed News reported Monday, a poll conducted April 7-9 found 75% of Indiana voters said the RFRA law and the controversy around it was bad for business. And for Pence, 53% of voters have an unfavorable view of him for signing it into law, compared with 38% who had a favorable impression of him approving the law.
It may also seem a stretch to declare Indiana's public-relations woes are in the past when the state hired a global public-relations firm, Porter Novelli, this week to repair its image for the future — at a cost of more than $2 million.
Freedom Indiana said Wednesday the group would spend the rest of 2015 focusing on helping cities pass local LGBT nondiscrimination policies.
Gov. Pence did not respond to BuzzFeed News' request to comment on what he meant by saying Indiana's difficult time is behind him. House Democratic leader Scott Pelath also did not immediately respond to an inquiry.