In Reversal, Alabama Legislator Will Name LGBT Rights Bill After Apple CEO
Despite initial resistance, Apple gave its blessing to name an LGBT-rights bill after CEO Tim Cook, a local newspaper reports.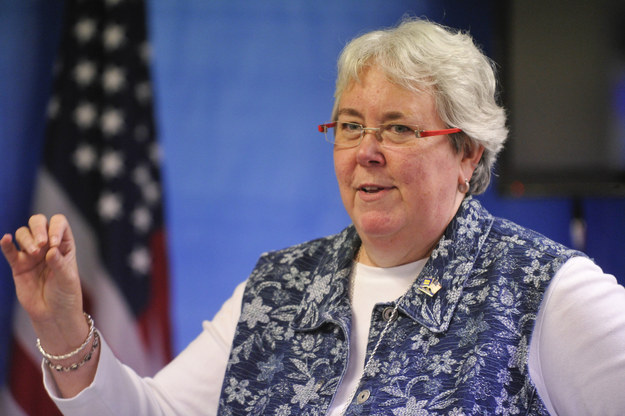 In a reversal — which follows a previous reversal — Alabama state representative Patricia Todd told BuzzFeed News that Apple's general counsel called her this week and "confirmed that Apple and Tim are on board" with naming Todd's LGBT anti-discrimination bill after Apple CEO Tim Cook.
Apple had initially protested associating its chief executive with the controversial legislation, but, a conglomerate of local newspapers publishing at the website AL.com reported Wednesday, the tech giant is now giving its "blessing" to name the bill the "Tim Cook Economic Development Act."
However, it appears getting Apple and Cook onboard came only after Apple performed contortions to distance itself from the bill — and received unflattering press.
The story began in November, when Representative Todd announced plans for a bill that would would ban discrimination against Alabama state employees based on their sexual orientation or gender identity. As Todd told BuzzFeed News, she used a "tongue-in-cheek" plan to draw attention to her long-shot bill by naming it after Cook, who had recently come out as gay. Cook had also blasted Alabama for lacking protections for LGBT employees.
But Todd said naming the bill after Cook did not initially sit so well with Apple. She told BuzzFeed News a company representative called her to pressure her to remove Cook's name from the bill, which she then volunteered to do.
BuzzFeed News contacted Apple to confirm or refute Todd's account. For five days, Apple did not comment on the record for the article, but Todd told BuzzFeed News Apple did contact her during that same time period. After BuzzFeed News published a story with the headline "Apple Didn't Want Alabama's LGBT Rights Bill Named After Its CEO," Apple issued a statement that said "we're sorry if there was any miscommunication." The company said Cook was personally honored to hear Todd wanted to name a bill after him.
But when BuzzFeed News asked a spokesperson for Apple if the company wanted the bill named after Cook or not, the spokesperson would not respond.
Wednesday, AL.com reported that Todd "is moving ahead with plans to name an anti-discrimination act after Apple CEO Tim Cook. And now, she's got the blessings of the tech giant itself." This reportedly happened after Bruce Sewell, Apple's general counsel, called Todd on Tuesday.
"[Sewell] apologized profusely and said there was an employee that was trying to protect Apple from controversy," Todd told AL.com. "He said 'I'm here to assure you we support this 100 percent."
Reached by phone, an Apple representative who asked not to be quoted or identified confirmed that Sewell did call Todd. When asked by BuzzFeed News if Apple did, in fact, give its blessing to name the bill after Cook or if it wants the bill named after Cook, the Apple representative refused to answer the question.