Illinois Legislature Passes Bill Banning Conversion Therapy of LGBT Youth
The bill, which bans programs attempting to change the sexual orientation of people under 18, now heads to Gov. Bruce Rauner.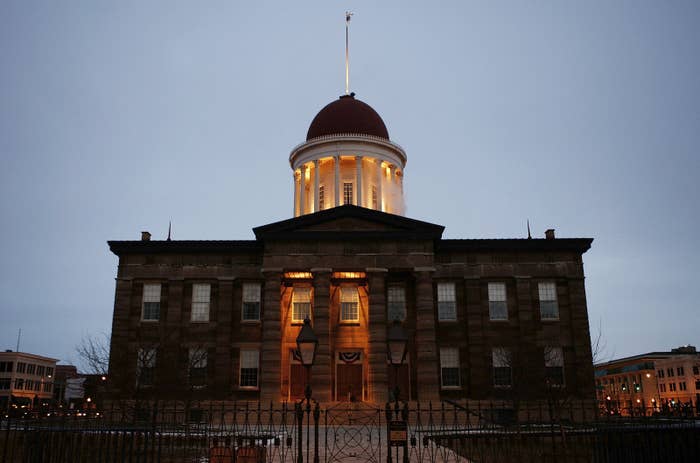 LGBT advocates around the country celebrated a victory — albeit a tentative one — Friday afternoon as the Illinois state Senate took a decisive 34-19 vote to approve legislation that would ban programs attempting to change the sexual orientation of people under 18, a practice commonly known as conversion therapy.
The House voted 68-43 for the bill earlier this month. The bill now heads to Gov. Bruce Rauner. The vote came after LGBT advocates suffered legislative losses in other states this year and simply fought back tides of opposition in others.
"We couldn't be prouder to add Illinois to the list of legislatures that have acted to protect LGBT youth," said Samantha Ames at the National Center for Lesbian Rights, which advocated for the bill along with Equality Illinois. "We hope Governor Bruce Rauner will join fellow Republicans like Chris Christie, who signed New Jersey's conversion therapy ban in 2013."
Rauner, however, did not immediately reply to an inquiry from BuzzFeed News about whether he would allow the bill to become law.
HB 217 says, "Under no circumstances shall a mental health provider engage in sexual orientation change efforts with a person under the age of 18."
Mental health providers that conduct conversation therapy, the bill continues, "may be subject to discipline by the licensing entity or disciplinary review board with competent jurisdiction." Advertising of conversion therapy programs would also be banned.

With the governor's signature, Illinois would become the first jurisdiction to ban the programs that typically promise to curb or eliminate attraction to the same sex. Similar bans are on the books in California, New Jersey, the District of Columbia, and Oregon.

The Obama administration took a stance against conversion therapy in April, saying, "The overwhelming scientific evidence demonstrates that conversion therapy, especially when it is practiced on young people, is neither medically nor ethically appropriate and can cause substantial harm."
A backer of the bill in Illinois, Human Rights Campaign legal director Sarah Warbelow called conversion therapy a "dangerous practice that uses fear and shame to tell young people the only way to find love or acceptance is to change the very nature of who they are."